As we gear up for the action-packed event this weekend, let's take a closer look at the matchups and what's at stake for each team involved.
SOUTH KOREA – As we enter the third week of VCT Pacific, we have curated a preview for the first day of matches, giving you an insight into what to expect for this Saturday.
The match between Rex Regum Qeon and DetonatioN FocusMe is set to be an intense contest between two winless teams looking to make a statement and break their losing streaks, while T1 vs. Paper Rex is expected to have a lot at stake for both teams, with the Koreans looking to prove their worth as a legitimate contender this season, while the SEA powerhouse seek to prove themselves once more.
ALSO READ: VCT Pacific – Everything you need to know
---
Rex Regum Qeon vs. DetonatioN FocusMe (Saturday, April 8 – 5 PM SGT)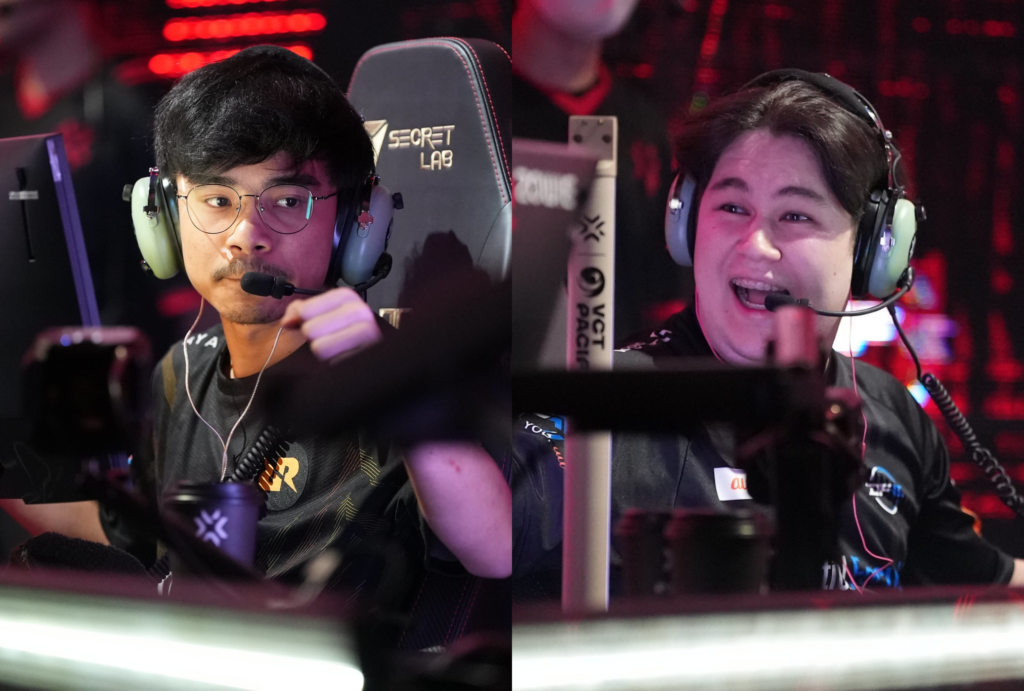 Rex Regum Qeon
DetonatioN FocusMe
🇮🇩 Hagai "Lmemore" Tewuh
🇮🇩 Saibani "fl1pzjder" Rahmad
🇮🇩 David "Tehbotol" Monangin
🇵🇭 Eroll Jule "EJAY" Delfin
🇵🇭 Emmanuel "Emman" Morales
🇵🇭 James "2ge" Goopio

🇿🇦 Marthinus "Ewok" Walt (Head coach)
🇩🇪 Lukas "yb" Gröning (Analyst)
🇯🇵 Ryumon "Reita" Oshiro
🇯🇵 Tomoki "xnfri" Moriya
🇯🇵 Shogo "takej" Takemori
🇯🇵 Yoshitaka "Anthem" Enomoto
🇰🇷 Park "Seoldam" Sang-min
🇰🇷 Seo "Suggest" Jae-young

🇰🇷 Kim "HSK" Hae-seong (Head coach)
🇯🇵 Hirotaka "Melofovia" Okazaki (Coach)
Previous matchups:
Previous matchups:
vs. ZETA DIVISION (LOST 1-2)
vs. Gen.G (LOSS 1-2)
vs. Gen.G (LOSS 0-2)
vs. Paper Rex (LOSS 0-2)
vs. FUT Esports (LOSS 0-2)
vs. Giants Gaming (LOSS 0-2)
vs. BOOM Esports (LOSS 0-1)
vs. FNATIC (LOSS 0-1)
The upcoming match-up between Rex Regum Qeon and DetonatioN FocusMe is an intriguing contest that promises to be a closely-fought encounter despite the two teams' current positions in the league standings. While both teams can be described as "basement dwellers," with neither having secured a series victory this year, there are indications that this match could be a defining moment for them as they seek to establish their respective identities early in the season.
Despite their winless run, both teams have been showing signs of improvement since last week. Rex Regum Qeon, with their Indonesian-Filipino combine, showcased a strong performance in their recent match against ZETA DIVISION on Haven. While there was some resistance in the mid-game of the map, they eventually emerged victorious with a 13-10 scoreline before losing the next two. On the other hand, DetonatioN FocusMe secured their first map win of the season in their last match against Gen.G, swiftly winning 13-4 on Fracture.
The match between Rex Regum Qeon and DetonatioN FocusMe represents a crucial opportunity for both teams to break their winless streak and gain some much-needed momentum. While one team will inevitably come away with a win, the other will have to endure yet another loss, prolonging their frustrating run of form.
With Seo "Suggest" Jae-young as a crucial player for DetonatioN FocusMe, RRQ will have to come up with a strategy to neutralize his moves and limit his contributions to secure a win. If RRQ can shut him down early on, it could make things much easier for them, and they could have the upper hand in the series. However, if Suggest manages to have his way, it could lead to a different outcome, making this match all the more exciting to watch.
---
T1 vs. Paper Rex (Saturday, April 8 – 8 PM SGT)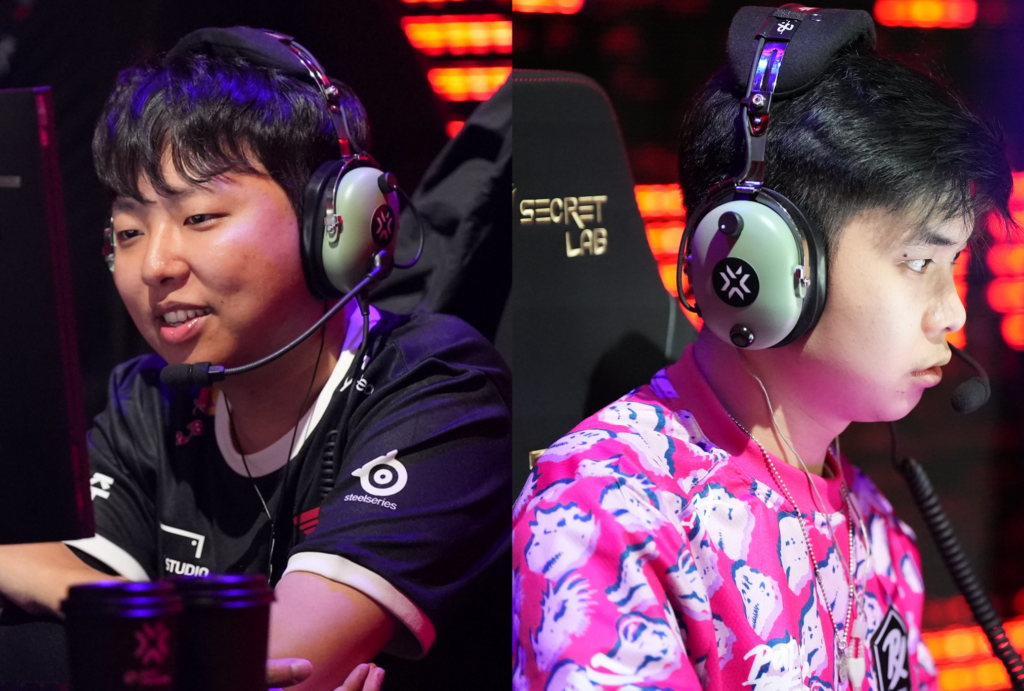 T1
Paper Rex
🇰🇷 Son "xeta" Seon-ho
🇰🇷 Byeon "Munchkin" Sang-beom
🇺🇸 Joseph "ban" Seungmin Oh
🇰🇷 Ha "Sayaplayer" Jung-woo
🇰🇷 Lee "Carpe" Jae-hyeok
🇰🇷 Kang "iNTRO" Seung-gyun

🇰🇷 Yoon "Autumn" Eu-teum (Head coach)
🇰🇷 Lee "CheongGak" Il-ho (Coach)
🇨🇦 Dakota "Stunner" MacLeod (Coach)
🇸🇬 Benedict "Benkai" Tan
🇲🇾 Khalish "d4v41" Rusyaidee
🇮🇩 Jason "f0rsakeN" Susanto
🇮🇩 Aaron "mindfreak" Leonhart
🇸🇬 Wang "Jinggg" Jing Jie
🇷🇺 Ilya "something" Petrov
🇹🇭 Patiphan "CGRS" Posri

🇫🇷 Alexandre "alecks" Sallé (Head coach)
Previous matchups:
Previous matchups:
vs. Talon Esports (WIN 2-0)
vs. Team Secret (LOSS 1-2)
vs. Global Esports (WIN 2-1)
vs. DetonatioN FocusMe (WIN 2-0)
vs. FURIA Esports (LOSS 0-2)
vs. Cloud9 (LOSS 0-2)
vs. TSM (LOSS 0-2)
vs. DetonatioN FocusMe (WIN 1-0)
The second head-to-head will see T1 going against Paper Rex. This is the perfect moment for T1 to increase their stock value, move up in the ranks, and prove they are a real contender this season. Meanwhile, Paper Rex are looking to make a statement and show that they are still a formidable team despite their recent struggles.
Although Paper Rex had a great run in Copenhagen, their performance has not been the same since. While there has been some improvement, it was not sufficient to take the closely-contested win against the rising Team Secret last week. "We were not as aggressive as we should have been. That was the reason why we lost the last two maps [against Team Secret]." coach Alexandre "alecks" Sallé said.
To further bolster their lineup, they added former Sengoku Gaming star Ilya "something" Petrov, hoping to fill the gap, if any. However, it is unclear whether they will use their secret ammunition for this series or continue experimenting with their current starting five, taking some more time to refine their strategies.
On the other hand, T1 have been on a good run of form lately, securing victories over Global Esports and Talon Esports. Although to be fair their most recent win was against a Thanamethk "Crws" Mahatthananuyut-led team experimenting with a new composition featuring Gekko on both maps, it still indicates T1's strength and potential. Ha "Sayaplayer" Jung-woo will also have a personal mission to take down Paper Rex after they eliminated his former team, The Guard, in Reykjavík last year.
If T1 can emerge victorious, it will be a clear signal that this roster might have been underestimated and overlooked by their competitors, and it may serve as a wake-up call for Paper Rex to reassess their strategies and make necessary adjustments as other teams are catching up with them. All in all, both match-ups promise to be exciting, with much at stake for both teams involved.
---
VCT Pacific Week 2 standings: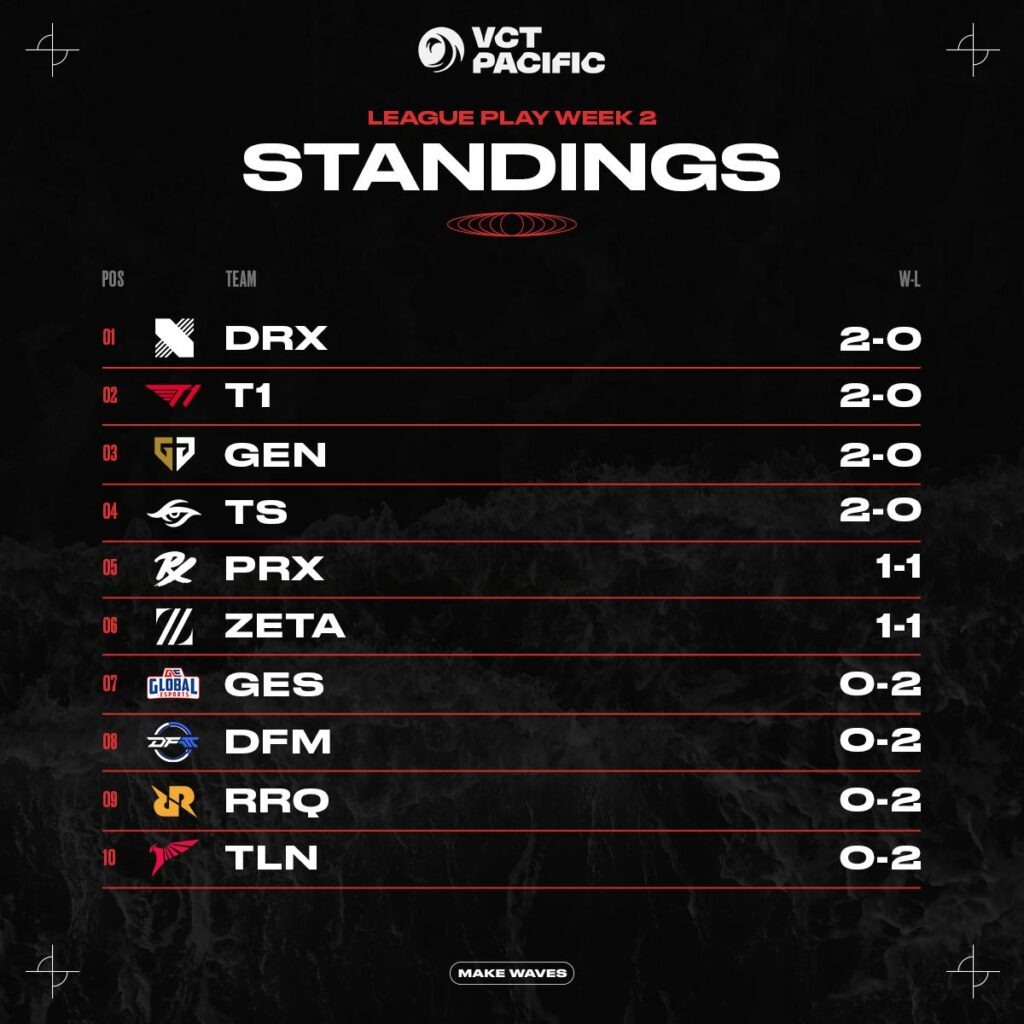 ---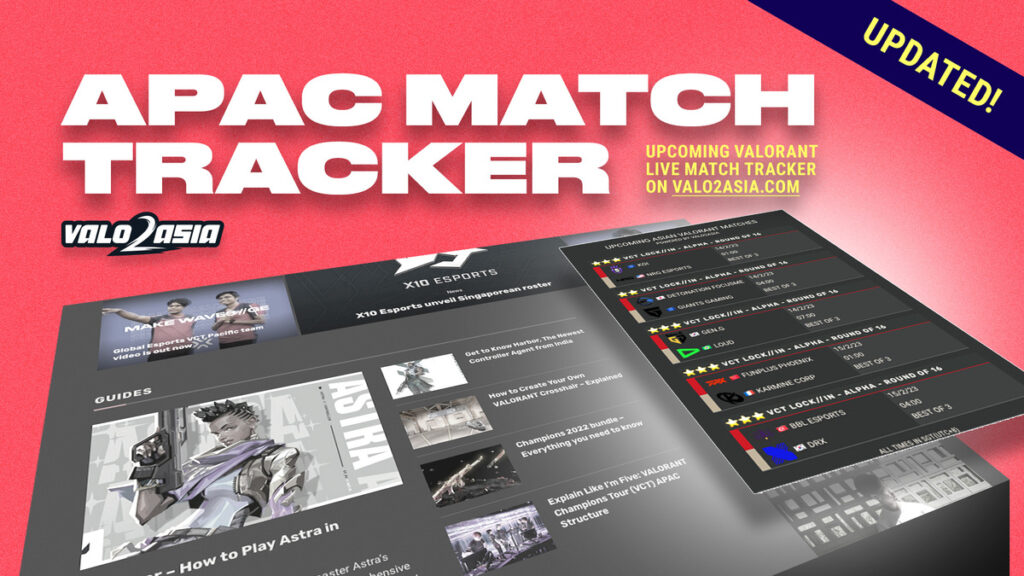 Get ready for non-stop action with VALO2ASIA.com! We bring you the pulse of APAC's most electrifying matches with our real-time match ticker, updated daily to keep you in the loop on all the latest. Our star rating system rates the importance of each match based on factors such as the teams' lineups, tournament rounds, and prestige.
From VCT Pacific to other major tournaments, we've got you covered with the most comprehensive coverage in the region with accurate schedules in Singaporean Time (UTC+8). Explore VALO2ASIA's match ticker now on the right side of our website!
---
For more insights on the Asian VALORANT scene and upcoming content like this, be sure to like and follow VALO2ASIA on Facebook, Twitter & Instagram.
---
Cover photo courtesy of VCT Pacific