The former Alter Ego coach has found a new home.
CHINA – Royal Never Give Up (RNG) have supplemented their roster with the addition of Kang "TRY" Tae-wook as coach. He had been a free agent since his departure from Alter Ego on March 16, where he plied his trade for ten months before the team opted to make changes following the conclusion of VCL Indonesia Split 1.
During his time with the Indonesian organization, TRY assisted the team throughout six events, and Alter Ego's performance peaked one month after his appointment, reaching the semi-finals of the 2022 VCT APAC Stage 2 Challengers.
TRY's appointment as coach of Royal Never Give Up also marks his return to the Chinese VALORANT scene after a brief time with ShanXi Gaming in mid-2021. 
ALSO READ: VCT Pacific Week 3 Day 1 preview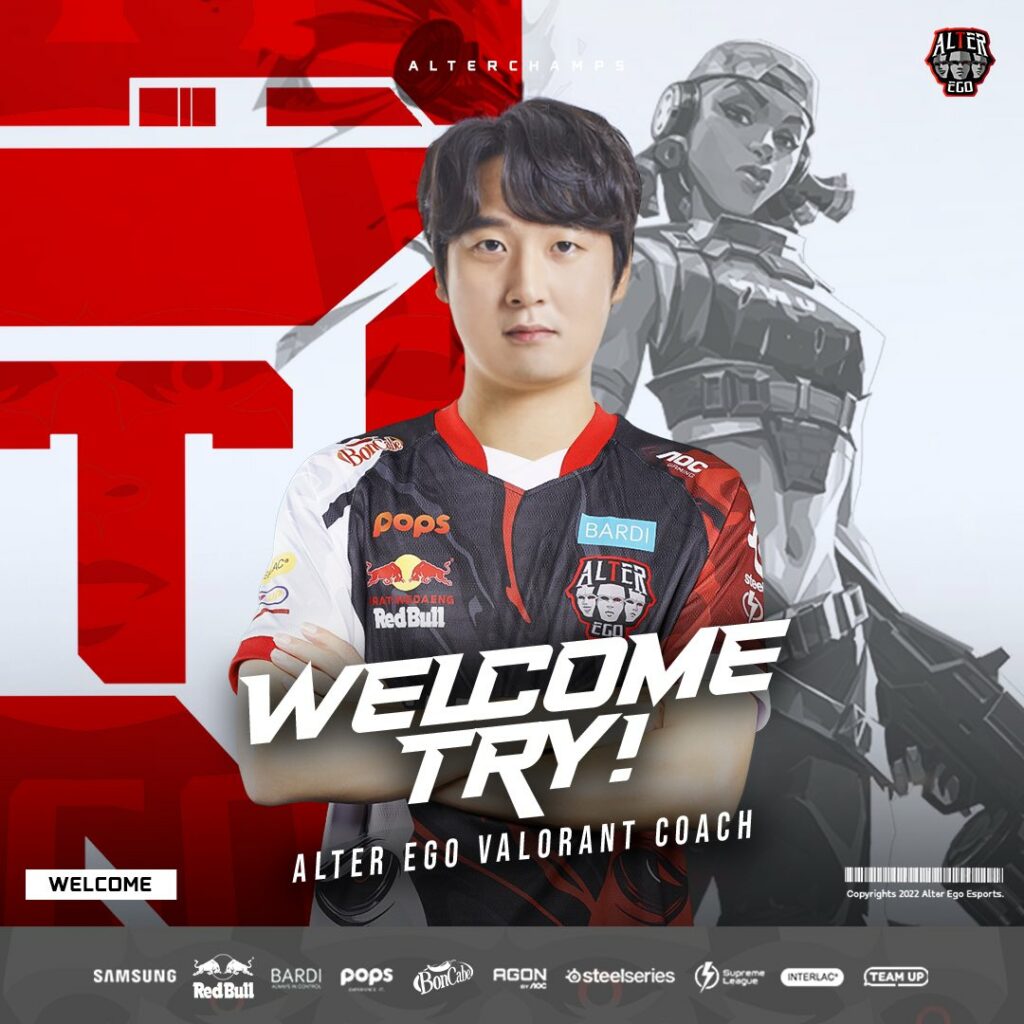 In addition, TRY brings a wealth of experience from his playing days, particularly during his tenure with Cloud9 Korea, where he shared the same banner alongside esteemed players including DRX's Yu "BuZz" Byung-chul, T1's Byeon "Munchkin" GE's Sang-beom, Park "Bazzi" Jun-ki, and NTH's Yoo "Moothie" Seung-woo.
TRY's appointment is part of the organization's efforts to build a talented and diverse team from multiple regions. This includes former HONEY BADGERS player Dale "signed" Tang and former 95X Esports player Ali "SWERL" Kobraee, both of whom hail from the Oceania region.
"Xiaonuo", who competed with DeToNator in the Japanese circuit last year, is also part of the squad, alongside Shi "AAK" Yeka, who has been consistently performing well on the server, boasting an impressive 262.2 ACS (1.16 VLR rating) throughout 557 rounds in Act I. Completing the roster is "Zcc", who remains relatively unknown outside of the region, but is poised to prove himself as a valuable asset to the team.
The team will be aiming to improve their performance in the upcoming second Act of the FGC VALORANT Invitational, as the team failed to make it to the final stretch of qualification after losing to Night Wings Gaming in the decider of Act I Week 5.
RNG have had a chance to warm up with their new composition in Act II Week 1 remotely. In a tweet after the loss against Kingzone, Xiaonuo expressed excitement about the upcoming games, stating that he is looking forward to starting to play in China. He also made a comment about SWERL's impressive gameplay, saying, "It's strange that this guy can move with 150ms [laughs]."
With the addition of a new coach, the team is now better equipped to tackle their next campaign in the second week of the FGC VALORANT Invitational Act II Open Qualifier, set to take place next week.
With the addition of TRY, Royal Never Give Up (RNG) now consist of the following:
🇨🇳 Shi "AAK" Yekai
🇳🇿 Dale "signed" Tang
🇮🇷 Ali "SWERL" Kobraee
🇨🇳 "Xiaonuo"
🇹🇼 "Zcc"
Kang "TRY" Tae-wook (Coach)
---
For more insights on the Asian VALORANT scene and upcoming content like this, be sure to like and follow VALO2ASIA on Facebook, Twitter & Instagram.
---