Velocity Gaming have finalized the transfer of former Reckoning Esports Duelist Saksham "Deadly10" Aurangabadkar to their roster, with the team being solidified with the addition of a new coach in David "Dav" Miljanić
INDIA – Velocity Gaming have announced the signing of Saksham "Deadly10" Aurangabadkar from Reckoning Esports as their new fifth. Meanwhile, Mohit "mw1" Wakle has been moved to the bench of VLT, the organization's manager confirmed on Twitter.
Deadly10 was on the starting roster of Reckoning Esports for nine months, consistently rising throughout his time since the start of the VCT 2022 season as the team's highest-rated player, and his future appears bright. He recorded a promising 259.5 ACS across 348 rounds played in the most-recent Skyesports Pro Invitational Season 2, where REG had one of their best placings.
Deadly10's addition to VLT will likely see a rearrangement of the team's roles as he would most likely have a role clash with Debanjan "DEATHMAKER" Das. However, the already-promising results from the team along with the bolstered services of Deadly10 leave VLT fans and viewers alike with reason to be more than optimistic ahead of the new season.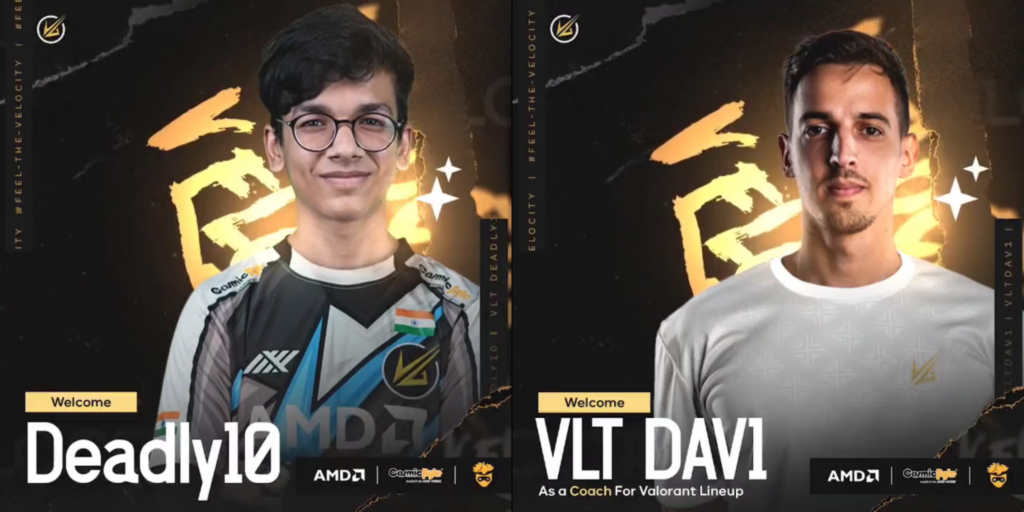 ALSO READ: blaZek1ng on BOOM Esports at Champions: "We should've played more confidently"
A few hours after the initial announcement, Velocity Gaming also unveiled the appointment of David "Dav" Miljanić to replace outgoing coach Andi "Sleepy" Bangsawan who stepped down in July. This move sees Anuj "Amaterasu" Sharma reunite with Dav after two and a half years, with the pair previously playing together on Entity Gaming CS:GO. 
Dav more recently competed with the iNation roster that experienced reasonable success in the domestic Serbian Counter-Strike scene this year, including winning the country qualifier for the IESF World Esports Championship 2022 before finishing 3-4th in the European qualifier. The 31-year-old will be dipping his toes into a coaching capacity for the first time in his nine-year professional career, not to mention in a whole different game. 
Velocity Gaming now field the following roster:
🇮🇳 Anuj "Amaterasu" Sharma
🇮🇳 Tejas "rite2ace" Sawant
🇮🇳 Sagnik "Hellff" Roy
🇮🇳 Debanjan "DEATHMAKER" Das
🇮🇳 Saksham "Deadly10" Aurangabadkar
🇷🇸 David "Dav" Miljanić (Coach)
---
For more insights on the Asian VALORANT scene and upcoming content like this, be sure to like and follow VALO2ASIA on Facebook, Twitter & Instagram.
---
Cover photo courtesy of HLTV