All eyes are on VCT LOCK//IN, as we head towards the first chance for 32 of the world's best teams to make a bold statement this season. Make sure you don't miss out on all the action starting February 14 – March 5.
GERMANY — VCT LOCK//IN will be aired live on all major platforms, including YouTube and Twitch. For YouTube, the games will be officially streamed on the VALORANT Champions Tour channel. On Twitch, the games will be streamed live on the official VALORANT Esports channel.
Additionally, the event will also be accessible through VALORANT Esports' official stream partners, who will offer multiple language broadcasts. This provides a unique opportunity for fans of the popular first-person shooter game to witness high-level competitive play and follow the action in their preferred language. Among the secondary streams, Tagalog, Thai, Bahasa Indonesia, Mandarin, Vietnamese, Korean, and Japanese are available to watch.
ALSO READ: VCT LOCK//IN – format and group distribution announced
The tournament will also feature streamers hosting watch parties in addition to providing on-the-spot commentary from their point of view, taking a unique approach to game broadcasting.
Official VALORANT has confirmed the official co-streamers list for the event. Huang "AsSen" Mao-sen, Nanda "asteriskk" Rizana, Ngô "crazyguy" Anh, "GianSanity", Connor "Sliggy" Blomfield, Nattawat "SuperBusS" Yoosawat, Natasha "TashBunny" Hashim, and Tarik "tarik" Celik are among the group of co-streamers for VCT LOCK//IN. It should be noted that the list provided by VALORANT Esports is not complete, and there may be additional streamers who will also be co-streaming the event.
In Asia, Paper Rex (Singapore), Talon Esports (Thailand), and DetonatioN FocusMe (Japan) will be hosting their live watch parties. Make sure to follow them on their relevant social media platforms to learn more about the details.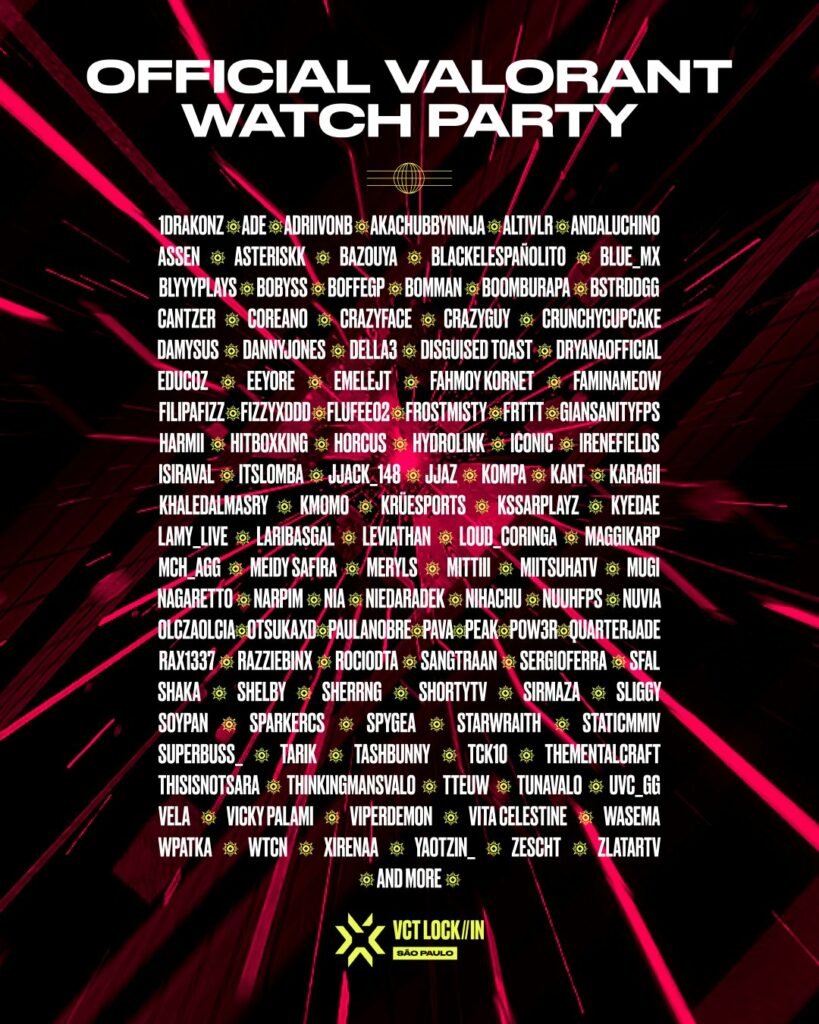 ---
The official VALORANT streams can be found below:
English
Bahasa Indonesia
Thai
Vietnamese
Tagalog
Mandarin
Other Languages
Games will begin at 1:00 AM SGT (UTC+8), with KOI facing off against NRG Esports and DetonatioN FocusMe against Giants Gaming subsequently.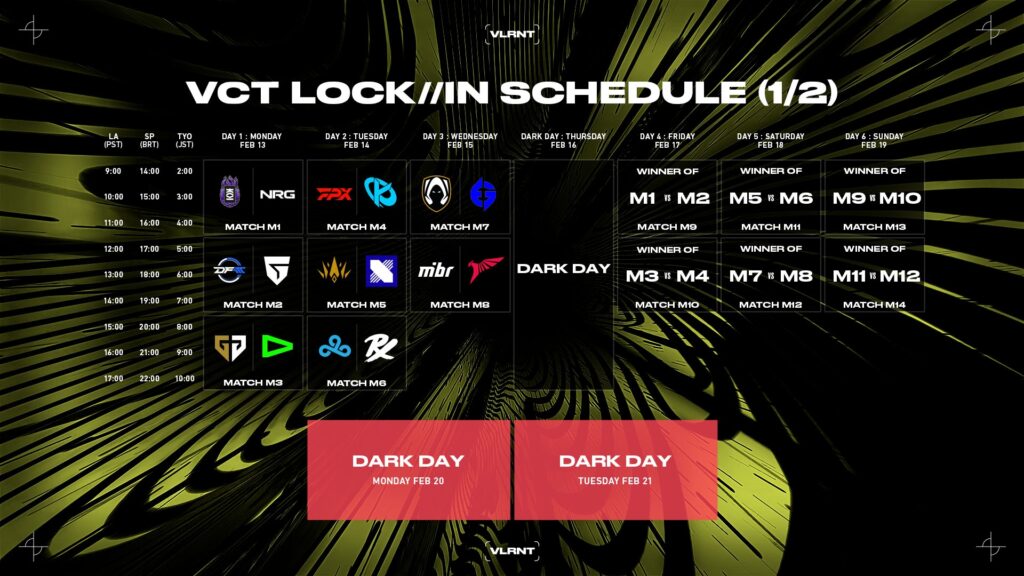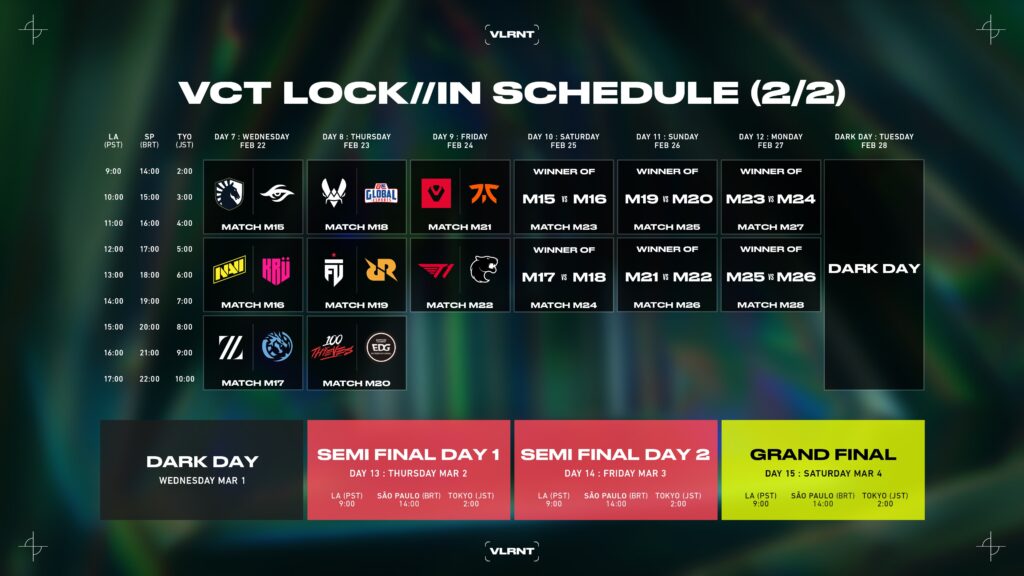 Group Alpha (Time in SGT / UTC +8)
Feb 14, 4 AM – 🇯🇵 DetonatioN FocusMe vs 🇪🇺 Giants Gaming
Feb 15, 1 AM – 🇨🇳 FunPlus Phoenix vs 🇫🇷 Karmine Corp
Feb 15, 4 AM – 🇹🇷 BBL Esports vs 🇰🇷 DRX
Feb 15, 7 AM – 🇺🇸 Cloud9 vs 🇸🇬 Paper Rex
Feb 16, 4 AM – 🇧🇷 MIBR vs 🇹🇭 Talon Esports
Feb 16, 7 AM – 🇰🇷 Gen.G vs 🇧🇷 LOUD*
Feb 14, 1 AM – 🇪🇺 KOI vs 🇺🇸 NRG Esports
Feb 16, 1 AM – 🇪🇺 Team Heretics vs 🇺🇸 Evil Geniuses
Group Omega (Time in SGT / UTC +8)
Feb 23, 1 AM – 🇪🇺 Team Liquid vs 🇵🇭 Team Secret
Feb 23, 7 AM – 🇯🇵 ZETA DIVISION vs 🇨🇱 Leviatán
Feb 24, 1 AM – 🇪🇺 Team Vitality vs 🇮🇳 Global Esports
Feb 24, 4 AM – 🇹🇷 FUT Esports vs 🇮🇩 Rex Regum Qeon
Feb 24, 7 AM – 🇺🇸 100 Thieves vs 🇨🇳 EDward Gaming
Feb 25, 7 AM – 🇰🇷 T1 vs 🇧🇷 FURIA Esports
Feb 23, 4 AM – 🇪🇺 Natus Vincere vs 🇨🇱 KRÜ Esports
Feb 25, 4 AM – 🇺🇸 Sentinels vs 🇪🇺 Fnatic
Due to sickness among multiple players, LOUD will not be able to field a full roster for their previously scheduled VCT LOCK//IN opening day match. As a result, VALORANT Esports has made the decision to move the match between Gen.G and LOUD to February 6 (7 AM SGT) to provide LOUD with additional time to recover. The start time for matches on February 14 and 16 remain unchanged.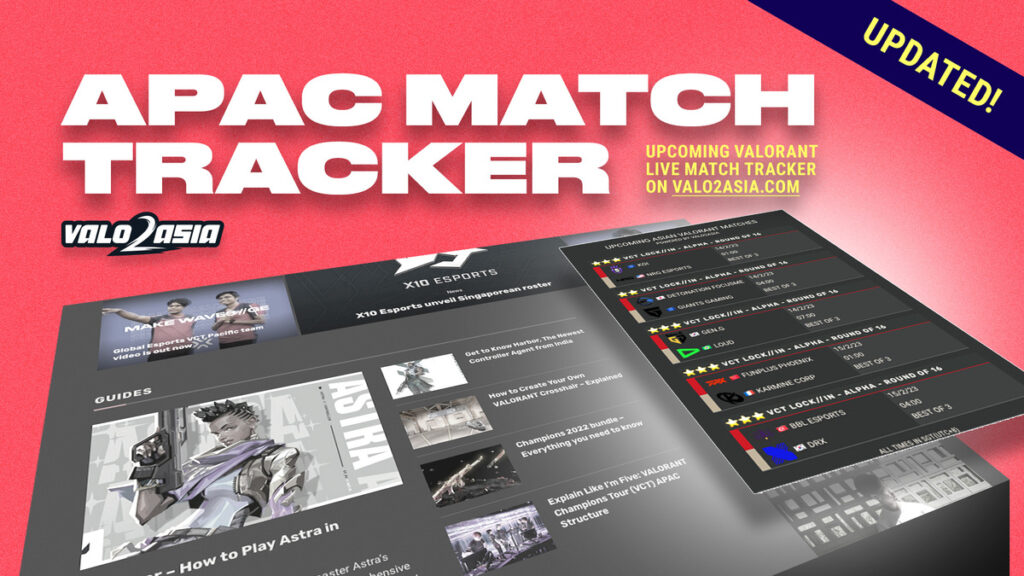 Get ready for non-stop action with VALO2ASIA.com! We bring you the pulse of APAC's most electrifying matches with our real-time match ticker, updated daily to keep you in the loop on all the latest. Our star rating system rates the importance of each match based on factors such as the teams' lineups, tournament rounds, and prestige.
From VCT LOCK//IN to other major tournaments, we've got you covered with the most comprehensive coverage in the region with accurate schedules in Singaporean Time (UTC+8). Explore VALO2ASIA's match ticker now on the right side of our website!
---
For more insights on the Asian VALORANT scene and upcoming content like this, be sure to like and follow VALO2ASIA on Facebook, Twitter & Instagram.
---
Cover photo courtesy of VALORANT Esports