YGGP's and FATAL's chances of playing in the VCT Stage 1 APAC Challengers Playoffs have been crushed.
The first week of VCT MY/SG Stage 1 Challengers came to a close on Sunday, with You Guys Get Paid (YGGP) being eliminated from the VCT Stage 1 contention after a 1-2 loss against Fastelle (Haven 13-11, Ascent 8-13, Split 2-13).
On the other side of the bracket, FATAL were handed an early exit with a 0-2 loss to KPMOONIIBLM9 (Ascent 2-13, Icebox 9-13). The two eliminated teams have placed 13-16th and earned MYR4,000.
Fastelle, which is comprised of the former Timing Monster Gaming (TMG) core, will now await the loser of the match between Paper Rex and Todak, while Zhan Teng "shiba" Toh's KPMOONIIBLM9 will go on to fight for a playoff spot in the group's decider match against either Kingsmen or Bleed eSports.
ALSO READ: VCT MY/SG Stage 1 Challengers – Teams to Watch
---
Group A Elimination Match – You Guys Get Paid vs. Fastelle – VCT MY/SG Stage 1 Challengers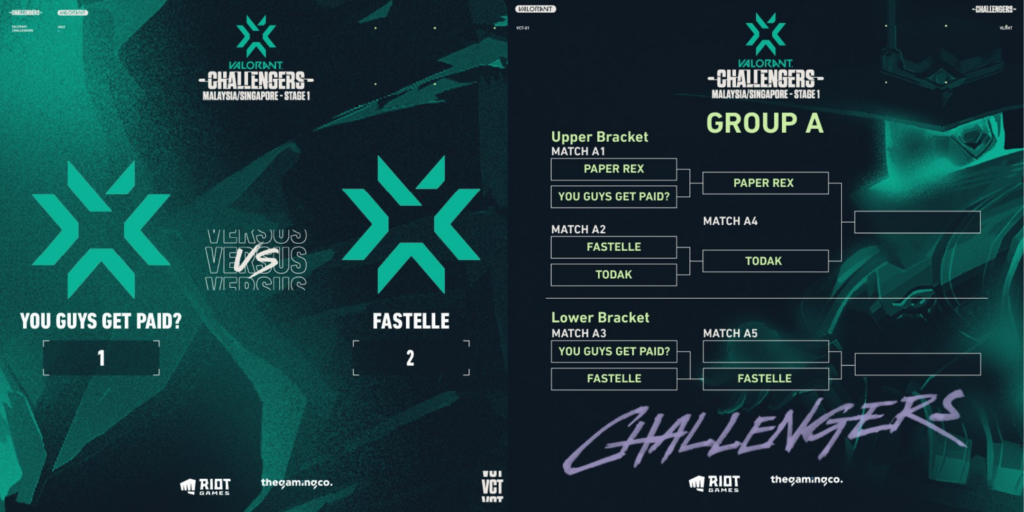 In Group A, it was YGGP who went out in last place after a clash against Fastelle in which the Singaporean side came out ahead with victory, 2-1 (Haven 11-13, Ascent 13-8, Split 13-2). Fastelle came out strongly on Haven and took the lead on the defending side, enjoying a four-round lead heading into the break, 8-4. The second pistol round win by Fastelle extremely put the Malaysian team in a more precarious position. However, from that point on, it was an all-YGGP show, headlined by individual contributions, especially by "Co1d" and "Blaize", to secure a 13-11 triumph.
Ascent, the second map of the series, saw YGGP start off with the upper hand, taking the first pistol round before Jayden "Salvestro" Tng's double kill in the third round left them behind for the remainder of the half. Fastelle's momentum carried them to a 9-3 halftime lead and secure them the map 13-8 to tie things up. The decider map, Split, was a straightforward one. "fattboiPALAAA" were not able to do much of the heavy lifting in a match that was dominated by Yeow "Moosey" Zhen Feng, who put in a 292 ACS by the end of the game. Fastelle dominantly took control of the game, taking the map 13-2 to eliminate You Guys Get Paid in last place.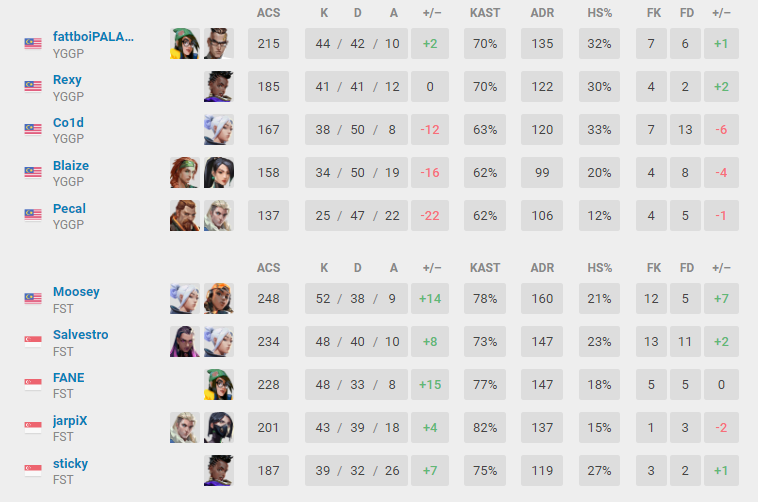 ---
Group B Elimination Match – KPMOONIIBLM9 vs. FATAL – VCT MY/SG Stage 1 Challengers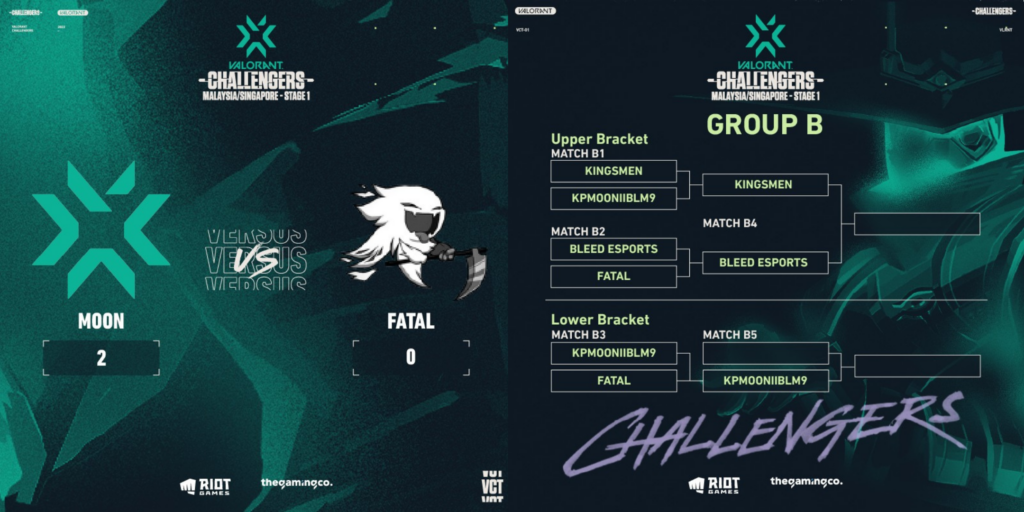 KPMOONIIBLM9, formerly goes by the name of shiba n the homies, stepped up throughout the one-sided elimination series, sweeping FATAL 2-0 (Ascent 13-2, Icebox 13-9). The series started on Ascent, FATAL's first map pick, which ended up becoming FATAL's biggest nightmare. Zhan Teng "shiba" Toh and co. looked insurmountable as they proceeded to take complete control of the opening map from FATAL, securing a 13-2 win.
FATAL began the second map, Icebox, by regaining its footing despite intense clashes with a pistol round win and two subsequent rounds. KPMOONIIBLM9, however, did not want to let the momentum build. On the back of a half-buy, the team went on to steal the fourth round, putting up more overwhelming pressure on the opposition. Despite ending the half with 6-6, they were firing on all cylinders and showing no indications of slowing down on the attacking side, cruising to a 13-9 victory to send FATAL packing and avoid early elimination from VCT MY/SG Stage 1 Challengers.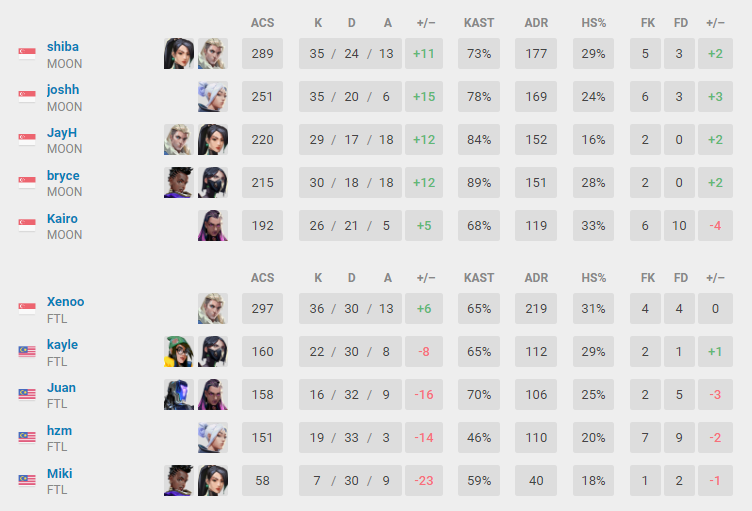 ---
The elimination leaves YGGP and FATAL with no VCT events lined up on their calendar, except for third-party competitions, until VCT Masters 1 ends at the end of April.
With the conclusion of the first week, fourteen teams are left standing in the VCT MY/SG Stage 1 Challengers, vying for three spots in the APAC Challengers Playoffs. The match-ups for the second week, which will kick off on February 17 at 17:30 SGT (UTC+8), looks as follows:
📅 Thursday, February 17
17:30 – OG Brudders vs. Inertia (Group C elimination match)
20:30 – Team UNN vs. Team Sync (Group D elimination match)
📅 Friday, February 18
17:30 – Kingsmen vs. Bleed eSports (Group B winners' match)
20:30 – Paper Rex vs. Todak (Group A winners' match)
📅 Saturday, February 19
11:30 – Madness Esports vs. NN (Group D winners' match)
14:30 – no.men vs. Huat Zai (Group C winners' match)
17:30 – KPMOONIIBLM9 vs. TBD (Group B decider)
📅 Sunday, February 20
11:30 – Fastelle vs. TBD (Group A decider)
14:30 – TBD vs. TBD (Group C decider)
17:30 – TBD vs. TBD (Group D decider)
---
For more insights on the Asian VALORANT scene and upcoming content like this, be sure to like and follow VALO2ASIA on Facebook, Twitter & Instagram.
---
Cover photo courtesy of VALORANT Esports/Riot Games