Zeal Esports will debut their new roster in the upcoming VCT Philippines Stage 2 Challengers.
PHILIPPINES — Tim "dummy" Olson and Dominic "Kimmy" Lee have joined the ranks of Zeal Esports, the organization has announced on Facebook. This is the latest in a series of roster tweaks for Zeal Esports. After their recent exit in VCT Philippines Stage 1 Challengers, the team released in-game leader Craig "craigys" Salgado and benched James "2ge" Goopio to explore other options before eventually letting him go three days later.
To fill in the void, Zeal Esports brought in dummy. Despite being relatively unknown in VALORANT, the American-Filipino comes with an extensive history of playing professionally in multiple FPS titles (Team Fortress 2, Overwatch, Apex Legends, and Fortnite) between 2010-2019 under Evil Geniuses, NRG, Team Liquid, and Gen.G Esports in the United States. Dummy will be looking for a fresh start in Riot's FPS with one of the upper-echelon teams in the Philippines.
Hailing from Singapore, Kimmy comes into Zeal Esports as the final addition after a remarkable individual campaign in the MY/SG Stage 1 circuit, where he averaged 298 ACS over three maps played in the group stage with OG Brudders.
A standout Jett, Kimmy built a reputation in the VALORANT community with his highlights playing on the duelist agent. Having just 16 official maps to his name thus far, Kimmy is in for a baptism of fire as he will make his debut appearance with a structured team and, at the same time, play outside of the MY/SG region for the first time.
ALSO READ: Paper Rex qualify for 2022 VCT Masters Reykjavik over Bleed eSports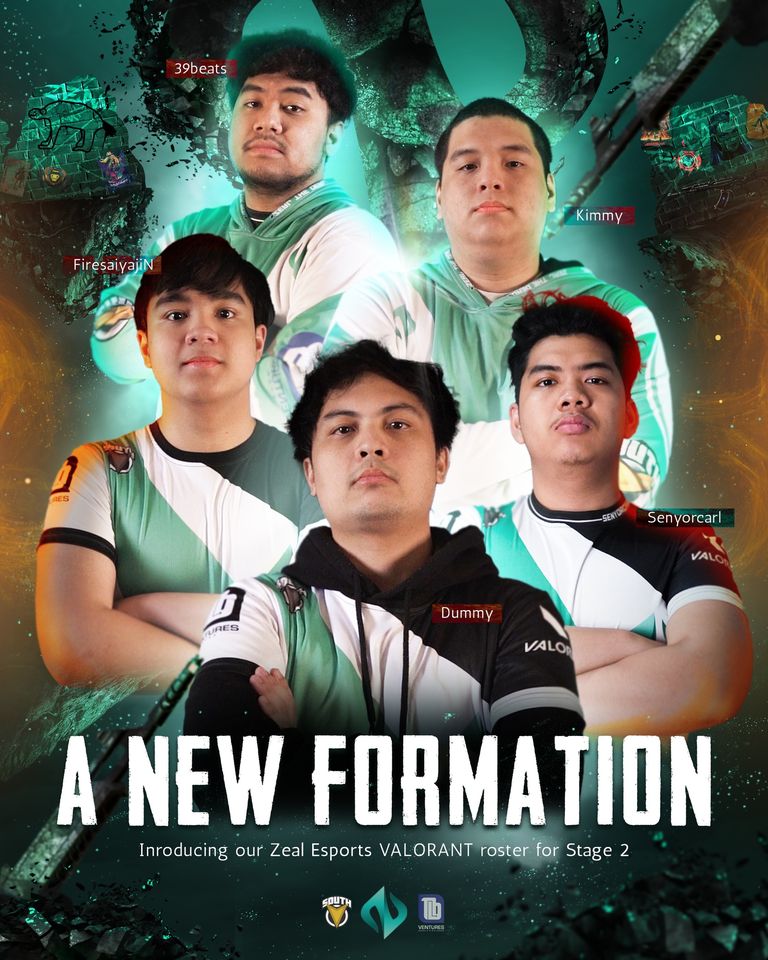 Dummy and Kimmy had formerly played together in an orgless team before being signed by the Cebu-based organization. Now, the pair have landed in Cebu, the Philippines, to begin their preparations alongside the rest of the players for the upcoming VCT Philippines Stage 2 Challengers with an intensive bootcamp.
Carl "senyorcarL" Carandang and co. claimed a 5-6th finish in VCT Philippines Stage 1 Challengers with victories over South Built Esports and Looking for Org before being eliminated by the former team in the playoffs, which became the eventual winners.
With these changes, Zeal Esports now have:
🇵🇭 Carl "senyorcarL" Carandang
🇵🇭 Keith "firesaiyajiN" Madarang
🇵🇭 Cyle "39beats" Pontilar
🇺🇸 Tim "dummy" Olson
🇸🇬 Dominic "kimmy" Lee
---
For more insights on the Asian VALORANT scene and upcoming content like this, be sure to like and follow VALO2ASIA on Facebook, Twitter & Instagram.
---
Cover photo courtesy of Zeal Esports