The first Asia-Pacific team has been confirmed for the first Masters event of the year.
SINGAPORE — Paper Rex became the first APAC team to qualify for 2022 VCT Masters Reykjavik in Iceland after defeating Bleed eSports 2-0 (Icebox 15-13, Split 13-4) in the Upper Bracket Finals.
The MY/SG grand final rematch saw the Benedict "Benkai" Tan-led side dominate their opponents to secure their second-ever LAN appearance. They needed only two maps to defeat Bleed eSports, stopping the Singaporean-Swedish mix in their tracks after they had defeated MiTH and FULL SENSE earlier in the bracket.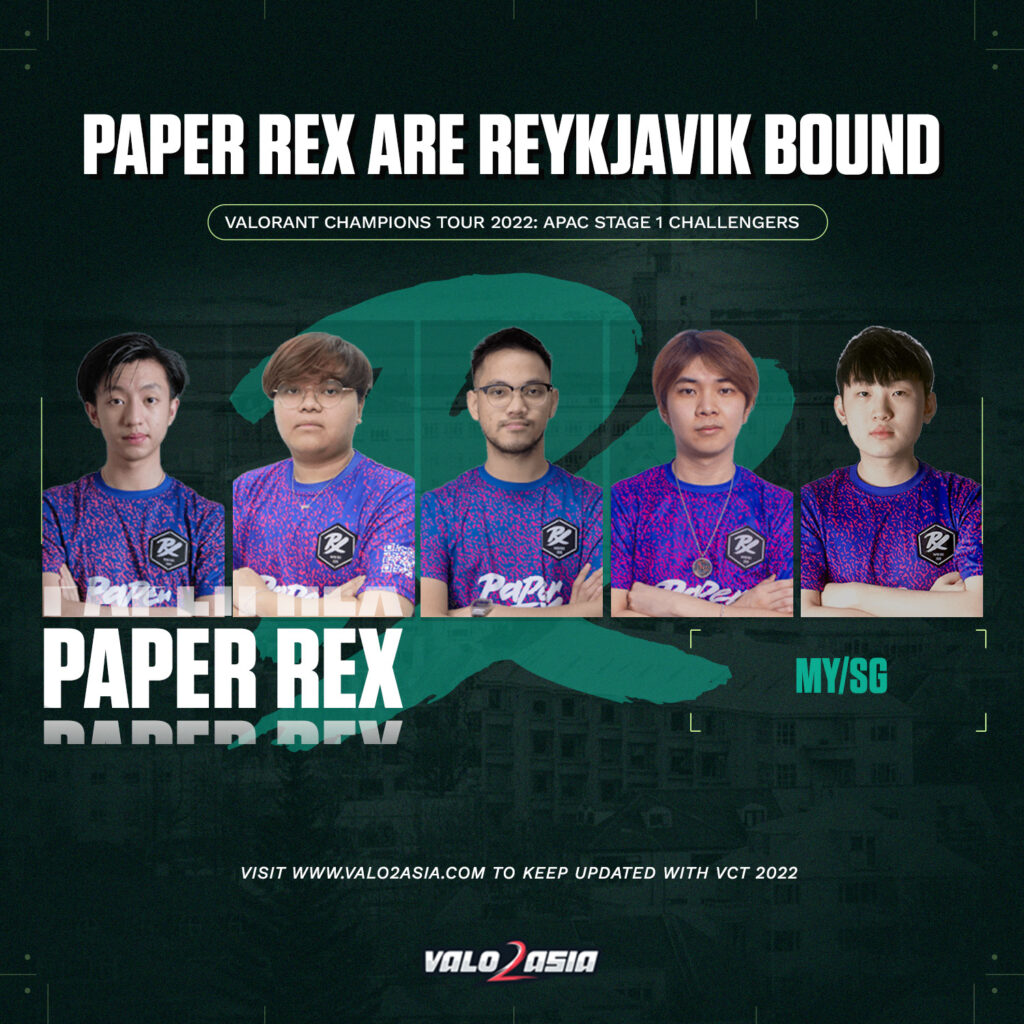 The SGMYID combine are the fifth team to qualify for VCT Masters 1 Reykjavik and will be joined in Iceland by Fnatic, FunPlus Phoenix, G2 Esports, and OpTic Gaming. Six more teams will be determined by the end of the week, including one from South Korea and Japan, respectively.
The win extends Paper Rex's remarkable VCT Stage 1 campaign, which saw them qualify for VALORANT's first international LAN in 2022 without dropping a single series in the sub-regional (MY/SG) and regional (APAC) competitions.
ALSO READ: VCT APAC Stage 1 Challengers Knockouts – Teams Preview

---
In the playoff bracket, Paper Rex moved past South Built Esports and XERXIA Esports, while Bleed eSports beat MiTH and FULL SENSE to qualify for the grand final.
Icebox started off disastrously for the Paper Rex side as they got battered, finishing the first half in a 2-10 deficit. What followed was a reverse sweep on the offensive side despite Bleed eSports having already secured the match point at 12-5. All players came alive to string seven consecutive rounds to force overtime. The map could not be settled right away, as the first overtime ended with the two teams splitting the difference, but Paper Rex were finally able to steal Bleed's map pick, 15-13.
Split was a much more straight forwards affair with Paper Rex executing a solid T side, ending the first half ahead 10-2 with Wang Jing "Jinggg" Jie at the top of the scoreboard. Paper Rex picked up round after round, not giving their opponents a chance to secure victory, 13-4.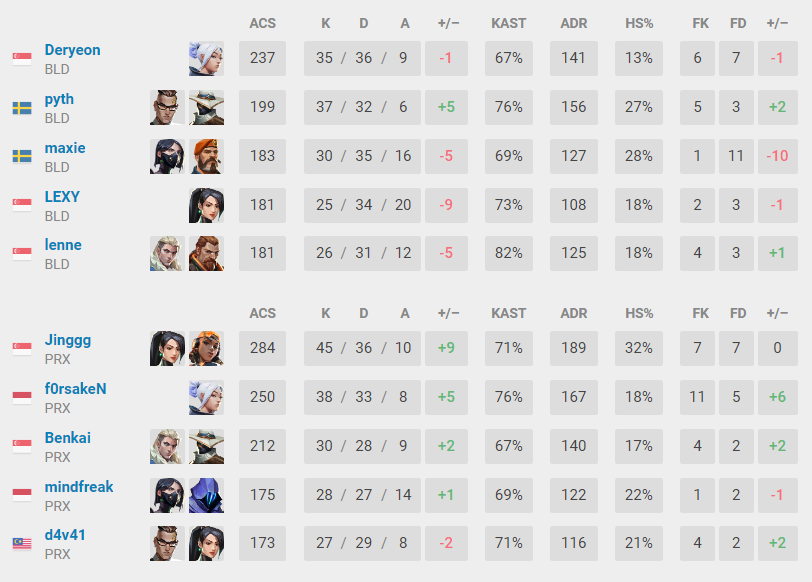 ---
One more team from Asia-Pacific will join Paper Rex at VCT Masters 1 Reykjavik. Bleed eSports still have one more chance to clinch the second Masters Reykjavik spot against either XERXIA Esports first thing tomorrow. 
With Paper Rex qualified to VCT Masters 1, the updated team list for the first international LAN of the year taking place in Reykjavik, Iceland, on April 10-24 looks as follows:
| | |
| --- | --- |
| 🇪🇺 FunPlus Phoenix | 🌏 TBD (NA) |
| 🇪🇺 Fnatic | 🌏 TBD (Brazil) |
| 🇪🇺 G2 Esports | 🌏 TBD (LATAM) |
| 🇺🇸 OpTic Gaming | 🌏 TBD (Japan) |
| 🇸🇬 Paper Rex | 🌏 TBD (Korea) |
| 🌏TBD (APAC) | 🌏 TBD (LATAM/BR) |
---
For more insights on the Asian VALORANT scene and upcoming content like this, be sure to like and follow VALO2ASIA on Facebook, Twitter & Instagram.
---
Cover photo courtesy of Colin Young-Wolff/Riot Games