All Gamers have welcomed Kang "BeYN" Ha-bin and Kim "miKa" Jae-ryun into their roster, courtesy of a loan arrangement with DRX.
SOUTH KOREA – DRX revealed on Twitter today they have loaned their trainees, Kang "BeYN" Ha-bin and Kim "miKa" Jae-ryun, to Chengdu-based All Gamers.
"Today, we announce that BeYN and miKa have been loaned to All Gamers VALORANT. We wish them both the best of luck in their new adventures!" the announcement reads.
BeYN arrives in All Gamers after spending the 2023 VCT season helping Maru Gaming secure third-place finishes in both the WCG VCL Korea Split 1 and 2 campaigns. He held the second-highest VLR rating of 1.06 among his teammates and maintained an average of 236.4 ACS, which was the fourth-highest in WCG VCL Korea Split 2, according to VLR.gg.
After the end of the season, BeYN returned to the Prospects wing of DRX in June, and now, he is venturing out once more, this time to his first-ever international team.
ALSO READ: VCT Game Changers APAC Elite set to begin, with a single ticket to São Paulo at stake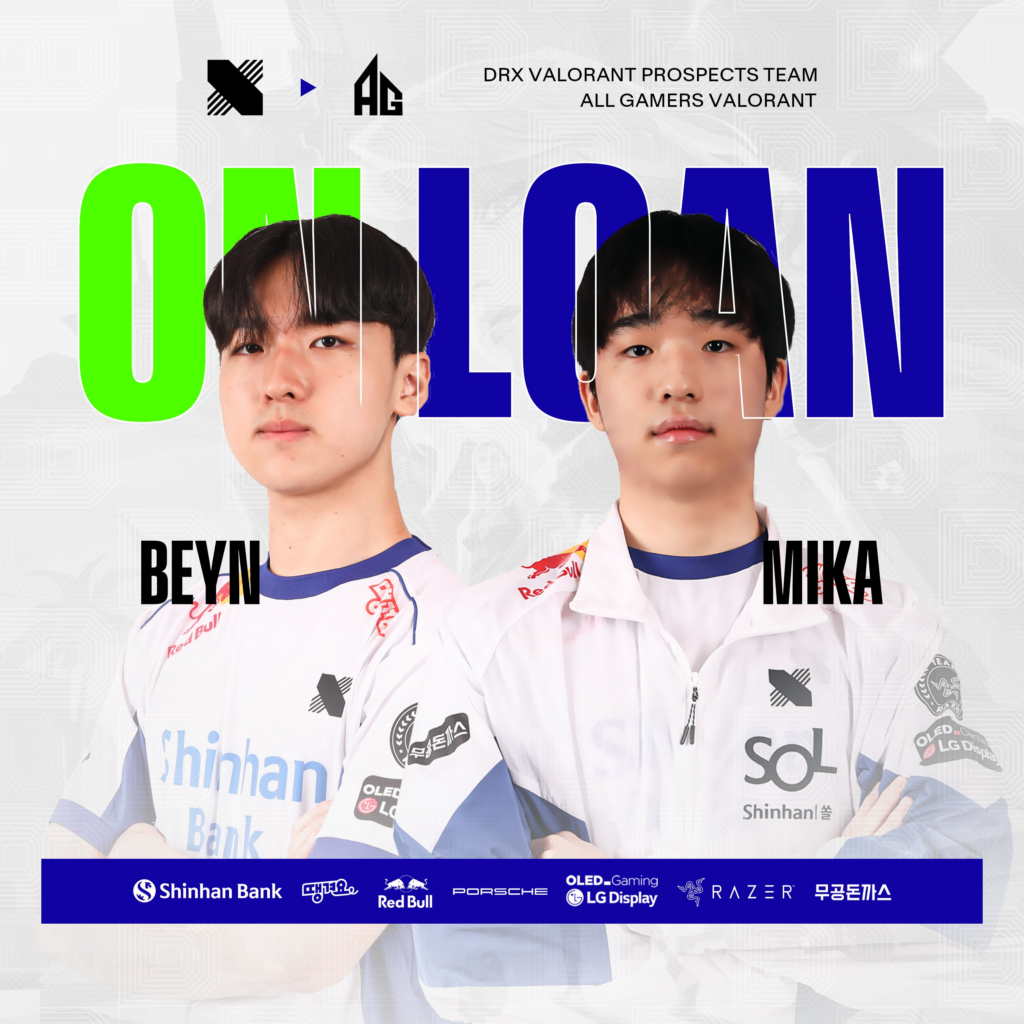 On the other hand, miKa has not seen official match action since over a year ago. His most recent appearance dates back to August 2022 during UTAGE Season 5, when DRX Prospects reached the finals. miKa stood out in the tournament as the top-rated player, boasting a VLR rating of 1.37 and an average ACS of 265.2.
All Gamers are banking on the experience and training regimens BeYN and miKa gained in Seoul, which will bolster their chances in the upcoming second and third Acts of the China Evolution Series. All Gamers were unable to advance past the open qualifier of Act I, suffering a crushing 1-13 loss to Trace Esports in the opening round of the single-elimination bracket. 
The duo from DRX Prospects will make their first appearance in the black-and-red jerseys in the open qualifier of the China Evolution Series Act II on October 5-8. 40 teams across China will battle for circuit points, with the goal of securing a place at the Ascension China event later in the year.
However, the identities of the players occupying the other three spots are still unclear, as AG have listed a total of nine additional players in their official records.
---
For more insights on the Asian VALORANT scene and upcoming content like this, be sure to like and follow VALO2ASIA on Facebook, Twitter & Instagram.
---
Cover photo courtesy of DRX