The Indonesian team are the back-to-back four time champion after a 3-2 win over Oasis Gaming Aqua.
Alter Ego Celestè came out on top once again in the fourth edition of FSL VALORANT Circuit 2021 following a hard-fought 3-2 win over Oasis Gaming Aqua (Ascent 13-2, Icebox 6-13, Bind 13-5, Breeze 5-13, Split 13-5). With the victory, Ryona "Tarathiel" Tan's squad reaches a level of dominance in Southeast Asia similar to that of Cloud9 White in North America.
The fourth consecutive FSL Open Circuit victory secures them the place on top of the rankings for the time being, with two more Open tournaments set to be played before the circuit concludes with VCT Game Changers SEA: FSL Elite 2021.
ALSO READ: Bren Esports overcome BOOM to win the VALO2ASIA Launch Invitational 2021!
On their route to the grand final, Alter Ego Celestè looked pretty dominant, dropping only one map against Thailand's Kid Mai Ork in the Upper Bracket Quarterfinals. Meanwhile, Oasis Gaming Aqua made it all the way from the lower bracket after falling to The Impaler in the upper-bracket semifinals. 'Muffyn' and co. were able to exact vengeance on the Singaporean side later in the Lower Bracket final before playing Alter Ego Celestè in the championship match.
VALO2ASIA MVP Award – VCT Game Changers SEA: FSL Open 4
The standout player for Alter Ego Celestè during the VCT Game Changers SEA: FSL Open 4 was Odella "enerii" Abraham. The duelist main averaged a 319 combat score across 12 maps played in the playoffs. Abigail "Kohaibi" Kong from The Impaler came in second with a 303 ACS and overall highest K/D out of 44 players in the playoffs.
The Grand Final – Alter Ego Celestè vs Oasis Gaming Aqua
The best-of-five contest saw Alter Ego Celeste get off a flying start in the series by locking down Ascent in a dominant fashion, 13-2, before the Indonesians lost out on Icebox 6-13. While Oasis Gaming Aqua was able to take rounds on the following map, Bind, Odella "enerii" Abraham kicked her game into a higher gear after the tenth round, helping the Indonesian side to win eight consecutive rounds to close out the third map, 13-5.
Breeze, which was both teams' first official map recorded in competition, saw Oasis Gaming Aqua respond with a monstrous 6-1 lead, winning the second map 13-5 after an attempted comeback from their opponents.
While the wind was now firmly in Oasis Gaming Aqua's sails, little did they know that the final map would be Alter Ego Celeste's strongest, and the team's fifth win streak on that map. A comfortable 8-4 defensive half was established on the offense, with the Indonesian side briskly wrapping up the map with the same score as Bind and Breeze, 13-5.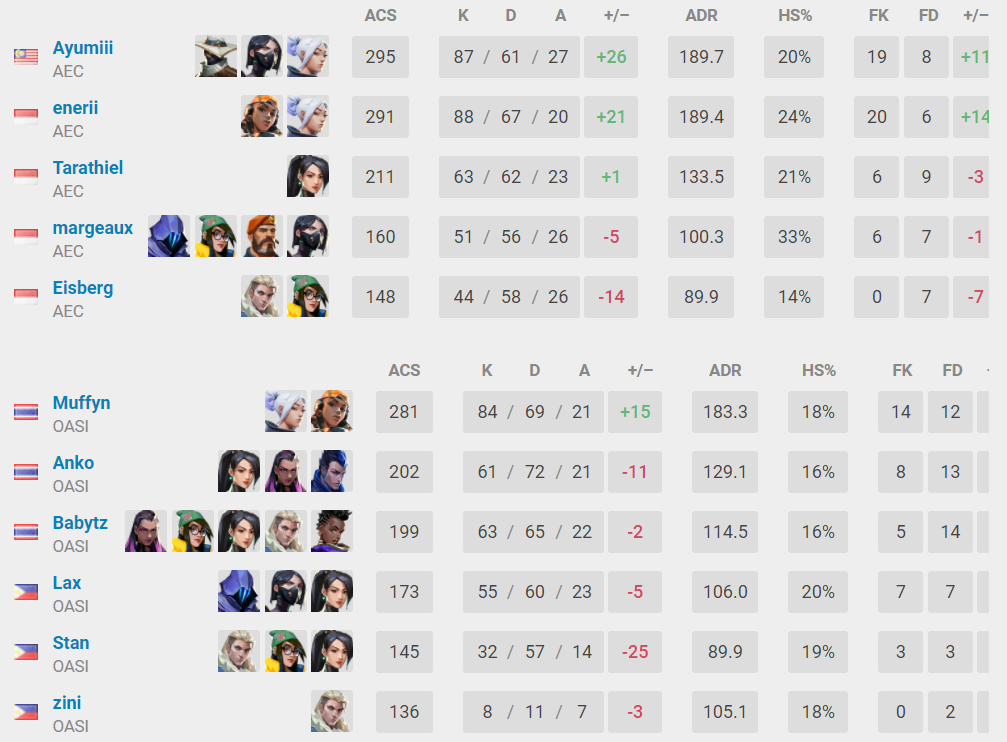 ---
VCT Game Changers SEA: FSL Open 4 final standings
| | | | |
| --- | --- | --- | --- |
| Place | Team | Prize | Points |
| 🥇 1st | 🇮🇩 Alter Ego Celestè | US$1,500 | 10 |
| 🥈 2nd | 🇹🇭 Oasis Gaming Aqua | US$1,200 | 9 |
| 🥉 3rd | 🇸🇬 The Impaler | US$800 | 8 |
| 🏅 4th | 🇵🇭 Galaxy Racer Female | US$600 | 7 |
| 🏅 5th-6th | 🇹🇭 Kid Mai Ork | US$300 | 6 |
| 🏅 5th-6th | 🇹🇭 Aricat Aresta | US$300 | 6 |
| 🏅 7th-8th | 🇮🇳 Asteria | US$150 | 5 |
| 🏅 7th-8th | 🇵🇭 Dynasty Arise | US$150 | 5 |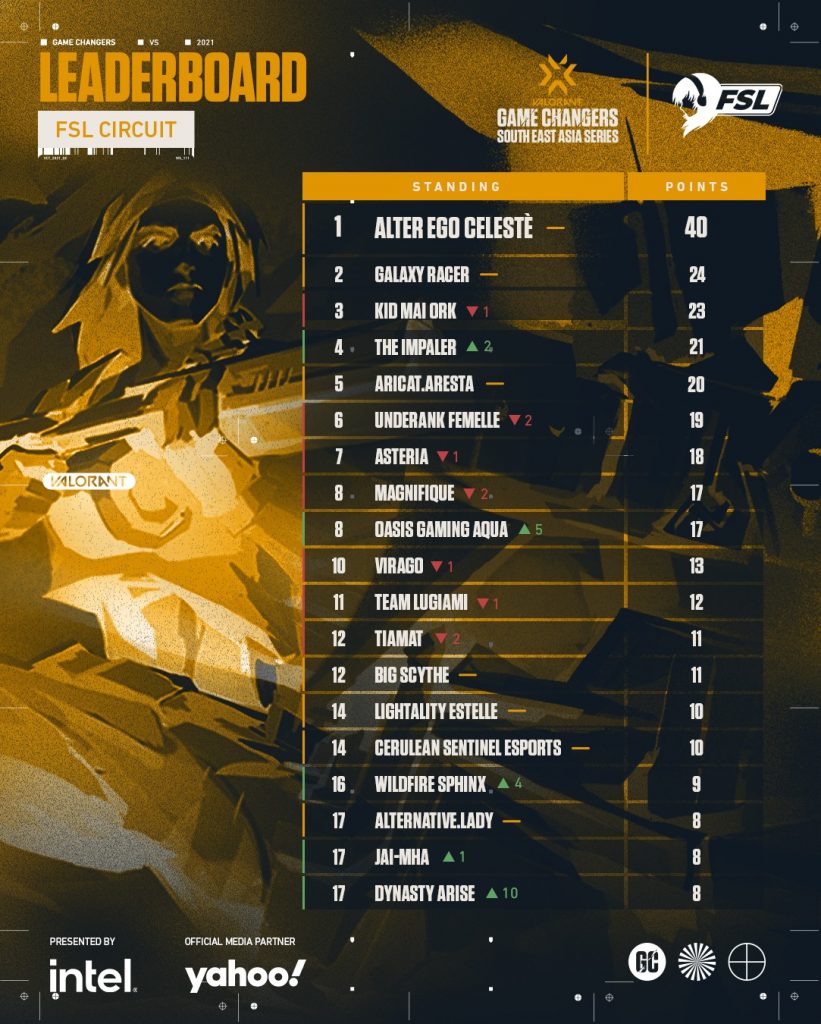 ---
For more insights on the Asian VALORANT scene and upcoming content like this, be sure to subscribe to our newsletter. Don't forget to follow VALO2ASIA on Facebook, Twitter & Instagram.
---