The Indonesians picked up their first title of the year after taking down X10 CRIT Female in the title decider.
INDONESIA — Alter Ego Celeste won VCT Game Changers APAC Open 1 on Sunday following a 3-2 victory against X10 CRIT Female. They netted themselves US$1,500, 20 VCT APAC Game Changers Points, and the bragging rights of winning the first event of 2022 with tier 1 all-female teams in attendance.
"I was so nervous when we were losing a lot [of fights] on Fratucre, but I was confident in my team that we were gonna take [the lead] back." Alter Ego Celeste's Duelist Odella "enerii" Abraham said in a post-match interview. "We just have chemistry inside and outside of the game; we do not really need to talk to each other when we play, we just know what we were gonna do," she continued.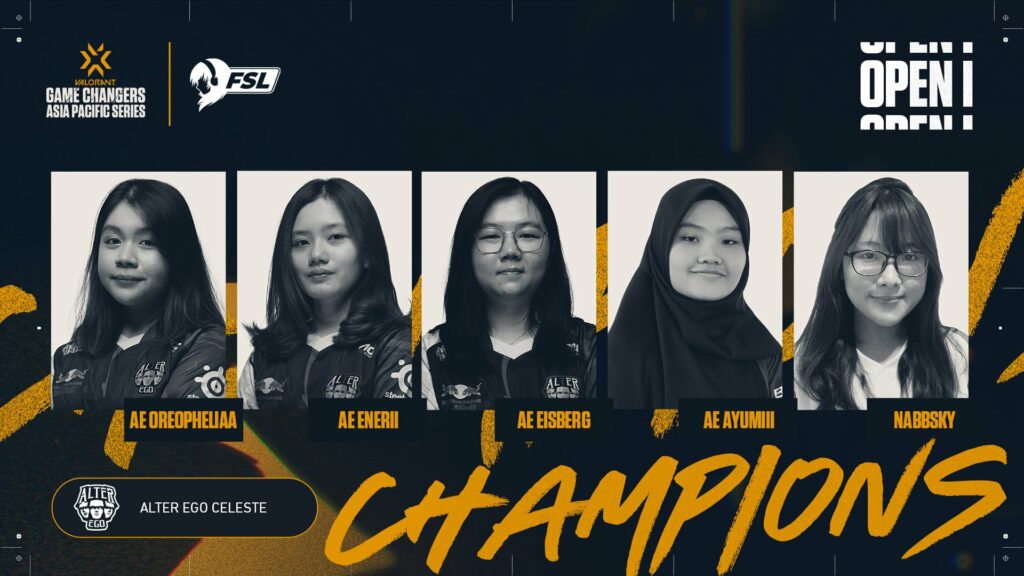 Alter Ego Celeste shown its adaptability despite the absence of in-game leader Ryona "Tarathiel" Tan. They filled the gap with team manager Nabila "nabbsky" Sulthana, who is also a former FemaleFighters CS:GO player.
ALSO READ: Tarathiel announces retirement from competitive VALORANT: "It has been an amazing journey"
Alter Ego Celeste lost the opening map, Ascent, 14-16, but immediately recovered with their map selection of Icebox, 13-11. A loss on Fratucre put them on the verge of losing the whole series as they were down 1-2 in the series. They responded back with one-sided victories on Haven 13-8, and Bind 13-4 to capture another back to back VCT Game Changers title.
X10 CRIT Female (formerly MAD Army/Oasis Gaming Aqua) remain as the only team capable of challenging the Indonesian squad to compete in all five series. Previously, Chalita "Muffyn" Buathong and co. made a strong statement last year in the VCT Game Changers SEA: FSL Open 4 Playoffs, pushing AEC to their limits despite ultimately falling short on the last hurdle.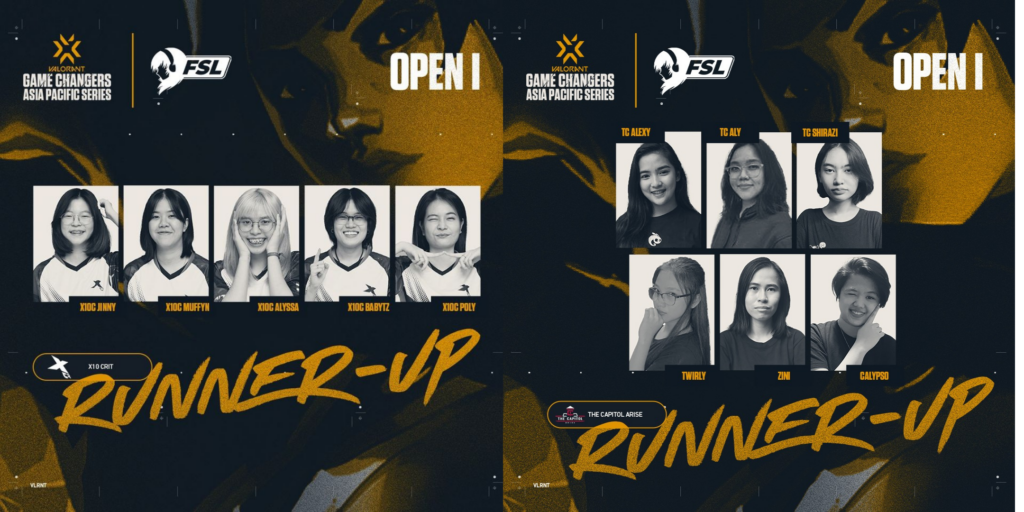 The win marks the team's eighth SEA/APAC Game Changers title since the early period of the FSL VALORANT circuit in 2020, which eventually became the official VCT Game Changers APAC circuit.
"Well, I would not say it is boring [to always stay on top]. More of the fact that whenever I have tournaments, I get nervous because I feel like everyone is trying to take the number one [spot], so I have to try harder every series; like the amount of pressure the team has is a lot so it is not boring but like a lot of people [teams] are challenging us so it is quite fun." enerii said when asked about her view of Alter Ego Celeste as an undefeated force within the APAC all-female VALORANT scene.
The next significant tier 1 all-female tournament will be VCT Game Changers APAC Open 2, which begins on April 2. 
VCT Game Changers APAC Open 1 Playoffs final standings:
| | | | |
| --- | --- | --- | --- |
| Place | Team | Prize | Points |
| 1st | 🇮🇩 Alter Ego Celeste | US$1,500 | 20 |
| 2nd | 🇹🇭 X10 CRIT Female | US$1,200 | 17 |
| 3rd | 🇵🇭 The Capitol Arise | US$800 | 15 |
| 4th | 🇵🇭 Siomai and Friends – Meraki | US$600 | 14 |
| 5th-6th | 🇸🇬 Team SMG | US$300 | 13 |
| 5th-6th | 🇮🇩 Hero Zero KDA | US$300 | 13 |
| 7th-8th | 🇹🇭 Quintuplet | US$150 | 12 |
| 7th-8th | 🇵🇭 FUMA Ladies | US$150 | 12 |
---
For more insights on the Asian VALORANT scene and upcoming content like this, be sure to like and follow VALO2ASIA on Facebook, Twitter & Instagram.
---
Cover photo courtesy of FSL