The former Cloud9 Korea coach will help Alter Ego in becoming a more serious contender for titles. 
INDONESIA – Kang "TRY" Tae-wook has been appointed to coach Alter Ego's VALORANT squad, making him the second Korean to guide an Indonesian VALORANT team after BOOM Esports' Ji "meow" Dong-jun. 
With the 28-year-old's appointment, Adrian "adrnking" Setiawan and co. end a five-month period without a coach in any meaningful capacity. The team's last coach had been Andi "Sleepy" Bangsawan, who is presently tied to India's Velocity Gaming. 
ALSO READ: Former TYLOO CS and FPX VAL coach Johnta appointed FENNEL's head coach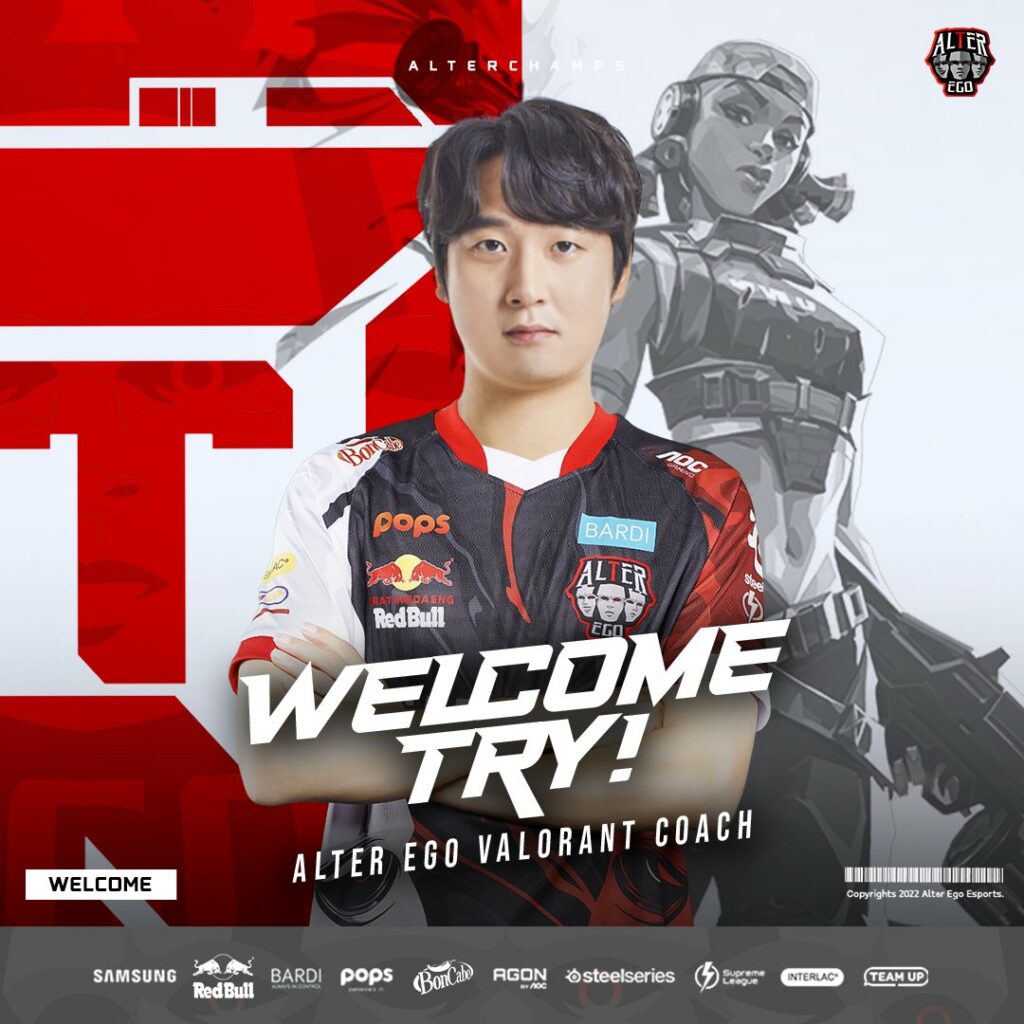 Prior to assuming a coaching role in Alter Ego, TRY was part of several Korean teams in early last year, including Cloud9 Korea and ZFGaming, but lasted less than three months in each. Halfway through 2021, he was last seen leading China's ShanXi Gaming during the ENERGY VISION tournament as a coach-turned-player before looking for other options outside the East Asian region. 
The news comes as a considerable boost to Alter Ego, who was close to qualifying for VCT APAC Stage 1 Challengers but fell short in a tight match against BOOM Esports in the sub-regional VCT Indonesia competition. TRY has a lot of work ahead of him in his new home, as they are now set to play in VCT Indonesia Stage 2 Challengers, which begins today and sees them go up against ARF TEAM (formerly Babi Guling) in the first match.
With TRY's addition, the Indonesian team now have:
🇮🇩 Jonathan "naTz" Adiputra
🇮🇩 Bryan "Kush" Setiawan
🇮🇩 Axel "huliolio" Julio
🇮🇩 Delbert "deLb" Tanoto
🇮🇩 Adrian "adrnking" Setiawan
🇮🇩 Lastiko "Moji" Reyanick
🇰🇷 Kang "TRY" Tae-wook (Coach)
---
For more insights on the Asian VALORANT scene and upcoming content like this, be sure to like and follow VALO2ASIA on Facebook, Twitter & Instagram.
---
Cover photo courtesy of Alter Ego