Bleed eSports has yet to reveal details about their future fifth player.
SINGAPORE — Bleed eSports have officially parted ways with Xavier "LEXY" Lee, Henri "Flaring" Forichon, and Darren "FirstLove" Mok, the organization has announced.
The organization released a statement on Twitter on Monday, confirming the departure of the trio brought on in two separate timelines of the team.
ALSO READ: DWG KIA down to three; lose quartet
Two remaining members of the original UwU roster picked up in September 2021 by Bleed eSports, LEXY and FirstLove, have now departed after a six-month tenure. Meanwhile, Flaring was brought in as a substitute due to Singapore's suspension of quarantine-free travel that prevent Jacob "pyth" Mourujärvi and Max "maxie" Lönnström to travel to the country in the early stages of VCT MY/SG Stage 1 Challengers. 
In their statement, LEXY and Flaring revealed that they will start their compulsory National Service shortly, thus ruling out the possibility of consistently playing competitively until the NS duration ended. "It is my last year of playing competitive VALORANT, and that was my last run. Nonetheless, it has truly been an honour to play under such a great organisation." LEXY said on Twitter.
"It was a pleasure to be a part of this wonderful organization that actually cares for their player. I came from no competitive background before joining T600 to Equinox to UwU and only got recognition after beating Paper Rex. There were many ups and downs, but I am thankful for this experience." FirstLove tweeted on Monday.
"I would not get another good opportunity to show myself as a player before the army. It has been my dream since I was 14 to be a professional esports player, and they helped me realize part of that dream by providing me with my first contract and salary. I promise that one day I will make it. It may not be this year, it may only be after my time in the army, but I will not give up until I fulfil this dream." Flaring said in his personal statement.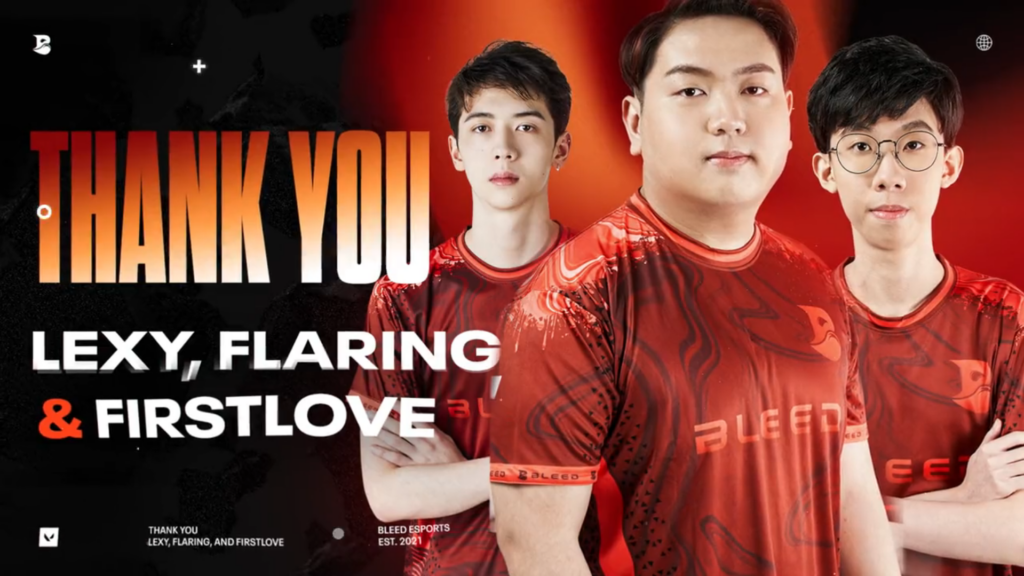 With five Singaporeans on board, Bleed eSports opened their Stage 1 campaign in the sub-regional MY/SG event with a long lower-bracket run to place second, which should not have come as a huge surprise. But the Singapore-Swedish mix exceeded all expectations in VCT APAC Stage 1 Challengers after coming close to clinching a ticket to Masters 1 Reykjavik, only losing to eventual champions Paper Rex and Thailand's top seed XERXIA in a tight match.
Bleed eSports now find themselves one player short, which they need to sort out soon to compete by bringing in either a Singaporean or Malaysian player as their fifth to comply with the VALORANT Champions Tour regulations.
No upcoming events have been confirmed for Bleed eSports as of right now, with VCT MY/SG Stage 2 Challengers scheduled to start in May.
With the announced departures, Bleed eSports are now down to:
🇸🇬 Derrick "Deryeon" Yee
🇸🇬 Lionel "lenne" Lim
🇸🇪 Jacob "pyth" Mourujärvi
🇸🇪 Max "maxie" Lönnström
🇩🇪 Nikola "LEGIJA" Ninić (Coach)
🇸🇬 Aaron "Eno" Cheah (Assistant coach)
---
For more insights on the Asian VALORANT scene and upcoming content like this, be sure to like and follow VALO2ASIA on Facebook, Twitter & Instagram.
---
Cover photo courtesy of Bleed eSports