Bleed eSports came out on top in a well-fought series to proceed to Group B's winners' match.
The opening affair of VCT APAC Stage 2 Challengers Play-In saw Bleed eSports move on to Group B's winners' match after taking down Ghetto Artist 2-1 (Split 13-7, Fracture 8-13, Haven 13-7).
ALSO READ: BOOM Esports reverse sweep CERBERUS Esports in VCT APAC Stage 2 Play-In Group A opening match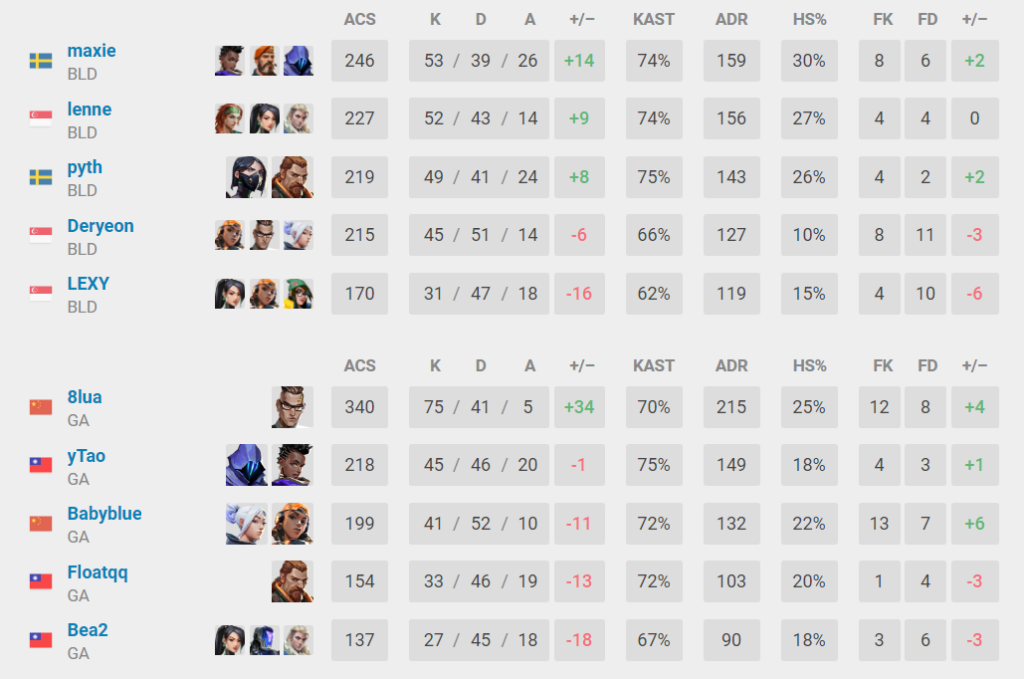 Split 13-7
MVP: Max "maxie" Lönnström – Astra – (Highest on the server: ADR 171, HS 38%)
Ghetto Artist struck the ground running on Bleed eSports' map selection of Nuke, earning a three-round lead courtesy of taking advantage of their superior weapons. The lead put them in a solid situation before a run of back and forth between the two sides. The triple kills from "8lua" closed the half, salvaging a 7-5 scoreline.
Ghetto Artist did not remain the front-runner for long, though, since once sides switched, it was all about Bleed eSports. The Taiwanese-Chinese side seemed entirely outclassed as BLEED put together a stalwart defense, giving Ghetto Artist no room to breathe. Three kills by Derrick "Deryeon" Yee in mid was the final nail in the coffin, as they ended up winning the map with a 13-7 scoreline to go 1-0 up in the series.
Fracture 8-13
MVP: "8lua" – Chamber – (Highest on the server: ACS 454, KAST 90%, ADR 288)
What followed on Fracture was a thriller of a map, with Ghetto Artist taking over the offensive side with "8lua", who was the player to watch in the series, playing at the top of their game to take six consecutive rounds before leaving Bleed eSports to walk away with the last round of the first half, which ended 8-4 in favor of Ghetto Artist.
Despite taking the second pistol, the Singaporean side was unable to considerably extend their lead, conceding the following round to a full buy Ghetto Artist. From there, "Floatqq" and co. pulled ahead and would only drop two more rounds before closing the map 13-8 and tying things up 1-1 in the series.
Haven 13-7
MVP: Lionel "lenne" Lim – Sova – (Highest on the server: ACS 302, KAST 80%, ADR 206)
Bleed eSports put pressure on Ghetto Artist early on in Haven, going up 4-1 on the attack before a back-and-forth brawl in which neither team was able to string together two consecutive rounds in the last seven of the first half that still ended up in favor of the Singaporean side 7-5. After BLEED assumed the defense and won the second pistol round, the odds of Ghetto Artist staging a comeback diminished. Especially when Jacob "pyth" Mourujärvi and Lionel "lenne" Lim were showcasing great form as Breach and Sova, respectively.
Despite a valiant effort from "8lua", Ghetto Artist could only put two more rounds on the board before Bleed eSports put the game away with a 13-7 victory.
They will now go on to face the winner between Rex Regum Qeon and Team Big BAAM on Saturday morning to fight for a group stage spot.
---
For more insights on the Asian VALORANT scene and upcoming content like this, be sure to like and follow VALO2ASIA on Facebook, Twitter & Instagram.
---
Cover photo courtesy of VALORANT Esports