Gary "blaZek1ng" Dastin and co. are now waiting for the Bleed eSports vs. Ghetto Artist winner in the opening matchup of Group B.
BOOM Esports started their VCT APAC Stage 2 Challengers run with a win, taking CERBERUS Esports out 2-1 (Ascent 8-13, Breeze 13-5, Icebox 13-9).
ALSO READ: VCT APAC Stage 2 Challengers Play-In team previews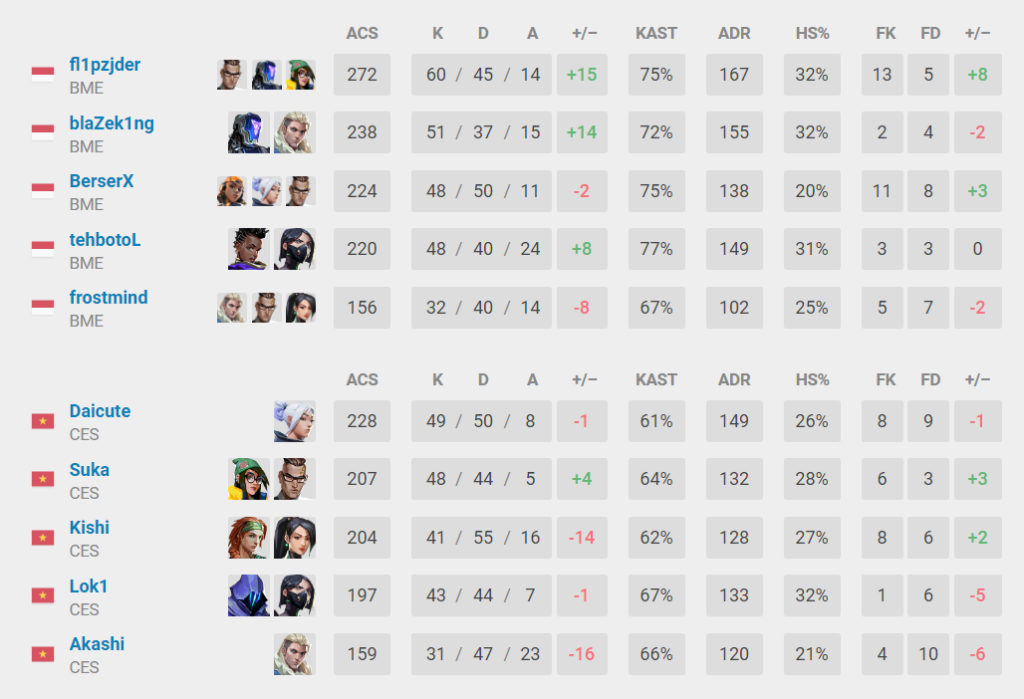 Ascent 8-13
MVP: Nguyễn "Suka" Văn Tiến – Killjoy – (Highest on the server: ADR 191, ACS 296, KAST 86%)
The match kicked off on BOOM's map pick of Ascent in which CERBERUS Esports gained the upper hand against the Indonesian side after converting the first pistol round and going on an unbeaten seven-round streak. BOOM Esports did not let up, however, as they put up some resistance after Rafi "frostmind" Diandra stepped up with a 1v2 on B to be in a comfortable gap.
Following the switch (8-4), BOOM Esports bagged the pistol and offered them a brief respite, coming close to 9-7 to catch up with the Vietnamese side. CERBERUS Esports were unable to capitalize on their lead, forcing them to call a tactical timeout in Round 17. Vietnam's third seed looked revitalized after the timeout and secured a convincing thrifty round to regain control of the game. Châu "Akashi" Hoàn Thiện Nhân and co. closed the map 13-8 and took a 1-0 series lead.
Breeze 13-5
MVP: Rizkie "BerserX" Kusuma – Jett – (Highest on the server: Entry Frags 7, ACS 299, KAST 94%, ADR 185)
Next was the map pick of CERBERUS Esports, Breeze. Following their closely contested first pistol round victory, CES had very little difficulty keeping their rivals at bay for the next four rounds – a brief moment before the world flipped upside down. The Vietnamese side were not to have much more joy than on Ascent.
Once the guns and abilities were out and nearly maximized, BOOM were able to secure their first round of the map in a retake scenario in the fifth. The win in that specific round shifted the balance of power in their favor, giving them control of the remainder of the game and asserting their dominance. BOOM Esports players were popping off left and right, with Rizkie "BerserX" Kusuma taking crucial frags with his Operators, Gary "blaZek1ng" Dastin and Rafi "frostmind" Diandra stacking up team momentum through repeated clutches throughout the defending side to claim 13 consecutive rounds and secure the map 13-5.
Icebox 13-9
MVP: Gary "blaZek1ng" Dastin – Sova – (Highest on the server: ACS 303, ADR 194, HS 40%)
The deciding map started off in a close affair between the two Southeast Asian teams, with BOOM Esports taking a 2-0 lead on the defending side, in which CERBERUS Esports briefly got on the board for three rounds after. However, they were soon fizzled out and unable to break through the defenses as BOOM Esports stabilized and seized control of Icebox for the next six consecutive rounds before the half, 8-4.
Swapping sides brought CERBERUS Esports more chances as BOOM Esports were running without a non-Duelist composition (Sova, Killjoy, Viper, Chamber, and Sage). In fact, it was far more challenging for the Indonesians, as CES's duelist Nguyễn "Daicute" Anh Minh Thông was routinely dispatched to pressure opponents and secure more map control. At the same time, Nguyễn "Lok1" Trung Tín and Ngô "Kishi" Trường Huy both stepped up to the plate by putting together a solid defense to swing momentum to their way.
However, it was not enough for CERBERUS Esports with some crucial blunders happening from their side. The more experienced BOOM Esports managed to get the edge to win it 13-9, capping off the reverse sweep and advancing to face either Bleed eSports or Ghetto Artist in the next round.
---
For more insights on the Asian VALORANT scene and upcoming content like this, be sure to like and follow VALO2ASIA on Facebook, Twitter & Instagram.
---
Cover photo courtesy of VALORANT Esports