Ten teams from the Southern Asia-Pacific region as well as Oceania will fight it out for a chance to earn a spot at VALORANT Champions later this year.
Running from August 1-7, the APAC last chance qualifier will see ten teams compete in a double-elimination, best-of-three bracket for a single spot at Champions, which will be held from September 2-18 in Istanbul, Turkey.
The last chance qualifier will feature the top nine teams from the APAC circuit below those with the most circuit points and those who have already qualified for Champions, with the final spot going to an Oceania team. Similar to the previous year, the starting line will not be equal for all ten teams, as teams will be seeded according to their VCT points standing.
ALSO READ: Explain Like I'm Five: VALORANT Champions Tour (VCT) APAC Structure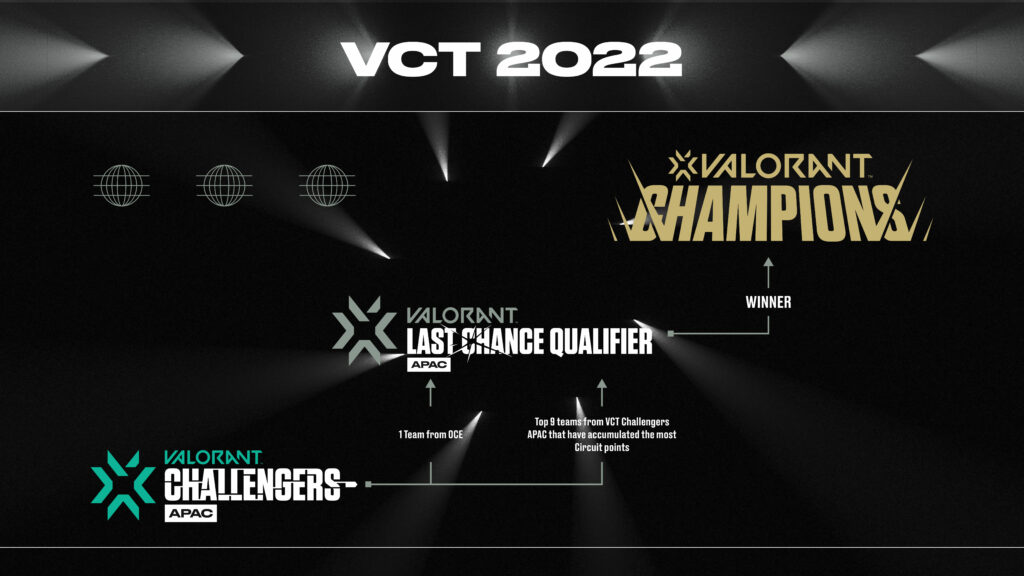 Last Chance Qualifier takes place in 5 different groups of regions simultaneously – North America (NA), Europe Middle East Africa (EMEA), Brazil/Latin America (BR/LATAM), Asia-Pacific (APAC), and East Asia (EA).
Instead of competing in one big last-chance qualifier for the entire Asia-Pacific, Korea, Japan, and China will compete in their own (VCT East Asia Last Chance Qualifier), guaranteeing at least three Southern APAC representatives at this year's VALORANT Champions. This splits North and South APAC in a similar way to that of Apex Legends and Rainbow Six: Siege's official circuits.
The following is the regional allocation for the 2022 VCT APAC Last Chance Qualifier:
Southeast Asia & South Asia – 9
Oceania – 1
Riot Games will reveal more details as we approach the tournament dates.
---
For more insights on the Asian VALORANT scene and upcoming content like this, be sure to like and follow VALO2ASIA on Facebook, Twitter & Instagram.
---
Cover photo courtesy of VALORANT Esports