End of an era.
AUSTRALIA – BOBO are set to disband following the departures of Riley "rDeeW" Wilkinson and Chris "pl1xx" Li. The former is stepping back from competitive VALORANT due to health reasons, while the latter will be joining a new organization. Despite this setback, BOBO, which currently stands at the top of the VCL Oceania Split 1, will continue to compete until the end of the tournament, albeit with multiple stand-ins.
In a statement on Twitter, rDeeW stated that his health has been a significant concern for over a year, affecting him both mentally and physically. He said, "Playing VALORANT is extremely difficult while on opioids and having constant nerve pain going overseas and dealing with all of that was extremely taxing on the mental." rDeeW went on to mention that he is unsure if he will return to the competitive scene in the future but wishes the best for those who continue to compete.
ALSO READ: NODWIN Gaming to host 2023 and 2024 VCL South Asia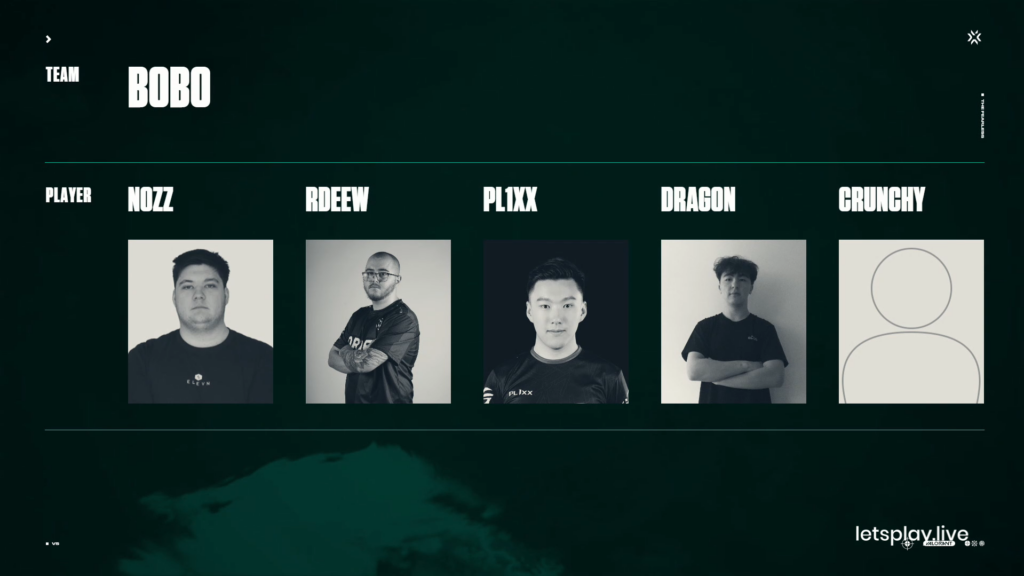 One of the hottest prospects coming from the land down under, rDeeW first gained international recognition as part of the Bonkers lineup that represented Oceania in the 2022 VCT APAC Stage 1 Challengers. The sentinel player's performances quickly earned him a call-up to the now-defunct ORDER team for the second split of the year. The regional success with ORDER saw rDeeW get the opportunity to travel overseas and represent the region for the second time. 
After the collapse of ORDER, rDeeW joined BOBO in October and helped the squad dominate the OFF//SEASON period in the region, winning the Dreamhack Showdown VALORANT Oceania, along with attaining the runners-up spot in ESL Clash of Nations OCE. 
BOBO continue to show great form so far in VCL Oceania Split 1 with solid victories over Built for Greatness, HONEY BADGERS, Mammoth ESC, and Koopa Troopas. With a perfect 4-0 record, BOBO are presently at the top of the competition and are slated to continue their campaign next week against 95X Esports. With two of the team's highest-rated players leaving, BOBO's position is now vulnerable, and it would not take much for them to be ousted from their throne. 
Noah "Nozz" McClafferty and Ethan "Crunchy" Laker have expressed their intention to stick together and look for a new team to call home. The duo has stated their willingness to relocate to any major region, including APAC, EMEA, or North America. "We just wanna play," Crunchy says on Twitter, highlighting Nozz's ability as a capable in-game leader and support player and his versatility to play various positions, including smoker, flex, and duelist. "We are both incredibly hungry to compete and continue our careers." Nicholas "DRAGON" Aleksandrovsky will also explore his options as a free agent, preferably playing as a duelist or killjoy.
VALO2ASIA wishes rDeeW a speedy recovery and the best in his future endeavors.
---
For more insights on the Asian VALORANT scene and upcoming content like this, be sure to like and follow VALO2ASIA on Facebook, Twitter & Instagram.
---
Cover photo courtesy of ORDER