We spoke to Justin "skrawl" Lanzon a week after his team qualified for VCT APAC Stage 1 Challengers via the VALORANT Oceania Tour Stage 1 event.
AUSTRALIA — Bonkers enter VCT APAC Stage 1 Challengers on the back of an impressive run in VALORANT Oceania Tour (VOT) Stage 1 Challengers, one that puts the team led by Jackson "Minimise" White in the conversation after ending ORDER's eight-month win streak in the grand final, and at the same time becoming the sole representatives of the Oceanic region in the upcoming VCT APAC Stage 1 Challengers, scheduled to take place from March 10-27.
Bonkers await for March 16-21 as they will go up against some of APAC's top sides in Group B, including MY/SG powerhouse Paper Rex, the veterans of BOY WITH LOVE, and one more team from the Play-In stage of VCT APAC Stage 1 Challengers.
The Aussies will have to make use of Noah "Nozz" McClafferty – a former teammate of Riley "rDeeW" Wilkinson – however, as Chris "NiceHacks" Wahle could not secure a travel passport in time and will miss the first APAC event of the year. Nozz will fly to Thailand alongside Gary "kalth" Howard, who will be on alert as a stand-in.

Mitchell "pilski" Pilipowski has also been appointed as the team's coach and will work in tandem with Jordan "Jordation" Frish, who could not fly over with the boys but will continue to work with the group from Melbourne.
Before the players flew to Thailand, VALO2ASIA spoke to Justin "skrawl" Lanzon to get his thoughts on the victory against OCE powerhouse ORDER in the finals of VOT, as well as how Bonkers was formed in the first place. He also shared his mindset for competing in OCE's first international event and teams he is looking forward to going up against. Lastly, he discussed what lies ahead for a team that, although being relatively new, has proven to be on par with Oceanic's top sides.
---
VALO2ASIA: You've had about a week to process everything; how are you feeling now about winning against ORDER in the grand final? And how did the team mentally come into the tournament?
skrawl: It still feels amazing to be able to beat the dominant force that is ORDER. I think we came into this tournament pretty confident because we were doing well in scrims and were improving fast, we hoped for a top-two finish but it would be hard to say we predicted that we will win the whole thing
VALO2ASIA: How has that victory influenced the team's mental fortitude and attitude after achieving such victory?
skrawl: A few of us were not really sure if we were going to continue because of uncertainty in the roster or in the future of VALORANT in OCE. But after winning VOT Stage 1, it definitely gave us a big confidence boost as well as the motivation to stick together and grind especially because the APAC playoffs are happening so soon
ALSO READ: Bonkers qualify to VCT APAC Stage 1 Challengers over ORDER
VALO2ASIA: That specific victory currently puts you as one of the highest-ranked OCE teams in the rankings. Do you believe that sentence puts pressure on you as the region's representative at APAC Challengers?
skrawl: Yes, it does. Other than Soniqs, OCE has not been able to compete internationally as of yet and this will be the first through VALORANT Oceania Tour. We have not got as many opportunities in OCE compared to other regions, so we will have to perform well to convince them to do more for us. Also for the longest time people thought ORDER would be the team to represent us. So we will be compared to them and if we do not do well people would wish that ORDER went instead. That is what I believe at least [smile]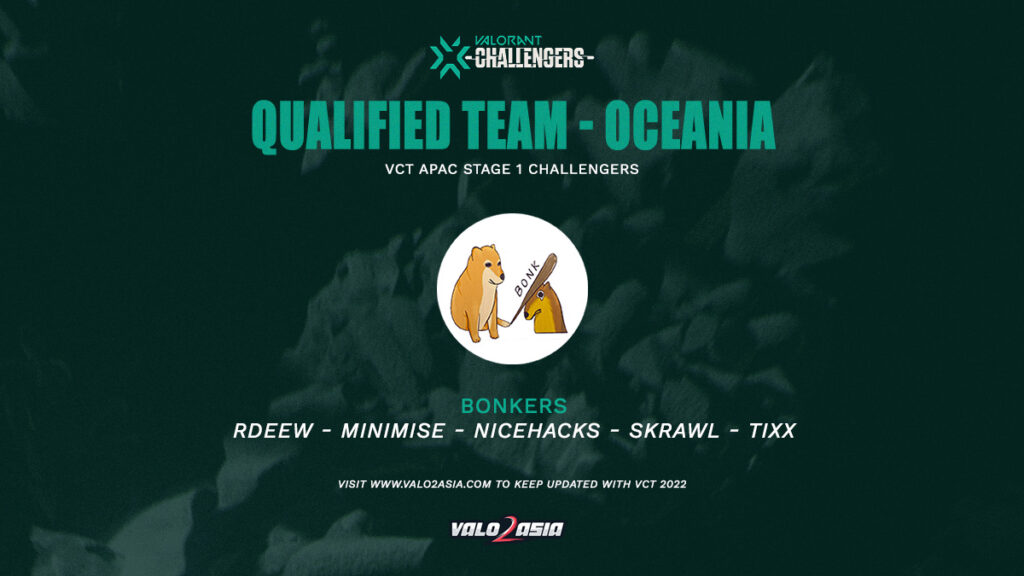 VALO2ASIA: How closely knit is your team? Tell me and to those who are still unfamiliar with you more about how this team was formed in the first place
skrawl: I played with Jackson "Minimise" White in a previous team for a brief period, believed he was a talented and dedicated IGL. Nick "tixx" Quinn was performing well in Nebula stat-wise and figured he could have potential as an up and comer and has been proving himself quite well. Chris "NiceHacks" Wahle popped off in trials and couldn't not pick him up. And Riley "rDeeW" Wilkinson has been a star player in OCE for the longest time, and with his team dropping out in quals, gave us the opportunity to pick him up to strengthen our roster.
VALO2ASIA: Will the team's function be significantly impacted by the absence of NiceHacks at APAC Challengers? Including the addition of Pilski to fill in for Jordation
skrawl: Noah "Nozz" McClafferty is a strong player and great teammate, however, he is not replacing NiceHacks' Jett, so we had to switch multiple roles which definitely takes some time away from refining what we already have. Although with how this game is, teams have to constantly adapt to the meta anyways. As for Jordan "Jordation" Frish and Mitchell "pilski" Pilipowski. Both are still with us during practice, just for the actual trip, Jordation will not be there for us which will make the match environment a little different from what we are used to.
VALO2ASIA: How prepared has the team been so far? And what are some of your plans in Thailand?
skrawl: We are still getting things down and doing overtime to do so. For plans… I think every team will say they plan to win the whole thing. Although I believe for me personally, making it out of group stages, I will be pretty satisfied mainly due to how small we are as a region.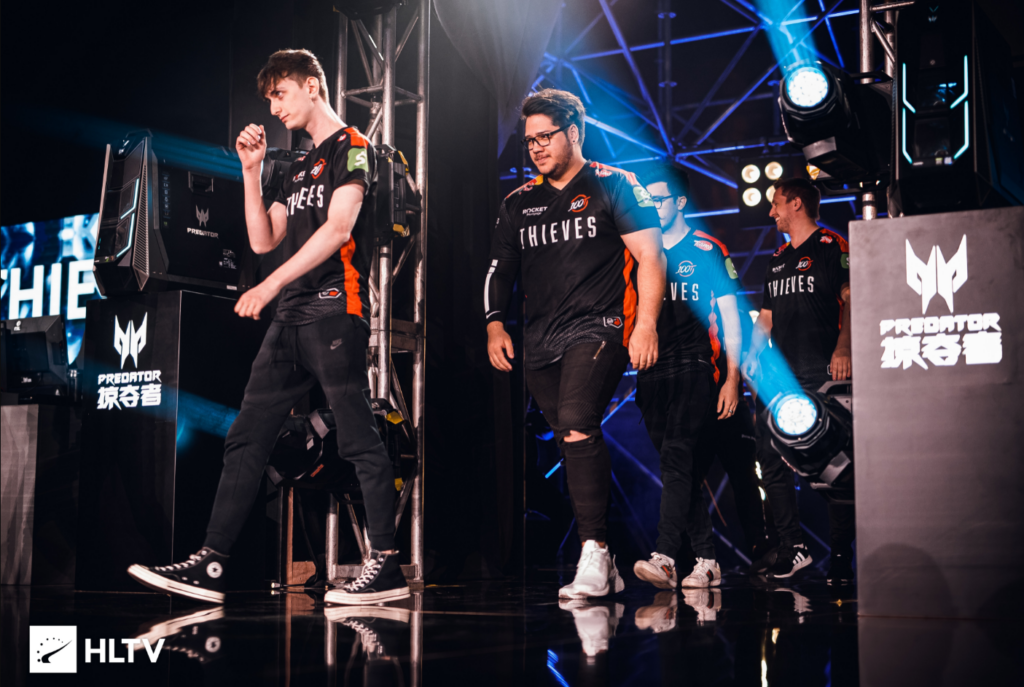 VALO2ASIA: I would want to pick your brain on the region's strength. Do you feel the OCE VALORANT scene can achieve the same level of dominance in APAC as what we have seen in Counter-Strike? Or is it totally different than CS?
skrawl: Of course, OCE has always managed to do well in various other games and I believe we have the talent to eventually be as strong in VALORANT. Just need to be given more opportunities so we are able to develop as a region.
VALO2ASIA: Do you believe that OCE VALORANT would improve more from playing in North America or APAC in terms of growth?
skrawl: I have heard stories about NA scrims, mainly them not taking it as seriously and using cheats mid-round to mess around. I think from my experience, scrimming in SEA, teams are professional and respectful and they try to keep it similar to a match environment. With all the different countries and teams in the entirety of SEA, I picture their strength will not be much different, perhaps even better than NA's.
VALO2ASIA: Do you have any specific team you look forward to competing in the APAC region?
skrawl: We are excited to compete against BWL in the APAC playoffs because we recently scrimmed against them and found they have such an aggressive playstyle; we were not able to do well against it with our ping. But we are hoping we will be able to punish it on an even playing ground.
VALO2ASIA: Now, looking to the future, What are your expectations for VCT APAC Challengers, and what are the goals moving forward? Are there any specific milestones you are looking to touch, any particular achievements the squad is keen on earning?
skrawl: As previously said, I would personally like to make it out of groups in APAC Challengers and once we arrive back in our home country, I would hope to solidify our status in OCE, because I would say a lot of people would still favor ORDER against us [in the APAC Playoffs]. So hopefully we can best them in future tournaments. We are also trying hard to provide appeal for big orgs to pick us through. So that is a big goal for us [smile]
VALO2ASIA: Is there anything you want to say to Bonkers fans at home?
skrawl: Just know that we appreciate you all and it warms our heart seeing the Bonkers support in the Twitch chat and with your flairs on forums. Much love!
---
Bonkers are:
🇦🇺 Jackson "Minimise" White
🇦🇺 Riley "rDeeW" Wilkinson
🇦🇺 Justin "skrawl" Lanzon
🇦🇺 Nick "tixx" Quinn
🇦🇺 Noah "Nozz" McClafferty
🇦🇺 Gary "kalth" Howard
🇦🇺 Chris "NiceHacks" Wahle
🇦🇺 Mitchell "pilski" Pilipowski (Coach)
🇦🇺 Jordan "Jordation" Frish (Coach)
---
For more insights on the Asian VALORANT scene and upcoming content like this, be sure to like and follow VALO2ASIA on Facebook, Twitter & Instagram.
---