The 20 teams for VCT APAC Stage 1 Challengers have been determined following yesterday's finish of eight sub-regional VALORANT Champions Tour events across Asia-Pacific.
The participating sides were determined by a long qualifying process involving hundreds of teams from all over the Asia-Pacific region.
Running on March 10-27, VCT APAC Stage 1 Challengers will see a stacked field that features 20 of APAC's best teams. Notably, Team Secret are absent from the team list, with the other Masters-qualified team from SEA last year making it for Stage 1. The top three teams at the event, XERXIA Esports, Paper Rex, and FULL SENSE will all fancy their chances, however, there are several appealing dark horses with no prior VCT experience that have a chance to steal the show from the more experienced teams.
ALSO READ: Riot Games expands into the APAC region with new offices as part of hyper-localization efforts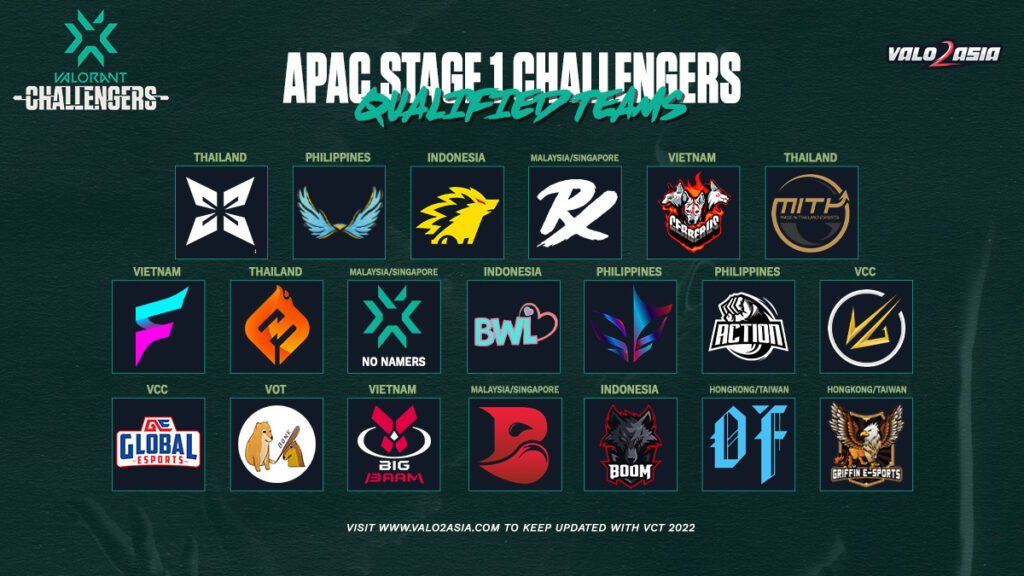 ---

🇸🇬 Benedict "Benkai" Tan
🇲🇾 Khalish "d4v41" Rusyaidee
🇮🇩 Aaron "mindfreak" Leonhart
🇮🇩 Jason "f0rsakeN" Susanto
🇸🇬 Wang Jing "Jinggg" Jie
🇫🇷 Alexandre "alecks" Salle (Coach)
🇸🇬 Xavier "LEXY" Lee
🇸🇬 Derrick "Deryeon" Yee
🇸🇬 Lionel "lenne" Lim
🇸🇪 Jacob "pyth" Mourujärvi
🇸🇪 Max "maxie" Lönnström
🇸🇬 Henri "Flaring" Forichon
🇸🇬 Darren "FirstLove" Mok
🇩🇪 Nikola "LEGIJA" Ninić (Coach)
🇸🇬 Aaron "Eno" Cheah (Assistant coach)
No Namers
🇸🇬 Felipe "skyeSG" Lim
🇸🇬 Pierre "Tempz" Heng
🇸🇬 Rodman "Vera" Yap
🇸🇬 "DxN"
🇸🇬 "Shun"
🇸🇬 Ryan "RaySter" Seow (Coach)
---

🇮🇩 Gary "blaZek1ng" Dastin
🇮🇩 Saibani "fl1pzjder" Rahmad
🇮🇩 Rafi "frostmind" Diandra
🇮🇩 Rizkie "BerserX" Adla Kusuma
🇮🇩 David "Tehbotol" Monangin
🇰🇷 Ji "meow" Dong-jun (Coach)
🇮🇩 Cahya "Monyet" Nugraha
🇮🇩 Michael "SEVERiNE" Winata
🇮🇩 Hildegard "Shiro" Arnaldo
🇮🇩 Sheldon "NcSlasher" Andersen
🇮🇩 Hagai "Lmemore" Tewuh
BOY WITH LOVE
🇮🇩 Nanda "asteriskk" Rizana
🇮🇩 Kevin "Eeyore" Gunawan
🇮🇩 Fikri "famouz" Zaki
🇮🇩 Vicky "Flynch" Rudyanto
🇮🇩 Baskoro "roseaufy" Dwi Putra
---

🇵🇭 Azis "azys" Nandang
🇵🇭 Johnty "JA" Arone
🇵🇭 Deko "Papichulo" Evangelista
🇵🇭 Chris "Pro" Martir
🇵🇭 Elmer "Micr0" Coloma
🇵🇭 Philip "flippy" Marique
🇵🇭 Nico "BlackenBlue" Gayoso (Analyst)
🇵🇭 Simon "Blas" Jimuel
🇵🇭 Emmanuel "jEEE" Buenavidez
🇵🇭 Franz "kvzx" Dingal
🇵🇭 Oscar "Kakarot" Farin Jr.
🇵🇭 Shaun "blurred" Maglasang
🇵🇭 Jude "Z" Gunhuran
Vince "backstab" Belino (Coach)
🇵🇭 George "Georggyyy" Lachica
🇵🇭 Philip "Aryu" Vergara
🇵🇭 Emmanuel "Emman" Morales
🇵🇭 Jm "sirodeathyo" Ignacio
🇵🇭 Franc "ABATMAN" Mejia
🇵🇭 Matthew "modeskii" Bautista
---

🇹🇭 Itthirit "foxz" Ngamsaard
🇹🇭 Panyawat "sushiboys" Subsiriroj
🇹🇭 Nutchapon "sScary" Matarat
🇹🇭 Thanamethk "Crws" Mahatthananuyut
🇹🇭 Thanachart "Surf" Rungapajaratkul
🇹🇭 Yuttanagorn "Zeus" Kaewkongyai (Coach)
🇹🇭 Nantapol "Kongared" Boonying
🇹🇭 Jirayu "wannafly" Meesuk
🇹🇭 Thanaboon "Delend" Tungsupsatit
🇹🇭 Palapoom "AloNeFillz" Thaikum
🇹🇭 Kantapon "Kadoom" Kingthong
Sattawut "Leaf" Reathong (Coach)
🇹🇭 Chanitpak "ChAlalala" Suwanaprateep
🇹🇭 Elamrahim "LAMMYSNAX" Khanpathan
🇹🇭 Kititkawin "PTC" Rattanasukol
🇹🇭 Chanawin "JohnOlsen" Nakchain
🇹🇭 Nattawat "SuperBusS" Yoosawat
🇹🇭 Thanaphat "THEE" Limpaphan
Thotsaphon "cbbk" Suphatthanaphalaphon (Head coach)
Kachaporn "ZOCHA" Taveesin (Coach/analyst)
---
Oblivion Force
🇭🇰 "CHIMEI"
🇭🇰 "Kiuuuu"
🇭🇰 "FuriouzMeow"
🇭🇰 "hypathor"
🇭🇰 "NoMan"
🇭🇰 Jiahui "Attention" Huang
🇭🇰 Yung "Ace" Ka Chun
🇭🇰 "YRSelect"
🇭🇰 "Fung3"
🇭🇰 "SiuFatBB"
---

🇻🇳 Ngô "Kishi" Trường Huy
🇻🇳 Nguyễn "Lok1" Trung Tín
🇻🇳 Châu "Akashi" Hoàn Thiện Nhân
🇻🇳 Nguyễn "Daicute" Anh Minh Thông
🇻🇳 Lê "Redneval" Quốc Khánh
🇰🇷 Yoon "Malix" Kyung-ho (Coach)
🇻🇳 Nguyễn "KillerS" Văn Thiện
🇻🇳 Vũ "Acerola" Thượng Toàn
🇻🇳 Bùi "BMV" Minh Vũ
🇻🇳 Võ "Hyzee" Nhựt Huy
🇻🇳 Đinh "YESicaN" Định Đạt
🇻🇳 Phan "Kawa" Anh Huy (Coach)
🇻🇳 Nguyễn "P1nA2k4" Nam
🇻🇳 Phạm "d0rf" Huỳnh Toàn Quốc
🇻🇳 Nguyễn "nTK" Tuấn Kiệt
🇻🇳 Trần "Mowf" Đức Minh
🇻🇳 Nguyễn "Nhatthong2k" Nhất Thống
🇫🇷 Elian "Imcarnus" Lopez (Coach)
---

Debanjan "DEATHMAKER" Das
Tejas "rite2ace" Sawant
Sagnik "Hellff" Roy
Vibhor "Vibhor" Vaid
Anuj "Amaterasu" Sharma
Mohit "mw1" Wakle
Agneya "Marzil" Koushik
Bhavin "HellrangeR" Kotwani
Akshay "KappA" Sinkar
Abhirup "Lightningfast" Choudhury
Jayanth "skillZ" Ramesh
Ganesh "SkRossi" Gangadhar
---

Jackson "Minimise" White
Riley "rDeeW" Wilkinson
Justin "skrawl" Lanzon
Nick "tixx" Quinn
Noah "Nozz" McClafferty
Gary "kalth" Howard
Mitchell "pilski" Pilipowski (Coach)
Jordan "Jordation" Frish (Coach)
---
For more insights on the Asian VALORANT scene and upcoming content like this, be sure to like and follow VALO2ASIA on Facebook, Twitter & Instagram.
---
Cover photo courtesy of VALORANT Esports Korea