Jessie "JessieVash" Cristy Cuyco and co. maintain their dominance in Southeast Asia as they are crowned the champions of VCT Stage 3 – SEA Challengers after beating Paper Rex 3-0, completing their close-to-perfect run in the playoffs by only dropping two out of seventeen maps played.
Bren Esports the sole Philippine representative in the playoffs, defeated Paper Rex after their loss against them in the Upper Bracket Final, in which Paper Rex came out victorious 2-1 to book Southeast Asia's first Masters 3 Berlin ticket. With that defeat against Jason"f0rsakeN" Susanto's side earlier, Bren Esports had to work their way up from the lower final, beating Indonesia's Alter Ego in 2-0 fashion to earn a rematch with the Singaporean side for the second time, but in a best-of-five setting and to claim the Kings of SEA's title and the first place prize of US$25,000. 
ALSO READ: VCT Southeast Asia Stage 3 Playoffs – Group Stage Recap
However, things took an unexpected turn in the grand final as Bren Esports took down their biggest rival 3-0 (Bind 16-14, Split 14-12, Icebox 13-6). The game was fairly close, as has been the case for most of the matches Bren Esports have had against Paper Rex.
"I'm just so happy that our hard work paid off. Because I've been trying to chase this for my entire career. I'm so happy we made it. And I didn't stop. I'm still 28 years old and I'm still trying my best to do this thing, for [my] kids, you know. We showed today that age is just a number, and I'm so happy that my team is here to support me." said Jayvee "DubsteP" Paguirigan in a post-match interview when asked about his journey from years ago from a completely different title to Riot's first-person shooter as the sole Kings of SEA.
VALO2ASIA MVP Award – VCT Stage 3 SEA Challengers
MVP: Jayvee "DubsteP" Paguirigan
Worth Mentioning: Jason "f0rsakeN" Susanto
Bren Esports' 28-year-old Duelist Jayvee "DubsteP" Paguirigan claimed the MVP title by VALO2ASIA after battling their way to the title from the lower bracket following a loss to Paper Rex. DubsteP had many instances of above-average scores on his route to being named MVP. One of Dubstep"s highlights in a consistently strong tournament all-around came in the upper-semifinal against Team Big BAAM when he smacked 38 kills on Ascent to win the map in a hard-fought 17-15 victory.
Jason "f0rsakeN" Susanto is also the name that we should strongly mention. The Indonesian player from Paper Rex averaged a monstrous 298 ACS; the highest of the tournament. f0rsakeN continues to amaze as the world's highest-rated player, outperforming Tyson "TenZ" Ngo and Jaccob "yay" Whiteaker on paper.
The Grand Final – Paper Rex vs Bren Esports – VCT Stage 3 – SEA Challengers Playoffs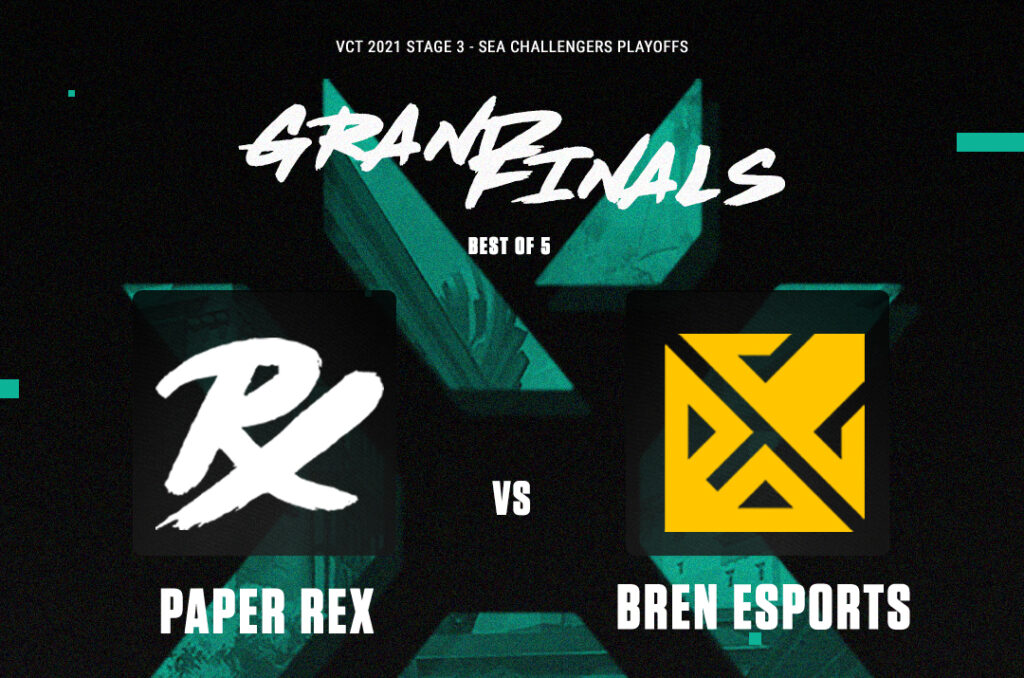 The grand final commenced on Bren Esports' map selection of Bind, with both teams engaging in a back-and-forth battle. The two teams traded rounds as both sides were able to maintain and not lose their momentum. All ten players on the server were firing on all cylinders, making the battle closer than people expected. After switching to the defending side, Bren Esports were able to readjust to find the balance on the defense and put the pedal to the metal.
Jessie "JessieVash" Cristy's multi-kills and clutch victories enabled them to capture more rounds throughout the exchange until Benedict "Benkai" Tan pulled off an important quadruple kill to prolong the lifeline and give Paper Rex the following three rounds to go into overtime.
Paper Rex was able to extend the fight to keep the team afloat. However, Bren Esports made it not that easy. The game proceeded into a third overtime period until Kevin "dispenser" Te came up huge to win the map 16-14.
Upon returning to the game for the second map, Paper Rex tightened up and took the upper hand as they won four rounds without response. However, Bren Esports were in no mood to be in that position no more as they quickly rebounded with seven rounds of dominance, only giving Khalish "d4v41" Rusyaidee and co. one more round for the remainder of the first half.
The second half saw the Singaporean side break the Pistol Round Curse, winning the opening round comfortably. However, they were unable to translate the first-round victory into a later round, as Bren Esports seized control of the next few rounds in a tight contest.
The late-game scenario was once again a back-and-forth battle until Paper Rex stopped their opponents from completing the map by stringing rounds together, forcing overtime. However, Bren seized charge of overtime, winning the next two rounds en route to a 14-12 victory. Jim Albert "BORKUM" Timbreza this time around came out on top, shutting down Paper Rex with a 240 ACS rating and several important clutches.
Bren Esports got off to a strong start on Icebox, despite the fact that the 2v4 scenario in the first round was in favor of Paper Rex, Jim Albert "BORKUM" Timbreza and Jayvee "DubsteP" Paguirigan were able to flip the tables on one of Paper Rex's strongest maps. On a completely different trajectory than the previous maps, both teams had an uphill battle to stay consistent on their round victories; neither side managed to truly stamp their foot down in the early-game. The turning moment came in the tenth round, as Bren Esports, who have a two-duelist configuration, dominated the remainder of the first half, giving a little room to breathe for Paper Rex.
Zhan "shiba" Teng Toh and co. got off to a flying start in the second half, taking the pistol round and influencing the Singaporean side's subsequent rounds. Bren Esports, on the other hand, would not let up and keep their foot on the gas, shattering Paper Rex's comeback hopes by closing the map 13-6 and walking away with the trophy for the year's most important tournament win: VCT Stage 3 – SEA Challengers Playoffs.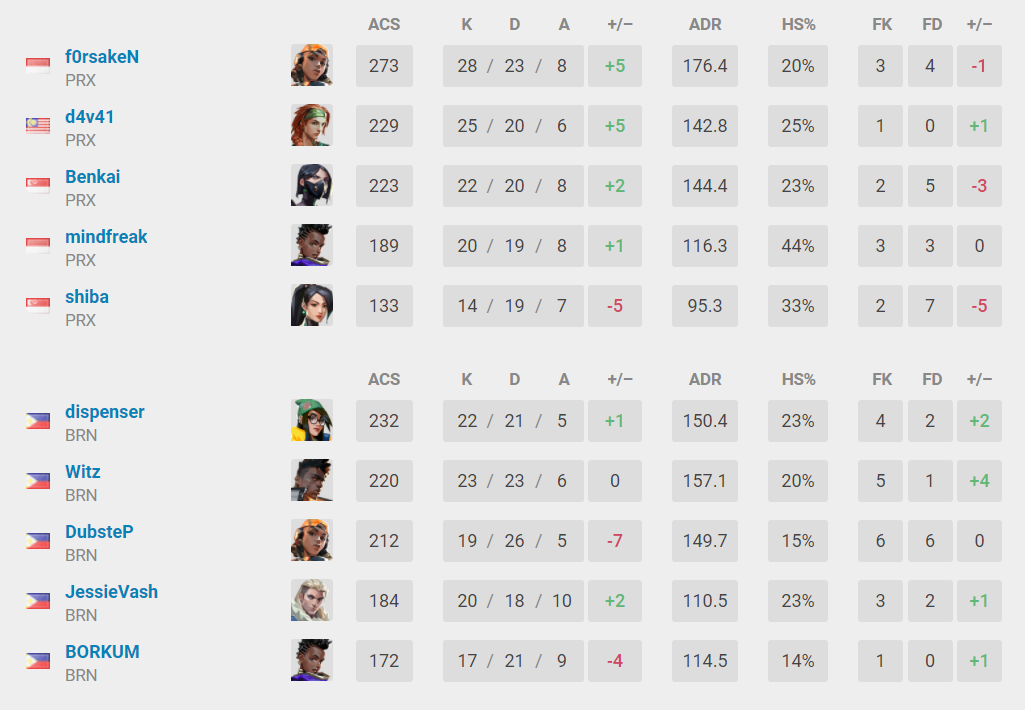 VCT Stage 3 – SEA Challengers Playoffs final standings:
| | | | |
| --- | --- | --- | --- |
| Place | Team | Prize | Points + Seed |
| 🥇 1st | 🇵🇭 Bren Esports | US$25,000 | Masters Berlin |
| 🥈 2nd | 🇸🇬 Paper Rex | US$15,000 | Masters Berlin |
| 🥉 3rd | 🇮🇩 Alter Ego | US$10,000 | 80 |
| 🏅 4th | 🇹🇭 FULL SENSE | US$8,000 | 60 |
| 🏅 5th-6th | 🇮🇩 BOOM | US$6,000 | 50 |
| 🏅 5th-6th | 🇻🇳 Team BIG BAAM | US$6,000 | 50 |
| 🏅 7th-8th | 🇻🇳 CERBERUS | US$5,000 | 40 |
| 🏅 7th-8th | 🇹🇼 CBT Gaming | US$5,000 | 40 |
| 9th-12th | 🇹🇭 Sharper Esport | US$3,000 | 20 |
| 9th-12th | 🇮🇩 ONIC G | US$3,000 | 20 |
| 9th-12th | 🇹🇭 X10 | US$3,000 | 20 |
| 9th-12th | 🇸🇬 UwU | US$3,000 | 20 |
| 13th-16th | 🇻🇳 EGO | US$2,000 | 10 |
| 13th-16th | 🇹🇼 Five Ace e-Sports | US$2,000 | 10 |
| 13th-16th | 🇵🇭 Galaxy Racer | US$2,000 | 10 |
| 13th-16th | 🇵🇭 Oasis Gaming | US$2,000 | 10 |
---
For more insights on the Asian VALORANT scene and upcoming content like this, be sure to follow and like VALO2ASIA on Facebook, Twitter & Instagram.
---