The VCT Southeast Asia Stage 3 was full of plot twists, drama and exciting match-ups. Expect the Unexpected.
This week, sixteen of Southeast Asia's best VALORANT teams convened for four days from August 13-16 for the group stage of VALORANT Champions Tour (VCT) Southeast Asia Stage 3 – Challengers Playoffs. As such, it was one of their last opportunities to demonstrate their mettle heading into the final stage to qualify for VALORANT Champions.
The group stage was divided into four groups of four teams, with Group C dubbed the Group of Death and Group D named the Group of Life – both groups delivered some of the most exciting matches to watch due largely to their tight outcomes. Every game played was significant until the very last day. We witnessed some shakeups in each group over the four days, as sixteen teams from six regions met each other – most of them for the first time ever – to raise the bar for their own region as the best Southeast Asian nation in VALORANT and qualify for Masters Berlin.
---
Group A – Safe and Sound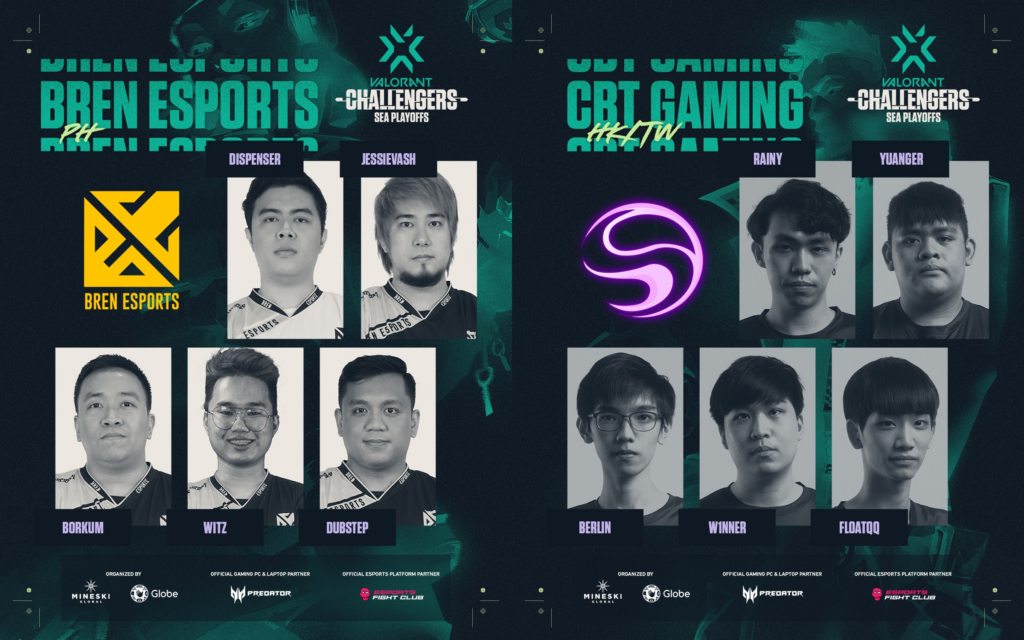 Qualified:
Bren Esports (1st Seed)
CBT Gaming (2nd Seed)
Interviews & Player Spotlights:
The first group was headlined by Bren Esports, the Philippines' first seed, and CBT Gaming, the Hong Kong/Taiwan region's top seed. Thailand's Sharper Esports defeated Vietnam's EGO, another team that did not make it to the playoffs.
Bren Esports was the first team to secure a playoff spot with a +28 round difference, followed by CBT Gaming with a +6 round difference. The others fell far short, cementing both of them as the only teams to never share a map win with their opponents in the whole group stage.
Except for the match between Bren Esports and CBT Gaming in which the former team came out as the victor, two of these teams dominated the competition without dropping a single map, establishing themselves as a dominant force in Group A.
| | | | | | |
| --- | --- | --- | --- | --- | --- |
| Place | Team | W-T-L | Rounds W-L | +/- RD | Points |
| 1 | 🇵🇭 Bren Esports | 3-0-0 | 84-58 | +26 | 9p |
| 2 | 🇹🇼 CBT Gaming | 2-0-1 | 72-66 | +6 | 6p |
| 3 | 🇹🇭 Sharper Esport | 1-0-2 | 63-73 | -10 | 3p |
| 4 | 🇻🇳 EGO | 0-0-3 | 56-78 | -22 | 0p |
---
Group B – The Finalists Return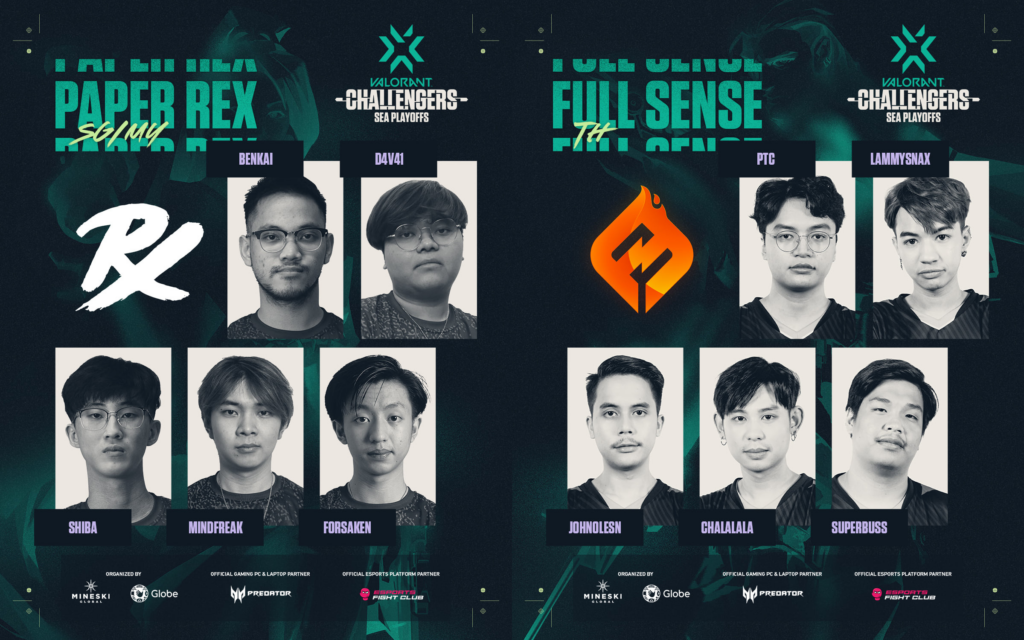 Qualified:
Paper Rex (1st Seed)
FULL SENSE (2nd Seed)
Interviews & Player Spotlights:
Indonesia's ONIC Esports, which entered the group stage as the region's first seed, commenced the group matches against FULL SENSE, splitting one map victory apiece, while Paper Rex crushed Taiwan's Five Ace e-Sports by a huge margin and took a commanding lead in the group rankings.
After three days of facing each other, Paper Rex and FULL SENSE – two of the most stacked teams in Southeast Asia, will advance to the playoffs. Moreover, these teams were two of the finalists in the Stage 2 SEA Challengers Playoffs that are able to make it back to Stage 3 SEA Challengers Playoffs.
Out of ten players of FULL SENSE and Paper Rex that competed in Stage 2 Playoffs, eight of them are still here, establishing them as two of the most consistent Southeast Asian rosters so far.
ONIC Esports were thrown out from the Masters 3 Berlin contention despite them being able to overcome FULL SENSE on one map. The final match between Paper Rex and ONIC G saw the Indonesian side struggling to break a double-digit scoreline. Ultimately, with a convincing win by Paper Rex and FULL SENSE on the final day, the two incumbents moved on to the playoffs.
| | | | | | |
| --- | --- | --- | --- | --- | --- |
| Place | Team | W-T-L | Rounds W-L | +/- RD | Points |
| 1 | 🇸🇬 Paper Rex | 2-1-0 | 75-48 | +27 | 7p |
| 2 | 🇹🇭 FULL SENSE | 1-2-0 | 72-56 | +16 | 5p |
| 3 | 🇮🇩 ONIC G | 1-1-1 | 61-68 | -7 | 4p |
| 4 | 🇹🇼 Five Ace e-Sports | 0-0-3 | 44-80 | -36 | 0p |
---
Group C – Every Round Matters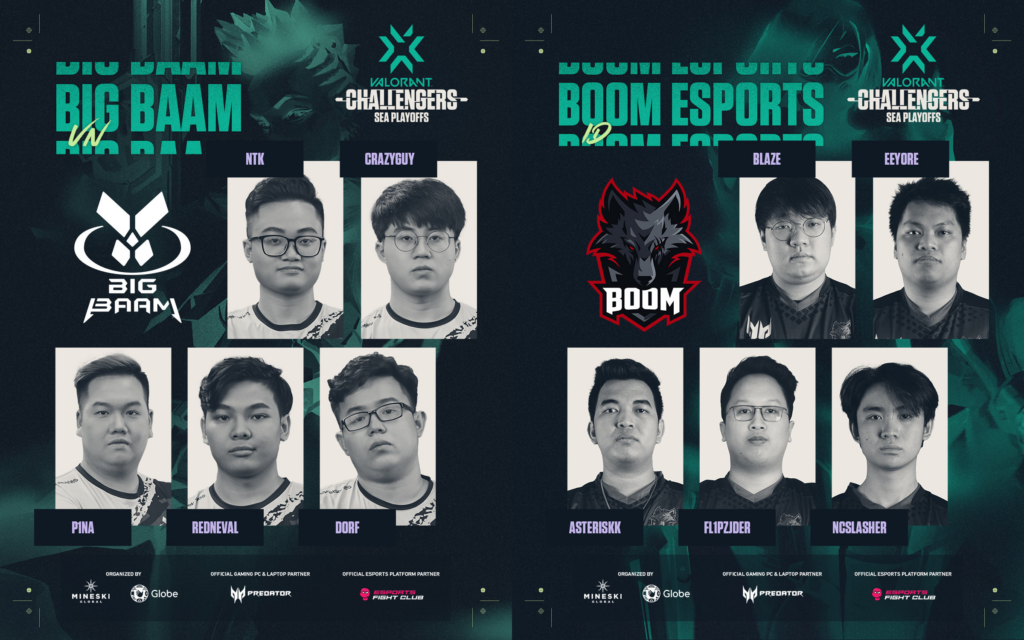 Qualified:
Team Big BAAM (1st Seed)
BOOM Esports (2nd Seed)
Interviews & Player Spotlights:
Group C was one of the most talked-about groups this week, due to the presence of three regional favorites (Team Big BAAM from Vietnam, BOOM Esports from Indonesia, and X10 Esports from Thailand). Galaxy Racer, the second seed from the Philippines, proved that they were able to perform on the same level as the rest. Four of these teams battled for the top two spots in the rankings that ended with Team Big BAAM and BOOM narrowly making it through to the playoffs. However, the story behind each of these teams only added to the drama.
An Incident that Almost Certainly Cost X10 Esports the Playoffs Spot
X10 Esports, a fan favorite and representative for SEA at Masters 2 Reykjavik, was expected to breeze past the group stages. However, the team did not come to the final stage of the year with their full strength and was anticipated to play below their usual level due to Patiphan "Patiphan" Chaiwong's absence. At the domestic level, this did not seem to affect them, as they clinched the first seed in the group stage by defeating FULL SENSE 3-0 in Week 1. Yuttanagorn "Zeus" Kaewkongyai, the team's coach, stepped in to fill in Pathiphan's shoes.
As X10 faced Galaxy Racer in their first match, the Thai squad inadvertently used a prohibited one-way Cypher cam on A site Breeze. This was considered an exploit since opponents cannot destroy the camera, due to the camera's ability to view through an overhanging texture outside the cave/tunnel.
Upon review of game footage, it was determined that the team utilized the camera placement a total of four times. Three of these rounds resulted in victory for X10 Esports of the total four that the team secured while on defense. Central VCT League ops concluded that the record of map 1 adjusted to be 13-10 in favor of Galaxy Racer. This adjustment resulted in a map score of 1-1, granting each team 1 point. In another dimension where X10 did not use the bug, a different outcome would occur, perhaps qualifying them for the playoffs.
X10's biggest nightmare as their spot was in the hand of GXR
The first day saw each squad able to put up an explosive performance against the other, forcing all four teams in Group C to share one victory each. This was a trend that lasted throughout the second day (X10 1-1 BAAM, GXR 1-1 BOOM). As if the narrative thus far wasn't enough, day three matches would set the tone for the remainder of the playoffs since they would determine two teams that will go big or go home.
The last day's opening match pitted X10 Esports versus BOOM, with BOOM taking the first map on Haven 13-6 and X10 taking the second map 13-7. With BOOM claiming seven rounds on the second map, X10 needed a four-way tie to qualify for the playoffs. As the head-to-head round difference is the primary tie-breaker, it meant that even though X10 and BOOM were equal for third place with three points apiece, the outcome of their qualification were in the hands of the last match.
In the last match, Team BIG BAAM versus GXR, BAAM led by just three rounds. They fell one round shy of the four-way tiebreaker for second place alongside GXR. If BAAM won, they would bring BOOM to the playoffs, while GXR would take X10 Esports together with them to represent Group C in the playoffs.
As a result of BOOM defeating X10 13-6 on Haven and X10 defeating BOOM 13-7 on Icebox, X10 lost their playoff spot by ONE round.
| | | | | | |
| --- | --- | --- | --- | --- | --- |
| Place | Team | W-T-L | Rounds W-L | +/- RD | Points |
| 1 | 🇻🇳 Team Big BAAM | 1-2-0 | 64-51 | +13 | 5p |
| 2 | 🇮🇩 BOOM Esports | 0-3-0 | 55-66 | -11 | 3p |
| 3 | 🇹🇭 X10 Esports | 0-3-0 | 65-57 | +8 | 3p |
| 4 | 🇵🇭 Galaxy Racer | 0-2-1 | 58-68 | -10 | 2p |
---
Group D – Vietnam Has Arrived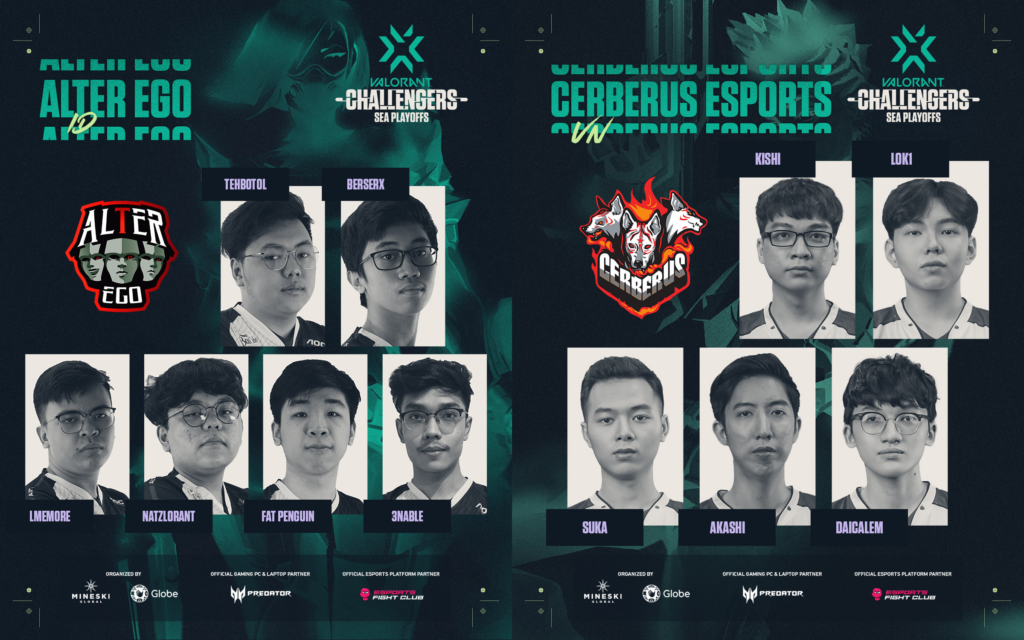 Qualified:
Alter Ego (1st Seed)
CERBERUS Esports (2nd Seed)
Besides Group A's Bren Esports, CERBERUS Esports were the only team that stuck with the same lineup from the previous Stage. The Group of Life put a similar condition to Group C, as all teams were equal across the board, splitting one victory each in every one of the BO2 matches they played. The exception was Alter Ego that took a 2-0 victory against Oasis Gaming on day two.
The SG/MY region top seed, UwU, came into the group stage of VCT Southeast Asia Stage 3 Challengers Playoffs as a group of friends, defying the odds by topping the SG/MY region in Week 2 against Paper Rex. However, as Donovan "FANE" Chia was unable to play due to mandatory Army conscription, Ashraf "acAp" Firdaus from Malaysia stepped in. While the Malaysian didn't have any previous experience in professional VALORANT, the former CS:GO player is a veteran in the scene.
For UwU, their fate in qualifying ended up in the hands of the final match between Alter Ego and CERBERUS Esports. Similarly to Group C, if Alter Ego had won 2-0, then UwU would have led by one point against the Vietnamese side of CERBERUS, allowing them to move through. However, with great tenacity and undying spirit, CERBERUS managed to close out the second match on Ascent 15-13 after a nail-biting overtime.
| | | | | | |
| --- | --- | --- | --- | --- | --- |
| Place | Team | W-T-L | Rounds W-L | +/- RD | Points |
| 1 | 🇮🇩 Alter Ego | 1-2-0 | 73-49 | +24 | 5p |
| 2 | 🇻🇳 CERBERUS Esports | 0-3-0 | 67-66 | +1 | 3p |
| 3 | 🇸🇬 UwU | 0-3-0 | 61-61 | 0 | 3p |
| 4 | 🇵🇭 Oasis Gaming | 0-2-1 | 48-73 | 25 | 2p |
---
For more insights on the Asian VALORANT scene and upcoming content like this, be sure to like and follow VALO2ASIA on Facebook, Twitter & Instagram.
Cover photo courtesy of Colin Young-Wolff/Riot Games