CERBERUS Esports' Ngô "Kishi" Trường Huy and Yoon "Malix" Kyung-ho sat down with VALO2ASIA about their run so far in VCT 2021, changes happening in the lineup, as well as their aims for 2022.
For a long time, CERBERUS Esports has been a mainstay in the upper echelons of the Vietnamese scene, having constantly qualified to both the second and third edition of VCT Southeast Asia Challengers Playoffs. And heading into next year, CERBERUS Esports had secured their first appearance in the US$35,000 Southeast Asia eSports Championship 2021, where they will face other 15 teams from 8 different countries.
In this interview, Ngô "Kishi" Trường Huy and coach Yoon "Malix" Kyung-ho talks about their recent results at SEA Challengers Playoffs, the Vietnamese scene's condition from professional perspectives, as well as their switch to a versatile-six-man lineup.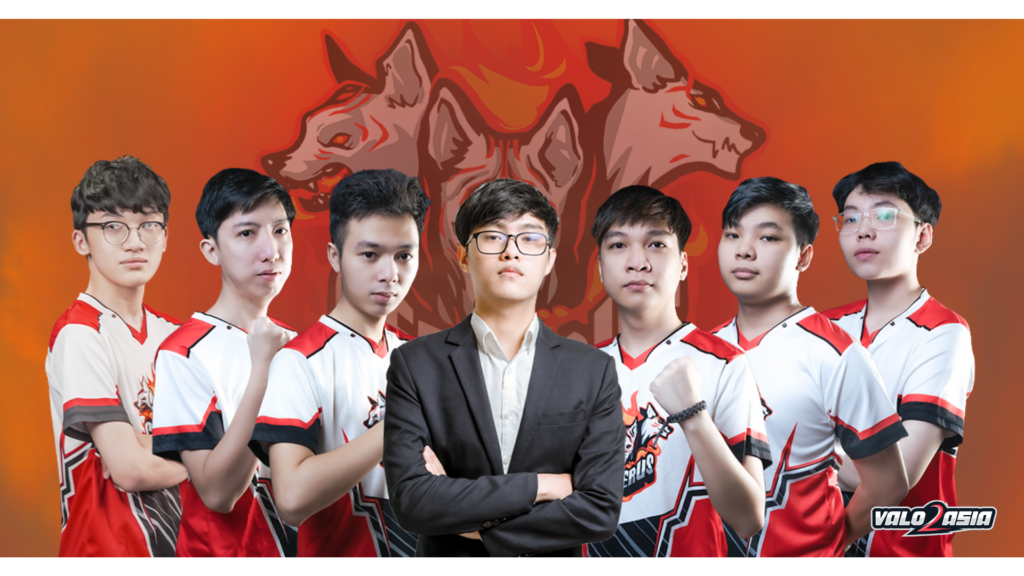 ---
VALO2ASIA: Hey Kishi & Malix! Thank you for having us here today. First and foremost, we would want you to introduce yourself to those who are still unfamiliar with you.
Kishi: Hi everyone my name is Ngo Truong Huy or Kishi. I'm the flash initiator player for team CERBERUS Esports.
Malix: I'm Malix, the coach for team Cerberus Esports.
VALO2ASIA: How did you get into CERBERUS Esports in the first place, Malix?
Malix: I started out as a player, like most believed VALORANT to be a new start; it was not easy at all. I struggled with my previous team, which I departed from after being with them for a couple of months. Initially, I heard of an opportunity that CERBERUS were in need of an IGL, but it was then changed to an analyst. I joined the team when they began to compete in the Arena of Master tournament, and ever since then, I stayed with the organization to this day.
VALO2ASIA: Kishi, you are the last remaining member of the original CERBERUS Esports squad. What compelled you to remain this long?
Kishi: There was a lot of roster shuffling during the early days of the scene. Since the inception of the lineup, we have had a lot of different conflicts in terms of visions and goals, so many have parted ways. However, I still believed in my coach's ability to build a team with the current limited pool of players [in Vietnam]. And we finally come to the current CERBERUS lineup.
VALO2ASIA: As a Korean-nationality coach of a Vietnamese squad, how does communication work within the team, and how well-versed in Vietnamese are you, Malix?
Malix: I'm actually Bilingual. I was born with two nationalities, Vietnamese and Korean. I'm very fluent in Vietnamese, English, and Korean. So most of the time I communicate in Vietnamese with my team. Also, fun fact, my Vietnamese name has my Korean surname, so I decided to have my Korean name displayed instead since many people ask if I'm Korean, now a lot of Vietnamese viewers ask if I'm Vietnamese or Korean since my name is Korean but I speak fluent Vietnamese. [laughs]
VALO2ASIA: To rewind a little bit, are you content with your 7th-8th place finish in the Stage 3 SEA Challengers Playoffs?
Kishi: To be honest, I see that as a start for what I need to do in order to advance further next time. The 7th-8th place finish was a good achievement because we had to compete against the best team from other countries despite losing out in the playoffs. It was a stepping stone for the scene and ourselves as a team to set a bigger goal.
ALSO READ: VCT Southeast Asia Stage 3 Playoffs – Group Stage Recap
For Kishi: Does not being at the APAC LCQ have any effect on your end-of-year plans?
Kishi: Not really because from the start we knew we were behind most countries in terms of VCT. Other countries within the APAC region had the chance to compete in VCT stage 1 whereas Vietnam began during Stage 2. So being the first representative in Stage 2 and making it further in Stage 3 in my opinion was a very good achievement.
VALO2ASIA: CERBERUS were eliminated early from the KJC Invitational Playoffs. Was the early exit from the tournament reflect CERBERUS Esports' strength in the Southeast Asian region?
Kishi: The reason why we had an early exit was that we were in the midst of getting Redneval, our newest player, to the team, and we wanted to focus on other things to improve on, so the KJC tournament was one of the tournaments we chose not to prioritize.
VALO2ASIA: What was behind the decision of bringing Redneval to the team? And with the team now having both Daicute and Redneval, how is the six-man lineup working for the team right now, if you're able to go into specifics?
Malix: We felt like the team lacked the creativity to create more dynamic playstyles and the Daicute's playstyle didn't fit well with the team. I believed a good team should not revolve around one player but more so all individuals within the team must be able to come together. Bringing in Redneval was a key part of that success we wanted. As of right now, we are still testing a lot of composition maps with different players switching in and out. I can't disclose much but all I can say is Daicute will be back on the server soon.
VALO2ASIA: How will these changes help CERBERUS Esports move forwards?
Malix: As the meta evolves in this game, more agents require different playstyles. I believe that with the addition of Chamber to the agent pool and the current six players that we have, we can all fit the playstyles/roles necessary to run in what I believe will be the new meta in VALORANT. But we have to wait to see since I can't promise anything.
VALO2ASIA: Right now, how high can you place CERBERUS among SEA's best teams? And what to improve?
Malix: I wouldn't be able to place my team above other teams because I believe VALORANT is different, since any team from lower-ranking can always be able to beat a higher ranking team if they know what they are doing and how confident they are. Since this game has so many "factors" that play out in a game or round even. Speaking of factors, what we want to improve is to limit those unknown factors within and be able to gain control of the round to our advantage. That is one thing we need to work on to improve.
VALO2ASIA: The outlook of the Vietnamese scene has significantly shifted. After VALORANT was launched later than the other SEA region, the scene was able to give other SEA teams a taste of its own medicine in Stage 3, which was reflected by Vietnam having two representatives in the playoffs. So I'm curious about your thoughts on the state of the scene right now, both internationally and domestically?
Malix: Internationally, being able to have different country representatives to compete for a spot against other regions is a must for a game esports scene to develop and grow in the long term. This development provides an incentive for players to compete and develop thus having a larger pool of players means more competition and more competition means the growth of the game is in a healthy spot.
Kishi: For Vietnam right now the scene could have grown more. Maybe it's the lack of interest in the game because of lack of advertisement or maybe Vietnam still loves MOBA more than FPS games. The pool of teams and players in Vietnam has slowly shortened by a lot since the official publication of the game in Vietnam. Plus, despite seeing new faces in the scene like team Capalot, many of them still have a large gap to catch up to be able to compete internationally.
For Kishi: Speaking of which, you guys, together with DivisionX, will represent Vietnam in the 2021 SEA Esports Championship. What are your expectations and goals for the CES tournament debut in 2022 and for the remainder of next year?
Kishi: We want to show Vietnam can compete against other countries despite having a small pool of teams available and that we have what it takes to play on the same field as other teams in international settings.
---
CERBERUS Esports are:
🇻🇳 Ngô "Kishi" Trường Huy
🇻🇳 Nguyễn "Lok1" Trung Tín
🇻🇳 Châu Hoàn "Akashi" Thiện Nhân
🇻🇳 Nguyễn "Suka" Văn Tiến
🇻🇳 Lê "Redneval" Quốc Khánh
🇻🇳 Nguyễn Anh "Daicute" Minh Thông
🇰🇷 Yoon Kyung "Malix" Ho (Coach)
---
For more insights on the Asian VALORANT scene and upcoming content like this, be sure to subscribe to our newsletter. Don't forget to follow VALO2ASIA on Facebook, Twitter & Instagram.
---