Cloud9 has finally put together a new roster with top prospects, including Michael "poiz" Possis and Erdenetsogt "erkaSt" Gantulga under the Cloud9 Academy banner, the organization announced today.
Cloud9 has announced the composition of its new Cloud9 Academy roster built around coach Gaël "vexel" Attal and former C9 Blue player Michael "poiz" Possis.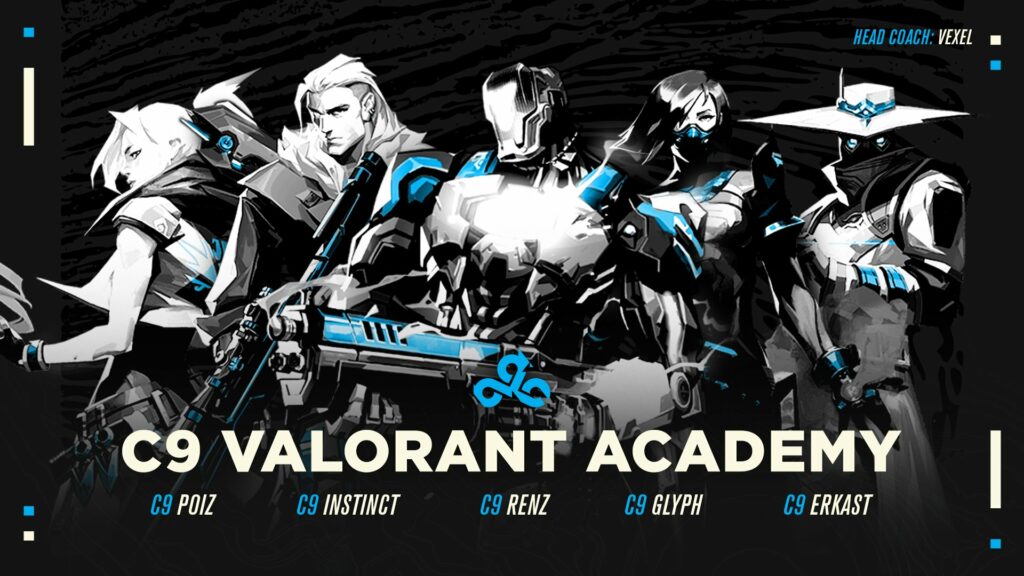 Although the addition of former Version1 player Anthony "vanity" Malaspina to Cloud9 Blue in August expanded the team's roster to six players, the team did not utilize Michael "poiz" Possis on a single occasion thereafter, strengthening the rumor that he was transferred to Cloud9 Academy, as first reported by Upcomer in mid-October.
Four days following the report, Cloud9 Academy made its debut appearance in the NSG Winter Championship – Open 1 with a lineup comprising of Michael "poiz" Possis, Conner "GLYPH" Garcia, Mike "instinct" McGinniss, Austin "renz" Dickman, and Erik "d1msumboi" Almhjell.
After several tryouts with numerous players, including Alex "sofa" Kolich, sacred, and d1msumboi, the team decided to pick up Erdenetsogt "erkaSt" Gantulga as the starting fifth. 
ALSO READ: erkaSt transitions to VALORANT
The last piece of the puzzle is erkaSt, a former Grayhound CS:GO player, who announced his switch to VALORANT on November 30th. In the official statement, he revealed that he had been residing at the Cloud9 facilities in Los Angeles, California, confirming speculations that the Mongolian player was trialing for the squad. As a result of the decision, he has now departed the Team NKT CS:GO squad, thereby retiring Valve's FPS.
"Well, this is a big step I made in my life. Please respect my choice," he said in his official statement.
GLYPH will lead the squad, with poiz continuing in his primary Jett position. Meanwhile, erkaSt has been spotted in three of his three appearances with Cypher.
Under the current VALORANT Champions Tour regulations, Cloud9 Blue and the academy squad are not allowed to play in the same event. Nonetheless, the academy squad may still participate outside of the VCT circuit unless Riot Games creates an equivalent circuit to LoL's LCS Proving Grounds.
Cloud9 Academy consist of the following five players and coach:
🇺🇸 Michael "poiz" Possis
🇵🇭 Conner "GLYPH" Garcia (Captain)
🇺🇸 Mike "instinct" McGinniss
🇺🇸 Austin "renz" Dickman
🇲🇳 Erdenetsogt "erkaSt" Gantulga
🇨🇦 Gaël "vexel" Attal (Coach)
---
For more insights on the Asian VALORANT scene and upcoming content like this, be sure to like and follow VALO2ASIA on Facebook, Twitter & Instagram.
---
Cover photo courtesy of HLTV