History in the making. Team Secret and X10 CRIT became on Wednesday the two final teams to qualify for the playoffs at VALORANT Champions 2021.
Team Secret and X10 CRIT have booked spots in VALORANT Champions playoffs following victory over Team Vikings and Envy, respectively, on the last day of the group stage. The pair joined other notable names such as Cloud9 Blue, who qualified on the same day as them after eliminating South Korea's Vision Strikers, as well as Team Liquid, Gambit Esports, Acend, and KRÜ Esports.
The next round will start today, with Team Secret playing Acend in the first match today, while X10 CRIT will face Masters 3 champions Gambit Esports on Thursday.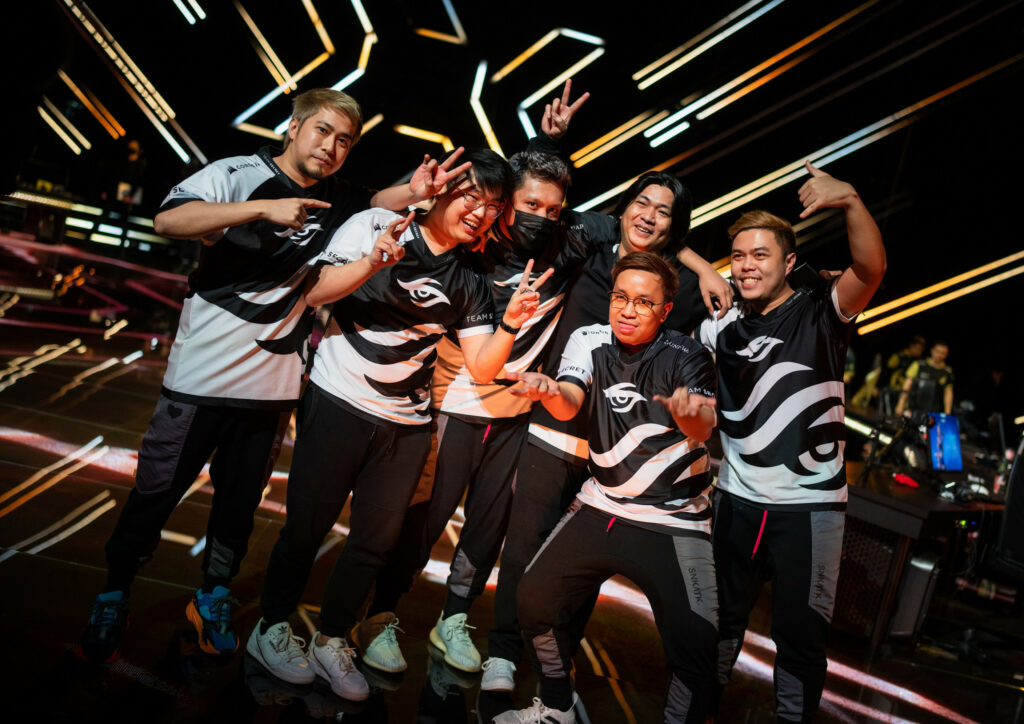 Team Secret were the first Asian team to qualify for the playoffs, as they required only two maps to beat Team Vikings (Haven 13-6, Icebox 13-7). Not only did they secure their place in the quarter-finals, but they also sent another region packing from VALORANT Champions after sending Japan's last hope Crazy Raccoon the day before.
"I'm so speechless right now that I don't know what to say," Jayvee "DubsteP" Paguirigan said in the post-match interview. "But I am really thankful for everyone who believed in us because there were a lot of people hating on us coming into the tournament. They were saying we are lucky to get one score and that everyone will 13-0 [us], but we came here and proved them wrong."
ALSO READ: Team Secret eliminate Crazy Raccoon from VALORANT Champions 2021
In the third series of the day, Envy seemed to be on track to qualify for the playoffs as one of the tournament's favorites and one of North America's last chances. Jaccob "yay" Whiteaker and co. were able to dispatch X10 CRIT 13-10 on Icebox, but then the Thai side bounced back with a strong performance from Panyawat "Sushiboys" Subsiriroj and Itthirit "foxz" Ngamsaard on Split (294 and 270 ACS as a Sentinel and Initiator, respectively), ending the map with a 13-8 victory to X10 CRIT and tying the series.
The decider map, Haven, started with Envy defending 9-3 in the first half before succumbing to the 9-3 curse. X10 CRIT dominated the second half thanks to Thanamethk "Crws" Mahatthananuyut's breach gameplay, securing numerous crucial rounds for X10. While Envy pushed the game to overtime, they could not respond with a single round in OT, which Patiphan finished quickly with three kills to secure victory 14-12. 
"This victory is an unlocking for me because Envy was the second-place team for the previous Masters," Panyawat "sushiboys" Subsiriroj said in the post-match interview. "Right after this win, we want to get to Champions."
Meanwhile, from the Group of Death, Vision Strikers have been ousted from VALORANT Champions with a 1-2 defeat against Cloud9. Despite this, South Korea has not been completely eliminated, as Son "xeta" Seon-ho will continue his run with Cloud9 Blue today against Team Liquid.
"I think the only reason we lost was because we couldn't be as adaptive or versatile as we should've," said Kim "MaKo" Myeong-kwan after the loss. "I think going forward in 2022, we are going to try and show you a Vision Strikers that is less by the playbook, but a more free-flowing, versatile, and adaptive sort of team."
ALSO READ: Cloud9 and Vision Strikers set to face off in elimination match of VALORANT Champions
---
For more insights on the Asian VALORANT scene and upcoming content like this, be sure to like and follow VALO2ASIA on Facebook, Twitter & Instagram.
---
Cover photo courtesy of Lance Skundrich/Riot Games