Moothie continues his journey in the Japanese circuit, now being a part of Crest Gaming Zst.
JAPAN – Yoo "Moothie" Seung-woo and Song "HYUNMIN" Hyun-min have been unveiled as new members of Crest Gaming Zst this Thursday. 
This move marks further progress in Crest Gaming Zst's significant revamp for the upcoming year, with only Souta "sakurai" Sakurai remaining from the original lineup as the organization parted ways with the other four players.
The initial step of this reconstruction brought into the fold former Jadeite player "Brofeld" to the team last week, leaving the team in search of just one more player. Meanwhile, Akira "Marin" Kato and Kento "GON" Hara remain on the organization's roster, with the former benched and the latter temporarily loaned out to FENNEL.
ALSO READ: Ching announces retirement from competition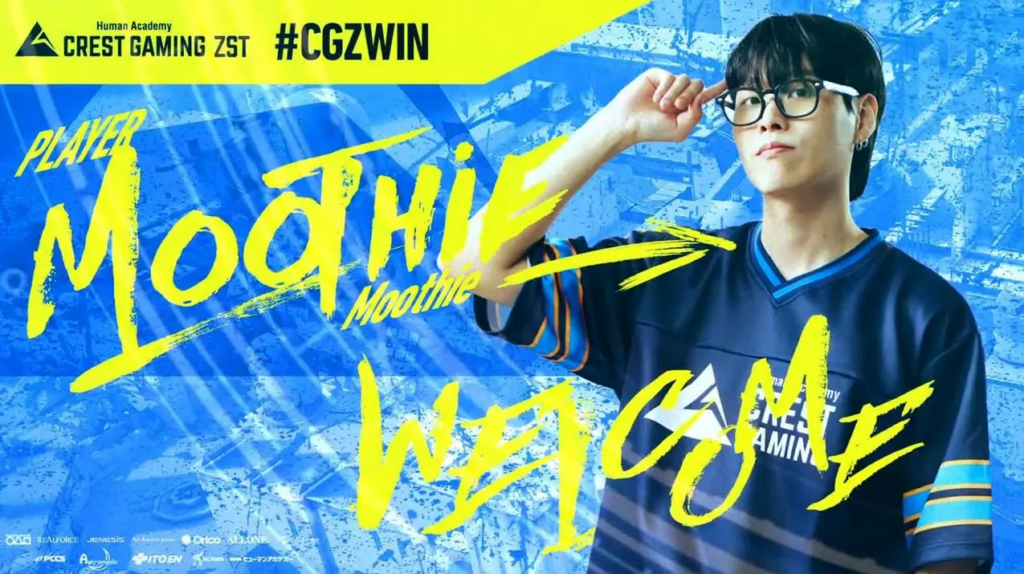 By welcoming the Korean pair in Moothie and HYUNMIN, CGZ are set to maintain a Japanese-Korean composition for the upcoming season.
Moothie links up with Crest Gaming Zst after spending the 2023 season with NORTHEPTION, where he managed to secure respectable 5-6th finishes in both VCL Japan Split 1 and 2, making the cut for the playoffs in both instances. Individually, the 25-year-old averaged a 1.00 VLR rating during the two aforementioned tournaments, standing out as the second-leading performer, next only to Kim "TenTen" Tae-young.
Before his tenure with NORTHEPTION, the 25-year-old spent some time bouncing around Korean and Japanese teams, making CGZ his third Japanese team after Lag Gaming and NORTHEPTION.
Meanwhile, HYUNMIN will be one to watch as he makes his professional debut under the CGZ banner at the age of 17. The Korean player remains relatively uncharted in both the Korean and Japanese circuits but has had several official matches during his period playing in North America with Terra Esports last year. He was introduced by the organization as the #4 Radiant in NA ranked, even while playing with a 100ms ping from Hawaii.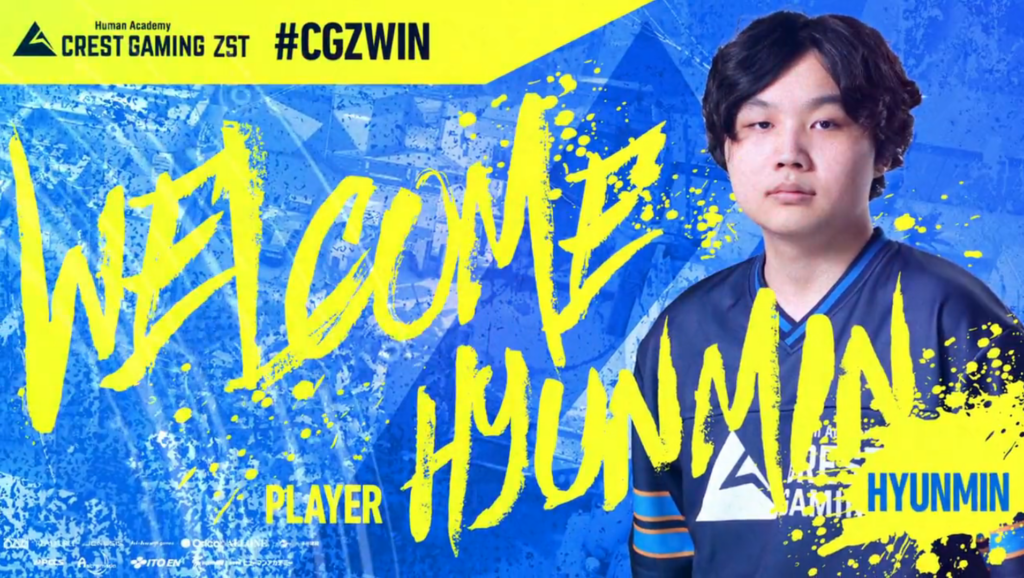 Currently, Crest Gaming Zst have no events marked on their calendar, providing them plenty of time to finalize their fifth player and prepare for potential participation in the upcoming OFF//SEASON, which has around four more months to run before concluding.
Crest Gaming Zst's current roster is now:
🇯🇵 Souta "sakurai" Sakurai
🇰🇷 Yoo "Moothie" Seung-woo
🇰🇷 Song "HYUNMIN" Hyun-min
🇯🇵 "Brofeld"
🇯🇵 "Nerufi" (Head coach)
🇯🇵 "Egi" (Coach)
---
For more insights on the Asian VALORANT scene and upcoming content like this, be sure to like and follow VALO2ASIA on Facebook, Twitter & Instagram.
---
Cover photo courtesy of Crest Gaming Zst