DRX finished as runners-up at the TEN VALORANT Global Invitational, with academy player Cho "Flashback" Min-hyuk showing a strong first performance. 
SOUTH KOREA – Cho "Flashback" Min-hyuk managed to lead DRX as their top-performing player in a BO3 win against Chinese powerhouse EDward Gaming at the TEN VALORANT Global Invitational. This was Flashback's first outing with the main roster of DRX directly against tier-one opposition from EDward Gaming, T1, and Cloud9.
The 17-year-old entered the tournament as a relatively unknown figure to the global audience, although he has been part of a DRX academy project named DRX Prospects since August.
On the side, DRX's scouting efforts are gradually bearing fruit, with some of its members such as Kang "BeYN" Ha-bin and Kim "miKa" Jae-ryun recently being loaned to All Gamers for competition in the Chinese circuit. However, instead of being loaned to other teams, Flashback had the chance to play with the main DRX roster in the OFF//SEASON tournament.
ALSO READ: Team NKT qualify for APAC Predator League over MiTH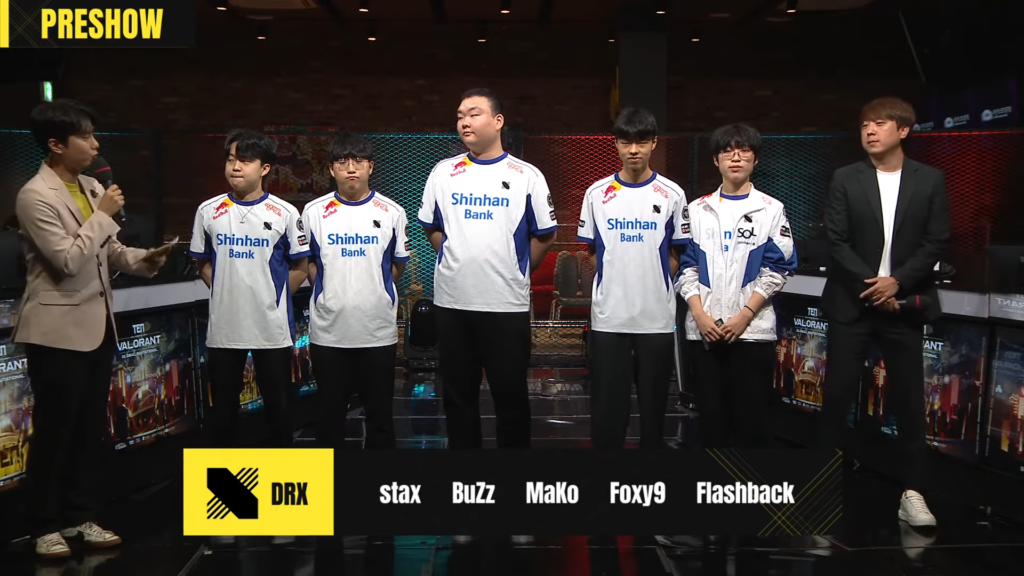 This OFF//SEASON period until the end of the year is often seen as a time for teams to experiment with their lineup, agent composition, and other aspects. In this case, DRX were exploring new dynamics in the absence of Goo "Rb" Sang-min and Kim "Zest" Gi-seok, who opted to take a break to unwind following a bustling 2023 season that took them from São Paulo and Seoul to Tokyo and Los Angeles.
Flashback had been seen at the pinnacle of the Radiant APAC rankings for a while among heavy hitters such as Ilia "something" Petrov, Kititkawin "PTC" Rattanasukol, and others. After terrorizing APAC-ranked plays with Duelist as his most-picked role, it was not long before DRX gave him an opportunity to prove himself against tier-one opponents on LAN.
When Flashback was revealed as one of the starting members of DRX for the TEN VALORANT Global Invitational, the community definitely took notice and it was full of praise. Royal Never Give Up player Liu "Xiaonuo" Xiaosheng chimed in on Twitter saying "Lowkey this Flashback guy is too strong, not even lying," while Ahmad "kayle" Aqil, formerly of Todak and now with NEXGA, also said, "He is a nightmare bro excited to watch him play."
During the first day of the event, Flashback delivered a solid performance, managing to adapt well and making a comparable impact alongside other members. He was spotted playing Viper in nine out of his ten appearances in Busan, which led to DRX experimenting with either a double-controller setup alongside Kim "MaKo" Myeong-kwan or having the said player assume different roles occasionally.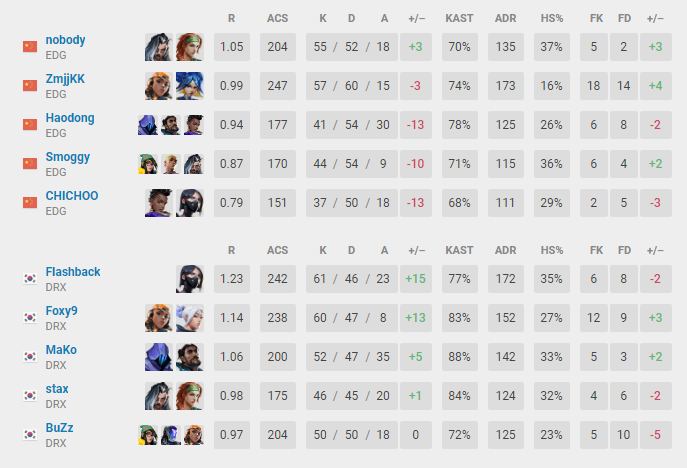 However, his performance significantly improved on the following day, especially during his first best-of-three series against EDward Gaming. Despite public pressure to perform, Flashback's stat line reads like a fairy tale for a newcomer's debut on LAN. 
Flashback managed an impressive 26 kills on the first map of Lotus, although it was not enough to secure a win as the team suffered a heartbreaking loss in triple overtime, 14-16. The series was brought back to an even footing on Breeze 13-9, and it was on Split that the academy player truly shone. With Viper, he excelled in multiple 1vX situations, contributing significantly to DRX's dominant 13-4 victory, propelling them into the grand finals where they would face off against Cloud9.
Viewers could catch a visible sigh of relief from Flashback on camera as he wrapped up his game against EDG. Foxy9 even gave him a well-done gesture after. 
While this tournament might not have carried the same weight as the VCT Pacific League or other international events did for the 19 other players, it certainly left a lasting impression on Flashback's career prospects whether that path leads him to continue with DRX or pursue other opportunities.
It remains unknown whether Flashback will be included in the upcoming VCT Pacific League season or if DRX have different plans in store for the prospect.
---
For more insights on the Asian VALORANT scene and upcoming content like this, be sure to like and follow VALO2ASIA on Facebook, Twitter & Instagram.
---
Cover photo courtesy of TEN VALORANT