The first two Pacific teams to qualify for the VALORANT Masters Tokyo and Champions LA have been found as DRX bounced back in the series against Team Secret to take it 2-1 while Paper Rex took down T1 2-0. 
SOUTH KOREA – The second day of the VCT Pacific Playoffs has concluded, awarding two teams spots in the upcoming VALORANT Masters Tokyo and Champions Los Angeles events. DRX and Paper Rex came into the playoffs knowing that they simply needed to win their first series to secure the next two international tournaments, and they got the job done against Team Secret and T1, respectively.
DRX defeated Team Secret after a 2-1 series which saw the Korean powerhouse behind after the first map on Haven, 9-13, but able to find their composure and come back in the series, taking Split 13-5 and Bind 13-4 from the Filipino side that made a substitution on the final map by bringing in Lionel "lenne" Lim to play Gekko in place of Adrian "invy" Reyes.
Paper Rex's qualification match against T1 was tightly contested, with both maps ending in the same scoreline of 13-10 in favor of the Southeast Asian side. "I feel like today the games were very close. I feel like T1 has improved a lot as a team. The last time we played them, the score was like 13-3 and 13-6. So I feel like now T1 has already improved a lot, so I feel like there's a high chance that they can qualify for Tokyo as well," Wang "Jinggg" Jing Jie said in a post-match interview.
ALSO READ: MaKo claims 2023 VCT Pacific League Play MVP award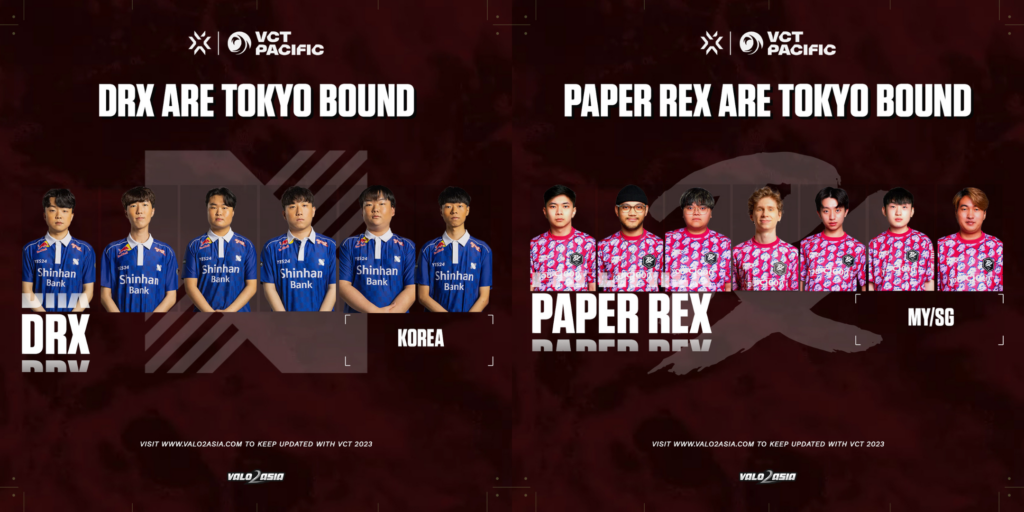 The journey is also far from over for DRX and Paper Rex, as they will compete in the upper final on Monday at 4 PM SGT. The tournament's US$250,000 prize pool is still up for grabs, with the champions set to claim US$100,000. Meanwhile, the remaining four teams will face their last chance to qualify for Tokyo and LA.
Gen.G fell to the lower bracket on the first day after losing to T1 in a Korean derby, with T1 ultimately advancing to the next round with a 2-1 victory (Fracture 13-8, Ascent 11-13, Lotus 13-7). Yu "TS" Tae-seok-led T1 will face Team Secret on Sunday at 4 PM SGT.
Meanwhile, ZETA DIVISION suffered a hard-fought defeat against Team Secret, losing 0-2 (Haven 13-15, Ascent 12-14) in a tightly contested match. They now face the challenge of defeating T1 on Sunday at 6:30 PM SGT and emerging victorious in the subsequent game to secure an opportunity to play in front of their home crowd in Japan next month.
The team list for VALORANT Masters Tokyo now looks as follows:
| | |
| --- | --- |
| EMEA #1 | EMEA #2 |
| EMEA #3 | EMEA #4 |
| Americas #1 | Americas #2 |
| Americas #3 | 🇰🇷 DRX |
| 🇸🇬 Paper Rex | Pacific #3 |
| 🇨🇳 ASE | 🇨🇳 EDG |
---
For more insights on the Asian VALORANT scene and upcoming content like this, be sure to like and follow VALO2ASIA on Facebook, Twitter & Instagram.
---
Cover photo courtesy of VCT Pacific