The Korean superstar was a level above the rest in DRX's near-flawless run to the playoffs of VCT Pacific.
SOUTH KOREA – Kim "MaKo" Myeong-kwan has been awarded the first-ever VCT Pacific League Play MVP following the end of the eight-week group stage. With an impressive VLR rating of 1.28 across 419 rounds, MaKo left his closest rival far behind, securing his well-deserved medal.
MaKo's performance surpassed that of the other MVP candidates by a considerable margin. Players like Ilya "something" Petrov from Paper Rex (with a rating of 1.19) and Ha "Sayaplayer" Jung-woo from T1 (with a rating of 1.17) all had their moments of brilliance which made their case for MVP closer to MaKo's. However, the smoker player's consistent performance throughout all nine series allowed him to maintain a leading position in the MVP race.
ALSO READ: 2024 Challengers Leagues to potentially start shortly after Champions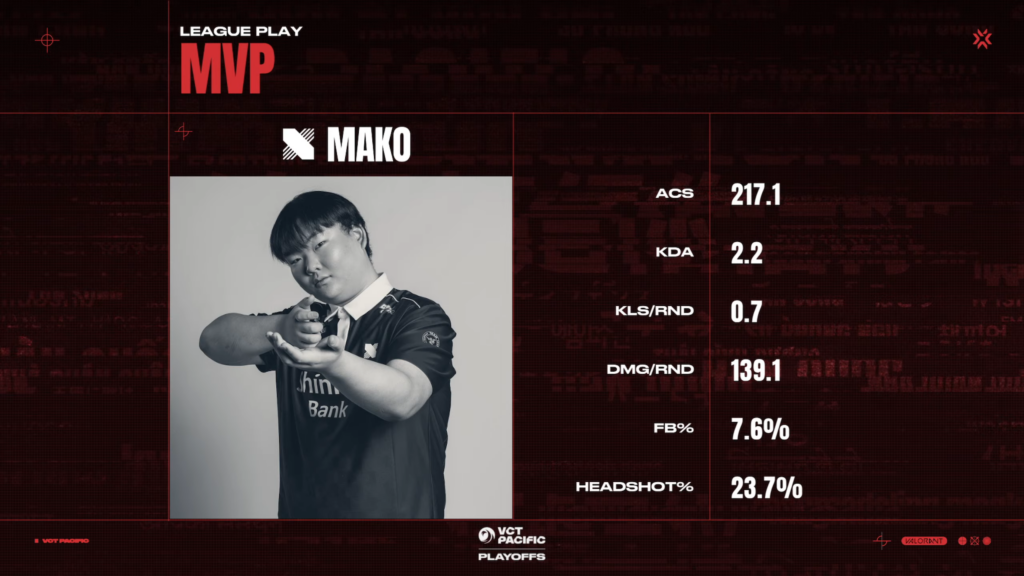 Despite his role, he ended up at the top of several statistical categories on the leaderboard, where he claimed the top spot for Rating (1.28) and KAST (79%). Additionally, he secured a place in the top five for K:D (1.33, ranked #3), APR (0.48, ranked #5), and KMAX (31, ranked #2).
MaKo had exceptionally high output in DRX's Week 2 series against Global Esports on Split, where he posted a monstrous 1.27 rated 31-kill performance to close the series 17-15.
DRX are set to face Team Secret in the upper semi-final match scheduled for Saturday at 4 PM SGT.
---
For more insights on the Asian VALORANT scene and upcoming content like this, be sure to like and follow VALO2ASIA on Facebook, Twitter & Instagram.
---
Cover photo courtesy of VALORANT Esports