Long have we waited; DRX activated.
TURKEY – DRX came out on top in a two-map derby against reigning Masters winners FunPlus Phoenix (FPX) and have secured a spot in the VALORANT Champions lower bracket final, where they will meet OpTic Gaming today. 
DRX had to battle for life against FPX, hoping to make up for a semi-final defeat to Brazil's LOUD. On the other side of the table, FPX had been relegated to the lower bracket after losing to DRX in the first round of the playoffs and had since eliminated Leviatan and XSET to set up another rematch between the two teams for a spot in the lower bracket final.

Byung-chul "BuZz" Yu put in a carry performance on the second map of the series, averaging a 456 ACS over the second half to reverse sweep the opponent for a string of ten rounds and emerge victorious. "We faced FPX in Copenhagen twice; the first time we won, but the next time we lost; we did not want history to repeat itself, so to be able to get the win against FPX, I think it's pretty meaningful for us," said BuZz in a post-match interview when asked what the victory meant for him. 
ALSO READ: DRX prevailed against FNATIC to secure top 4 finish at VALORANT Champions 2022
A 2-0 lead for FPX to kick off Icebox was quickly left by the wayside as DRX came in full strength once the money in their banks was enough. A first gun round victory gave Kim "Zest" Gi-seok's troops the opportunity to capture five consecutive rounds before a response was issued, with Pontus "Zyppan" Eek scoring three kills in A to give his side a third-round win. A fight back from the Europeans towards the end of the first half allowed them to share two more rounds with DRX before swapping sides at 7-5 in favor of DRX. 
FPX got off to a successful start in the second half and put up a solid offense from there on, taking the lead before Zest called a timeout after Round 28. It seemed that the additional minutes had not worked to their advantage, and Icebox would be FPX's, but they would have to wait for two more rounds before fully regaining control that they lost and stringing together five in a row, allowing the Koreans to take a 1-0 series lead.
Determined to make Haven a different affair from Icebox, FPX got off to a flying start and executed a solid defensive side, getting DRX out of their comfort zone in the early stages as Ardis "ardiis" Svarenieks and Dmitry "SUYGETSU" Ilyushin were both blazing on all cylinders. The reigning Masters champions headed into the break up 9-3. The ending of the first half appeared to have lit a fire in the belly of DRX. Once the sides switched, it was one-way traffic in their favor, not dropping a single round since then en route to a 13-9 victory on Icebox, eliminating the other X in the tournament. 
DRX will now go on to face OpTic in the lower bracket final in a replay of their upper bracket semi-final match in Reykjavik and Copenhagen, which saw Jaccob "yay" Whiteaker and co. knock the Koreans down in a close three-map series twice.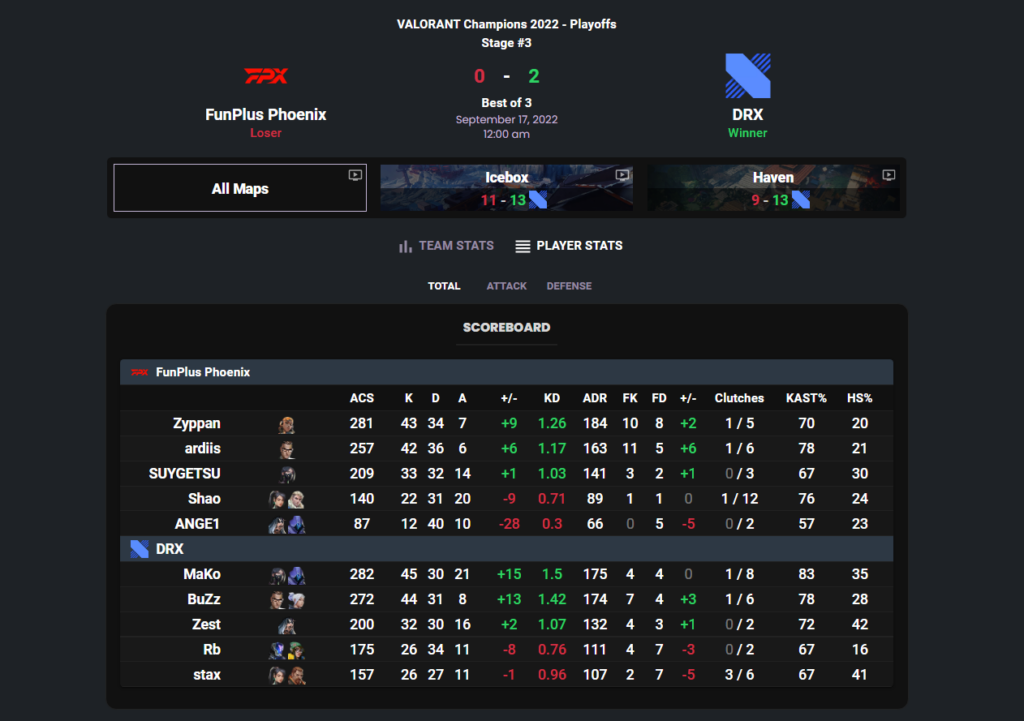 ---
For more insights on the Asian VALORANT scene and upcoming content like this, be sure to like and follow VALO2ASIA on Facebook, Twitter & Instagram.
---
Cover photo courtesy of Lance Skundrich/Riot Games