DRX continue their impressive performance during OFF//SEASON as they secured the Gwangju Esports Series Asia title with a dominant performance against Talon Esports 3-0 (Icebox 13-8, Ascent 13-8, Haven 13-8) in the grand final.
SOUTH KOREA — Coming into the tournament, DRX once again played with Jung "Foxy9" Jae-sung. The 19-year-old replaced Kim "Zest" Gi-seok, as he was unable to make the trip. The South Korean powerhouse beat Gen.G, who just competed for the first time in Asia in the opening match 2-1 (Ascent 11-13,  Fracture 13-3, Icebox 13-8) and claimed their ticket to the grand final.
Talon Esports entered the tournament with an entirely new roster with the addition of the former XERXIA trio and Patiphan "Patiphan" Chaiwong who just returned to VALORANT. Unfortunately, Patiphan did not play in the tournament and instead it was Apiwat "GarnetS" Apiraksukumal and Jittana "JitboyS" Nokngam who competed in the starting five. Their debut ran smoothly as they sweep ZETA DIVISION 2-0 (Icebox 13-10,  Ascent 14-12).
ALSO READ: Team NKT replace Todak in AfreecaTV SEA Invitational
The grand final began in Icebox with Kim "stax" Gu-taek squad getting an early lead of 4-0 thanks to clutch play by Yu "BuZz" Byung-chul who won 1 vs 2. Talon Esports managed to close the gap and successfully got five rounds and ended with 7-5 at halftime. Despite losing the pistol round, DRX managed to get thrifty to keep up with their pace. Talon Esports managed to regain control and even close the gap to 9-8, but DRX successfully won four rounds in a row and won the map 13-8.
The second map, Ascent, begins with Talon Esports getting both pistol rounds. DRX did not give a chance as they steamrolled their way with eight rounds in a row. Itthirit "foxz" Ngamsaard finally got the round for the team after winning the 1v2 clutch and ended the halftime with 8-4. After switching sides, the Thailand team won another pistol round and even caught up to the lead to two rounds difference. DRX regained their momentum after a back-to-back triple kill by Foxy9 that secured the victory with another 13-8.
The series came down to Haven, with DRX taking a massive lead as they went 5-0. Talon Esports finally break their dominance, ending the half with 8-4 lead. Talon Esports got both pistol rounds after changing to the attacker side but DRX with solid defense swiftly closed the map with 13-8 and claimed the Gwangju Esports Asia championship title.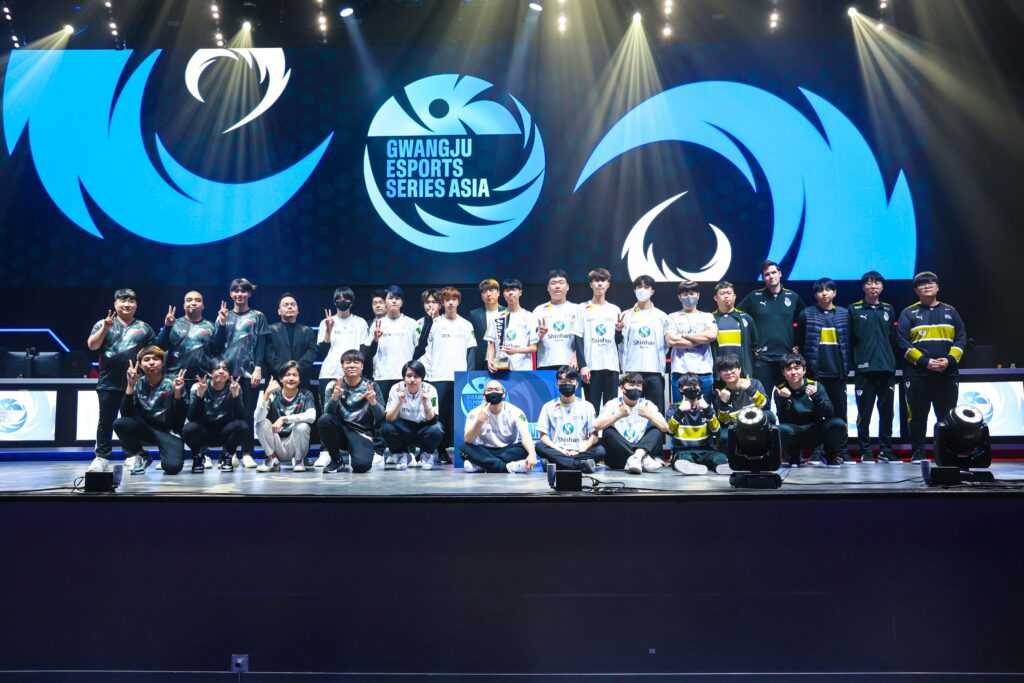 With this victory, it was the third OFF//SEASON title for DRX as they recently won the Daejeon Valorant Invitational and TEN 5_VALORANT Korea vs Japan last month. They have a chance to fill another trophy cabinet at the Riot Games One Pro Invitational that will be held in Yokohama, Japan, on December 23-24.
Gwangju Esports Series Asia final standings:
| | | |
| --- | --- | --- |
| Place | Team | Prize |
| 1st | 🇰🇷 DRX | ₩10,000,000 (~$7,482.47) |
| 2nd | 🇹🇭 Talon Esports | ₩5,000,000 (~$3,741.24) |
| 3rd | 🇯🇵 ZETA DIVISION | ₩3,000,000 (~$2,244.74) |
| 4th | 🇰🇷 Gen.G | ₩2,000,000 (~$1,496,49) |
---
For more insights on the Asian VALORANT scene and upcoming content like this, be sure to like and follow VALO2ASIA on Facebook, Twitter & Instagram.
---
Cover photo courtesy of DRX