Inspired by r/explainlikeimfive, VALO2ASIA presents a new series to introduce newcomers to all things VALORANT Esports with a simple explanation of a hard topic.
So, what exactly is VCT?
The VALORANT Champions Tour, often known as the VCT, is a year-long circuit of regional and international esports tournaments for VALORANT that culminates in a Champions event at the end of the year.
According to Esports Charts, the circuit last year rewarded more than US$5,434,449 to teams around the world, not counting the-reported US$18.72 million made from the in-game Champions collection skin, half of which (US$9.36 million) was set to be shared out equally among the 16 teams in attendance at Champions 2021 by Riot Games.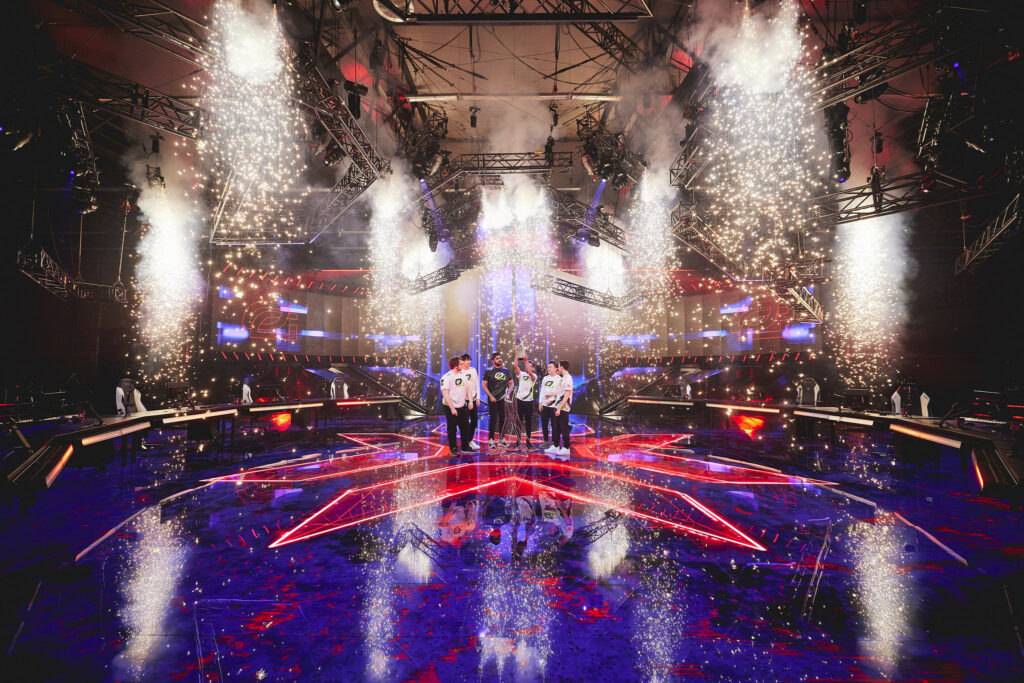 In the big picture, VALORANT Champions Tour is divided into three levels of competition: Challengers, Masters, and Champions. The entire VCT format is structured in a way to reward consistent teams.
There are three significant tournaments for 2022:
Masters 1 – Reykjavik
Masters 2 – Copenhagen
VALORANT Champions – Istanbul
Let's start from the very beginning:
VCT Challengers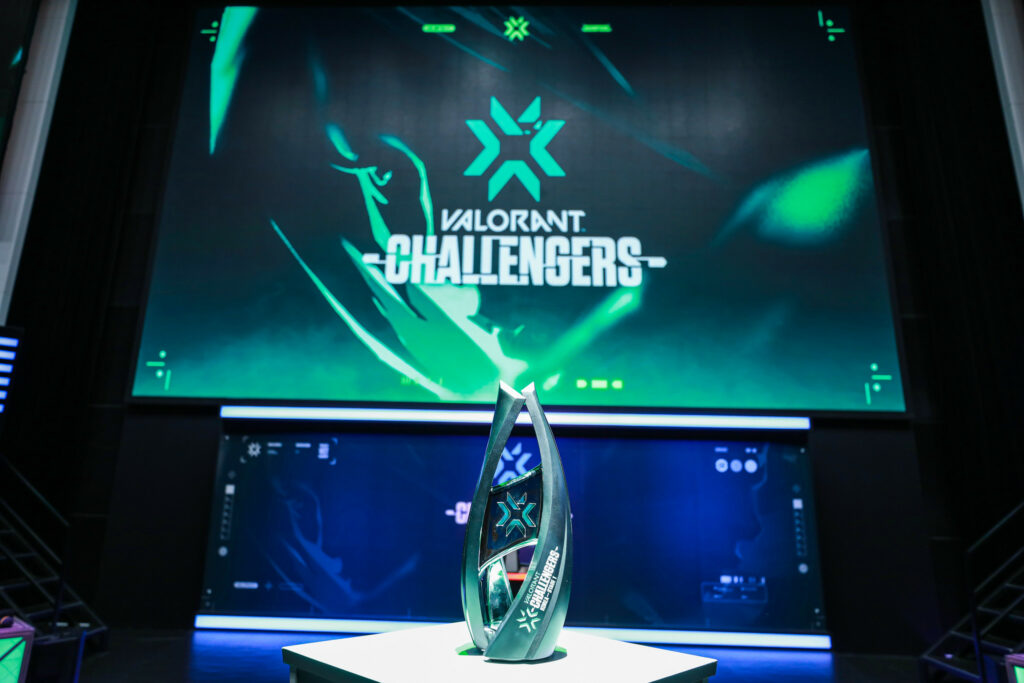 To qualify for each Masters, each team must first compete through the Challengers stage, which serves as a regional competition. For 2022, there are two sets of Challengers and Masters: Stage 1 in February-April and Stage 2 in May-July. The best teams from each region's Challengers Playoffs qualify for Masters. We will explain the slot distribution later.
Every region has its own Challengers event, with formats and rules tailored specifically to the region's complexities and needs.
VCT APAC runs in a significantly different format in comparison to other regions due to its size, and thus the explanation will be longer than explaining other regions. As we know, Asia is the world's largest continent, stretching from the eastern Mediterranean Sea to the western Pacific Ocean. There are more than 40 countries in Asia. Sixty percent of the world's population lives in Asia. And to put it into perspective, more than a third of the world's people live in China and India alone, according to National Geographic.
Back to the game, every team must compete in their own country's qualifier to qualify for the VCT APAC Challengers Playoffs. While there is no formal term for these, we often refer to them as sub-regions. Other than that, every squad must have at least three players in its starting lineup who are residents of the country or sub-region of choice.
🇹🇭 VCT Thailand
🇮🇩 VCT Indonesia
🇵🇭 VCT Philippines
🇲🇾🇸🇬 VCT Malaysia & Singapore (MY/SG)
🇭🇰🇹🇼 VCT Hong Kong & Taiwan (HK/TW)
🇻🇳 VCT Vietnam
Each sub-regional tournament has its own open qualifier(s), group stage, and playoffs. However, South Asia and Oceania are in a unique position and do not have the VCT branding for their tournament. Their sub-regional tournaments are run by third-party organizers, with their own structure, format, and rulebook.
The top two or three, depending on region, will progress to VCT APAC to represent their country or region. The slot distribution is determined based on the region's performance in the previous competition cycle. The MY/SG region, for example, has had its slot on the circuit increase from two to three this year.
ALSO READ: VCT APAC Stage 2 Challengers Play-In team previews
Following that, region-wide playoffs with 20 teams from the eight aforementioned sub-regions will be held to determine the two best teams to represent the whole Asia-Pacific region in Masters.
VCT Masters
Each of the two sets of the VCT concludes with a global Masters tournament. These are international tournaments that pit the finest teams from around the world against each other for fame, circuit points, and big prize pools. It also allows teams to represent their region on an international stage.
The teams that accumulated the most circuit points in each region at the end of Stage 2 will qualify to compete in the most significant event in competitive VALORANT: VALORANT Champions.
ALSO READ: Riot Games to host next VCT Masters in Copenhagen, Champions in Istanbul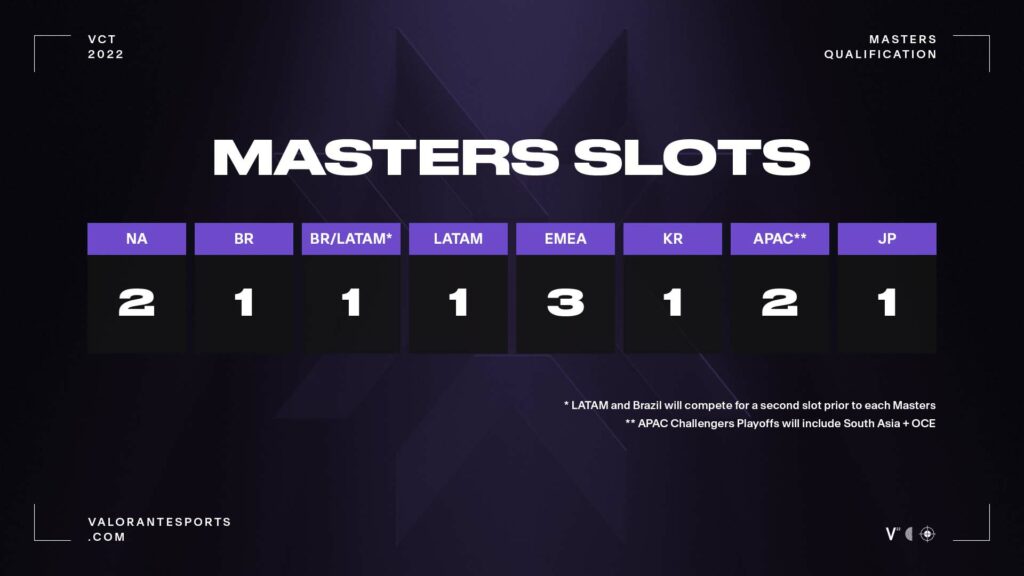 Riot Games has announced that Copenhagen, Denmark, will play host to the second and final Masters event of the year from July 10-24. The twelve participating teams will come from the same makeup as VCT Masters 1, with APAC earning two seats and Korea and Japan each receiving one.
VALORANT Champions
Champions is the culmination of each year of the VALORANT Champions Tour. It is an event which will see various top teams from around the world – generally with more teams participating – compete for the title of the best VALORANT team in the world.
VALORANT Champions is essentially the same as Masters, however, teams do not qualify by defeating teams from their region in a qualifier. Instead, they qualify depending on the circuit points accumulated over the course of the year. In a sense, Champions reflects overall skill rather than a miraculous run or a honeymoon period in a single tournament.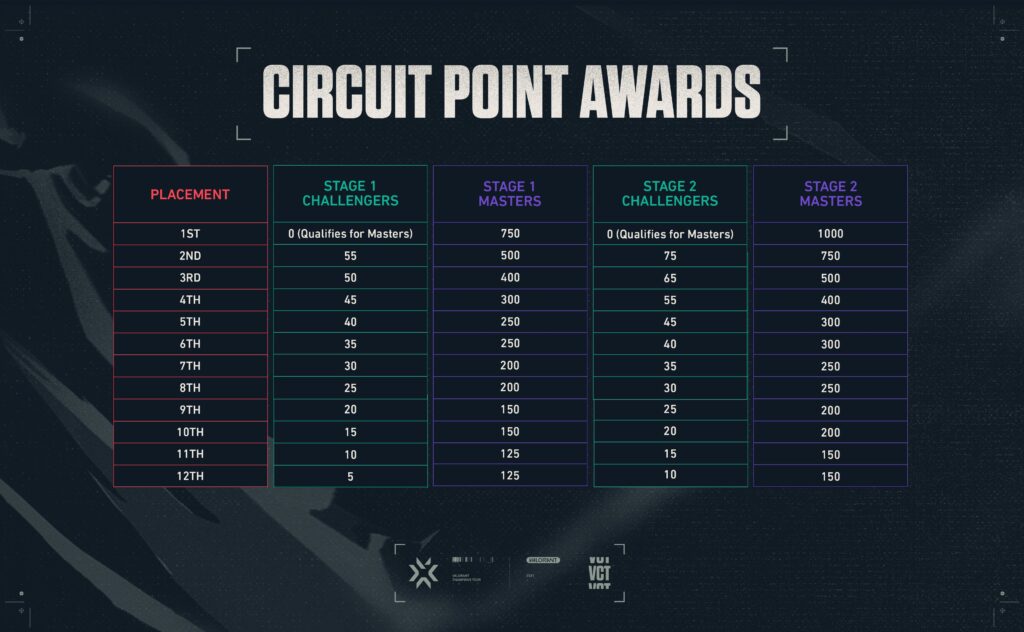 VCT Last Chance Qualifier
If a team does not accumulate enough points, they can still compete in the Last Chance Qualifier to advance directly to VALORANT Champions. A number of teams below those with the highest circuit points and who have qualified for Champions get the last chance to qualify. Only the tournament winner from each region will qualify for Champions. Riot Games has yet to reveal the format for this year's Last Chance Qualifier. What we do know is that the LCQ will reward six teams with direct entry into Champions.
---
For more insights on the Asian VALORANT scene and upcoming content like this, be sure to like and follow VALO2ASIA on Facebook, Twitter & Instagram.
---
Cover photo courtesy of Lance Skundrich/Riot Games