Enigma Gaming will be looking to secure qualification to VCT Pacific Ascension this season.
INDIA – Enigma Gaming have enlisted the services of Indian caster and former Velocity Gaming analyst Nikhil "Sieh" Bhansali to serve as a coach for their MY/SG lineup, the Indian organization announced on Monday. This marks a significant move for the roster since they have not had a coach since their formation under the banner in February of this year.
The team have hit the ground running since Sieh's addition as they currently boast a 6-0 record in the VCL MY/SG Split 2 Regular Season alongside Singaporean powerhouse Bleed Esports and are due to play with them today as their final opponent. 
ALSO READ: ryota- joins ZETA DIVISION GC as coach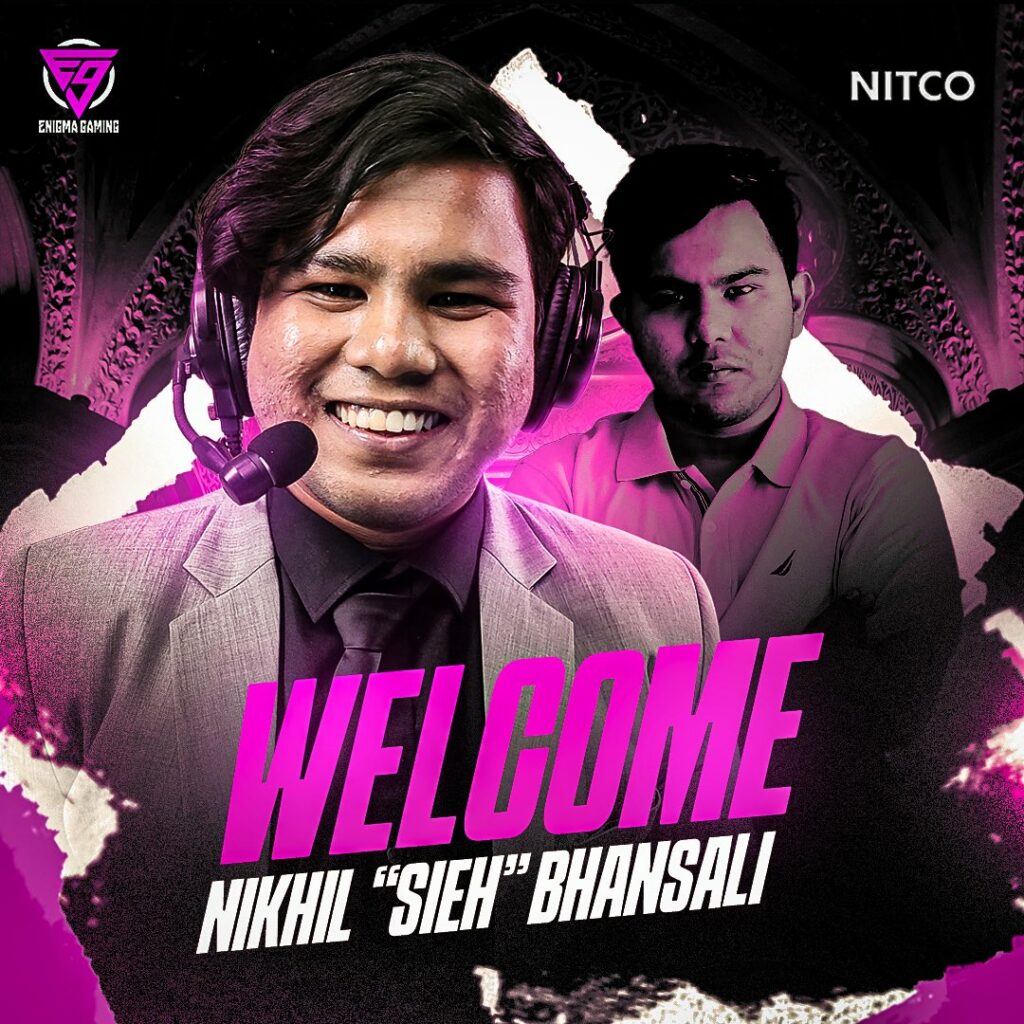 Enigma Gaming will be hoping that Sieh's arrival will be enough to help them reach the upcoming Pacific Ascension tournament, with their most recent showing being a third-place exit in the first split of the MY/SG stage following narrow defeats to eventual finalists Bleed Esports and X10 Esports.
This opportunity will mark Sieh's second time occupying a coaching role for a team, having previously coached Chill Cord between July and October last year. During that period, the team won the NVIDIA GEFORCE Festival 2022 tournament and was invited to the Skyesports Pro Invitational Season 2. Prior to that, he worked as an analyst for Velocity Gaming from December 2020 to June 2021 when it was still known as Team Mahi, and again from March to June 2022.
Sieh is a well-known figure within the South Asian community for his Hindi and English casting in the region. He has commentated on notable events such as the 2021 Masters Berlin and Champions for the Hindi broadcast, as well as the domestic VCC 2021 and 2022 stages for the English broadcast. Furthermore, he was a member of the judging panel for the 2021 VALO2ASIA Awards.
With Sieh's addition, Enigma Gaming are now:
🇸🇬 Chun Ting "Divine" Yeoh
🇸🇬 Tidus "STYRON" Goh
🇸🇬 Ingram "FREY" Tan
🇸🇬 Ayrton "artn" Soh
🇲🇾 Xan "xan" Ng
🇮🇳 Nikhil "Sieh" Bhansali (Coach)
For more insights on the Asian VALORANT scene and upcoming content like this, be sure to like and follow VALO2ASIA on Facebook, Twitter & Instagram.
---
Cover photo courtesy of Enigma Gaming