After an extraordinary year with the 2021 VALORANT Champions Tour, with more than hundreds of teams taking part, VALO2ASIA is thrilled to announce The VALO2ASIA Awards, showcasing Asia's 20 best players of 2021.
Every year, a 20-member strong board of judges, consisting of current and former professionals in the industry, will compile a list of the best 20 players of the year. Each player selected as a nominee was chosen after thoughtful evaluation of their respective performances throughout the 2021 season.
Meet your 2021 judges: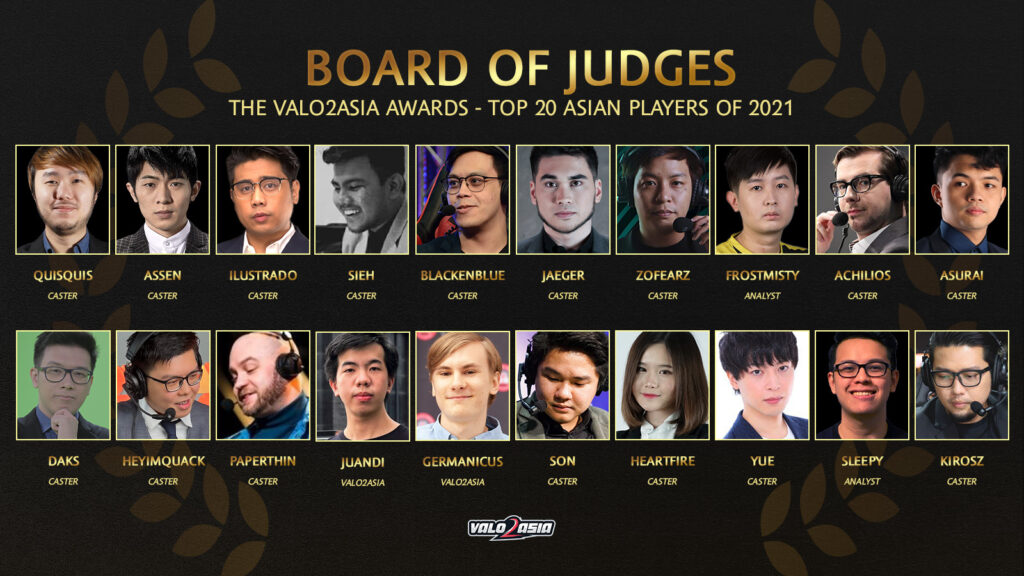 | | |
| --- | --- |
| 🇵🇭 Darwell "Asurai" Llerena | 🇮🇩 Juandi |
| 🇵🇭 Franco "Ilustrado" Bernardino | 🇨🇦 Shawn "Germanicus" Heerena |
| 🇵🇭 Dathan "Daks" Rosales | 🇮🇩 Antonius "Son" Willson |
| 🇵🇭 Nico "BlackenBlue" Gayoso | 🇮🇩 Albert "Frostmisty" Giovanni |
| 🇵🇭 Jayce "Jaeger" Alexander Stewart | 🇮🇩 Andi "Sleepy" Bangsawan |
| 🇮🇩 Bella "Heartfire" Victoria | 🇺🇸 Seth "Achilios" King |
| 🇹🇭 Atthasid "ZoFeaRz" Intravichai | 🇺🇸 Clinton "Paperthin" Bader |
| 🇹🇼 Huang "Assen" Mao-Sen | 🇮🇳 Nikhil "Sieh" Bhansali |
| 🇸🇬 Kentrell "HeyImQuack" Kwek | 🇸🇬 Marquis "QuisQuis" Tan |
| 🇯🇵 Yue | 🇹🇭 Weerasak "KirosZ" Boonchu |
Juandi, Editorial at VALO2ASIA, commented: "As we approach the first year of VALO2ASIA's operation, we would want to honor those who have achieved outstanding results throughout the year, those who have lifted the standard of Asian VALORANT to be on par with other regions. The VALO2ASIA Awards is one of our long-term initiatives to elevate the Asian VALORANT ecosystem, and we are thrilled to have a total of 20 experienced judges from various backgrounds joining us to honor Asia's finest in 2021. We are excited to see what this year has in store for Asian VALORANT."
Here is how the voting works:
The top 20 list is entirely based on players' contributions on the server over the course of January 1 – December 31, and not based solely on their Average Combat Score (ACS). It doesn't take into consideration any external factors that may or may not have affected their performance. 
Our judges will be provided with an extensive list of the best-performing players from the APAC region and given one basic question: who were the greatest players in the APAC region in 2021?
We ask our judges to choose 20 names each and rank their selection in order from 1-20, with No 1 being their choice of the best player.
The No 1 choice of each judge receives 20pts, No. 2 gets 19, down to 1pt for their No 20 selection. The total number of votes will be combined together to get a raw score.
To qualify for the list, a player needs to collect votes from at least three (3) judges.
If players are tied on points in the scoring, the number of individual votes cast is used as a tie-breaker.
These votes were then collated to create VALO2ASIA's 20 Top Players of the Year. The list will be revealed five entries at a time.
We'll be starting the countdown, revealing five entries at a time from January 18th, 2021.