The team around Shara "Ayaaa" Koshikawa are now looking to strike a deal with an organization to represent them after they parted ways with Nigma Galaxy early this month.
PHILIPPINES – The former members of Nigma Galaxy Female are actively seeking an organization to represent ahead of an important October that includes attending VCT Game Changers APAC Elite. The tournament, which gets underway on October 1, will pit eight of the best APAC female teams for a greater share of the US$35,000 and a coveted spot at the Game Changers Championship.
Tiara "Alluka" Pleno, meanwhile, will no longer play for the Filipino team going forward in order to pursue other chances in the APAC region.
The announcement came shortly after Ngô "crazyguy" Công Anh revealed that Nigma Galaxy would be terminating its Southeast Asian VALORANT operation after the organization did not make it through the next round of VALORANT partnership application.
ALSO READ: BOOM Esports qualify for VALORANT Champions following APAC LCQ victory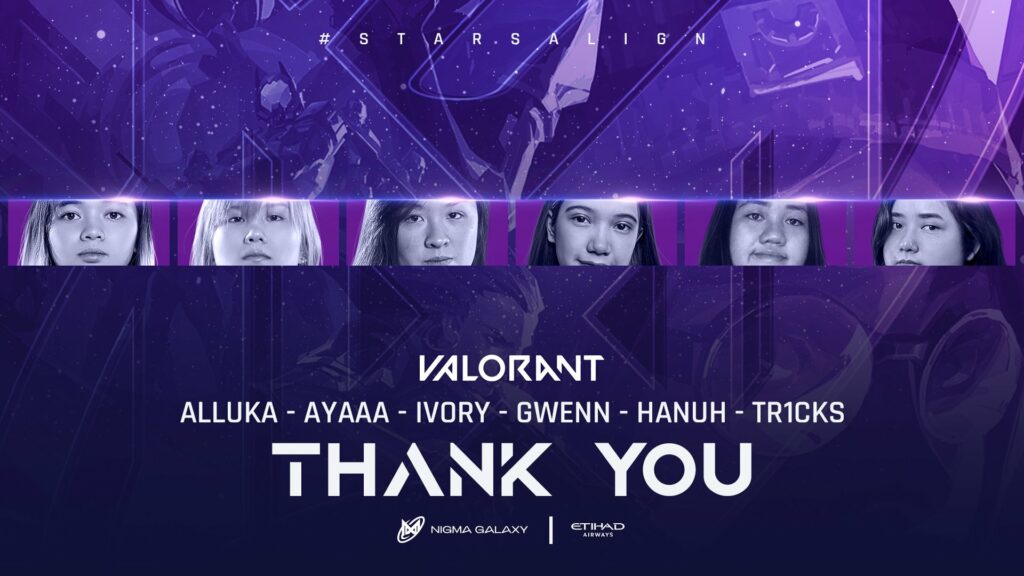 The organization entered the female VALORANT scene at the beginning of 2021, forming a roster around the core of Oasis Gaming Centuria. The lineup managed to achieve several runner-up finishes in the official VCT Game Changers Open tournament – just behind Alter Ego Celeste – and wrapped the year with a fourth-place finish in the 2021 VCT Game Changers Elite under the rebranded Nigma Galaxy banner.
Despite a rocky start to this year, in which they failed to make playoff appearances for the first three Open tournaments, Nigma Galaxy were able to turn things around and harvest good results in VCT Game Changers APAC Open 4 and VCT Game Changers Open Overtime, eventually claiming a spot in the Elite tournament.
It goes without saying that the roster is in high demand as a lineup that can be acquired without buyouts just before the commencement of a Game Changers team's most significant campaign.
ex-Nigma Galaxy Female will return to action in two months' time in VCT Game Changers APAC Elite, scheduled for October 1-9.
The former Nigma Galaxy Female lineup, who are now on the market is:
🇵🇭 Hanna "Hanuh" Alyssa Bermejo
🇵🇭 Regina "Ivory" Lopez
🇵🇭 Shara "Ayaaa" Koshikawa
🇵🇭 Kyung-in "Tr1cks" Lee
🇮🇩 Salsabila "gWenn" Kultsum
🇵🇭 Jehiel "Pizzafps" Ardiente (Coach)
---
For more insights on the Asian VALORANT scene and upcoming content like this, be sure to like and follow VALO2ASIA on Facebook, Twitter & Instagram.
---
Cover photo courtesy of Nigma Galaxy