The final Chinese tournament of the year will have EDG's first debut without Qu "Life" Donghao, who will be playing on the other side of the server with ASE.  
CHINA – VALORANT Esports China announced on Friday the first details about the FGC VALORANT Invitational 2022 Epilogue, the final tournament of the year for the Chinese VALORANT scene. The tournament will take place between December 8-25 and will feature four invited teams and two qualified sides. 
Monarch Effect and Attacking Soul Esports earned their spots by winning the Play-In stage. They will be accompanied by four invited sides: EDward Gaming, FunPlus-owned ZHUQUE, Wang "whz" Haozhe's Tales of Eastern, and Xyper Arena Weekly Showdown #2 and #3 champions NTER. 
ALSO READ: VCT Oceania 2023 announced; LPL locks in extended partnership with Riot Games
| | |
| --- | --- |
| 🇨🇳 EDward Gaming | 🇨🇳 ZHUQUE |
| 🇨🇳 NTER | 🇨🇳 Tales of Eastern |
| 🇨🇳 Monarch Effect | 🇨🇳 ASE |
EDward Gaming arrive with momentum behind them, having just made it to their first international event at VALORANT Champions in Istanbul, Turkey. With that in mind, Yongkang "ZmjjKK" Zheng and co. will be looking to close the year out with a bang, but the departure of Duelist Qu "Life" Donghao to domestic rivals Attacking Soul Esports could pose a threat to their local dominance. The two sides will meet on December 15 at 8:00 PM SGT.
Aside from that, this event is the perfect chance for NTRE to show what they are made of. A strong showing by NTER and Monarch Effect in the Xyper Arena Weekly Showdown #3 should have provided them with some warmup before facing powerhouses such as EDG and TOE early next month.
Whz has shown time and time again to be Tales of Eastern's stalwart, notably in the fragging department, often showing a direct correlation between the numbers he puts up at an event and the team's final placing. So close yet so far, Tales of Eastern will once again be part of the discussion when it comes to the favorites.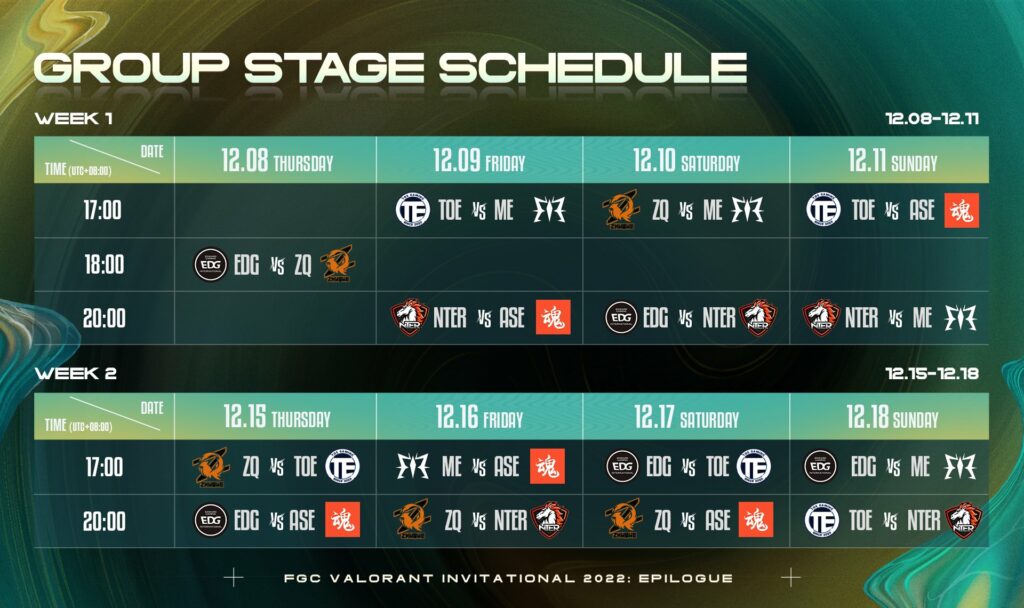 On December 8-11 and 15-18, the six sides will battle in a best-of-three GSL group stage, with the top four teams advancing to the next stage. The playoffs will then kick off on December 21 with a double-elimination bracket played by the top four teams, which will have the opening matches played as best-of-threes while the elimination and finals will be best-of-five series. Winners will be decided five days after the start of the playoffs, on Christmas day. 
The FGC circuit, which in the past has offered a proving ground for Chinese teams and become an official pathway for the East Asia LCQ, last took place in July and was won by EDward Gaming, who would later go on to represent the region in the Last Chance Qualifier and VALORANT Champions. 
---
For more insights on the Asian VALORANT scene and upcoming content like this, be sure to like and follow VALO2ASIA on Facebook, Twitter & Instagram.
---
Cover photo courtesy of Lance Skundrich/Riot Games