The VCT Game Changers SEA: FSL Open V Playoffs team list has been finalized following the conclusion of the open qualifier, which saw seven of the eight teams from the previous season requalify, with the exception of Oasis Gaming, who were eliminated in the group stage by Renatus White (formerly known as 'The Impaler').
Currently 4th in the Worldwide Game Changers rankings, Alter Ego Celeste has been in dominating form going into the fifth season. The top team will aim to extend their winning streak to five seasons. Galaxy Racer Female also secured wins in their group deciders over Lightality Estelle to secure the top eight.
The competition is loaded with all eight of Southeast Asia's current top female teams. The best teams will always come on top both in group and playoffs, as described by Alter Ego Celeste's Ryona "Tarathiel" Tan in our interview.
ALSO READ: Tarathiel on the female VALORANT scene: "We cannot afford to get left behind"
As part of the FSL VALORANT Circuit this year, the VCT Game Changers SEA: FSL Open V Playoffs will take place from July 29 to August 1. The top three finishers of the circuit will secure seats in the US$25,000 FSL Elite 2021, which will take place from October 23 to October 31.
VCT Game Changers SEA: FSL Open V Playoffs will feature a double-elimination bracket with best-of-three matches across the board except for the grand final, which will feature a best-of-five series.
The complete team list for the tournament is as follows:
| | |
| --- | --- |
| 🇮🇩 Alter Ego Celeste | 🇹🇭 Aricat Aresta |
| 🇹🇭 Kid Mai Ork | 🇹🇭 Magnifique |
| 🇵🇭 Hashira SR | 🇵🇭 Galaxy Racer Female |
| 🇮🇳 Asteria | 🇸🇬 Renatus White |
VCT Game Changers SEA – FSL VALORANT Circuit 2021
Alter Ego Celeste is currently sitting in a comfortable lead of the ranking with over a 16-point advantage over second-placed Galaxy Racer Female. As things stand, Thailand's Kid Mai Ork round out the top three, with UndeRank Femelle and Oasis Gaming Aqua following closely behind with a one-point gap, just below the qualified teams cutoff.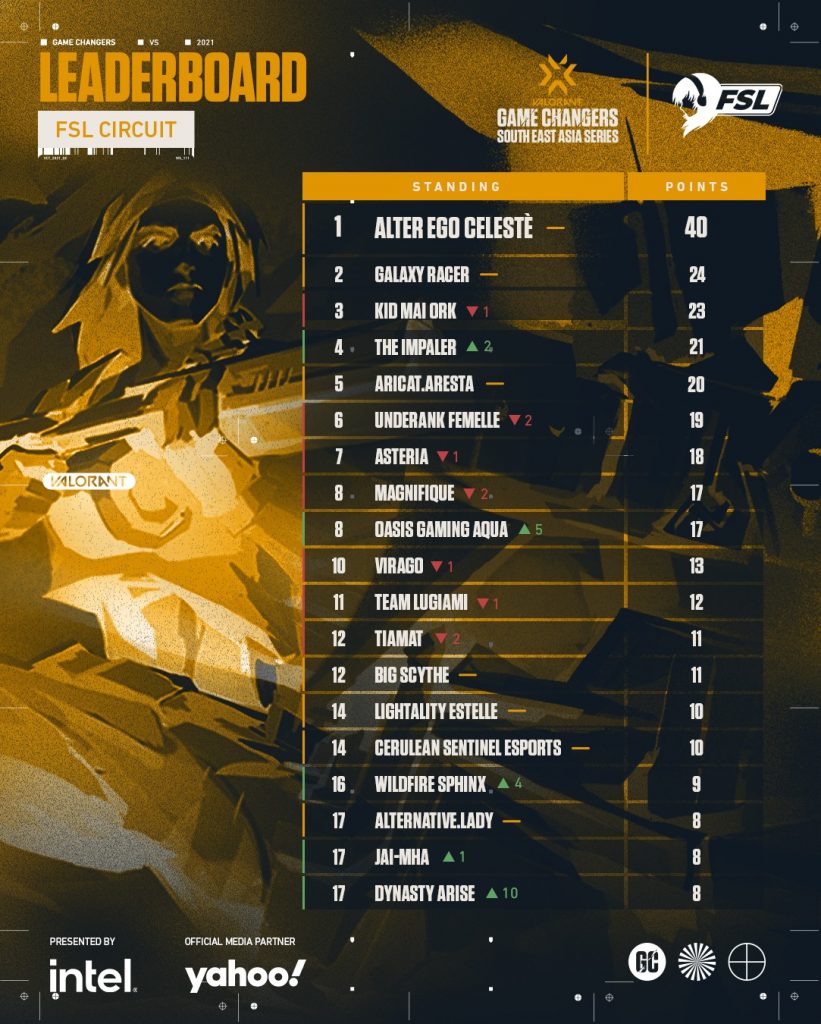 ---
For more insights on the Asian VALORANT scene and upcoming content like this, be sure to like and follow VALO2ASIA on Facebook, Twitter & Instagram.
Cover photo courtesy of FSL
---