The 20-year-old leaves the Thai organization after seven months under its banner.
THAILAND – FULL SENSE have said their farewells to Phakphon "Flukyy" Sukhonchasiri, concluding his seven-month association with the team following the recent addition of ex-Sharper Esport standout Thanyathon "Leviathan" Nakmee.
Flukyy made his way up the Thai VALORANT scene playing for the second roster iteration of X10 Esports during the 2022 season, consistently ranking as the team's second top player behind the now Talon Esports player Apiwat "GarnetS" Apiraksukumal, and by December of that year, he had enough recognition to move on to FULL SENSE. Alongside him, the former FW Esports pair, Taned "killua" Teerasawad and Teerapong "Teerapong" Wongsirisuponchai, came on board, strengthening the FS roster for the 2023 season.
ALSO READ: Rex Regum Qeon part ways with coach yb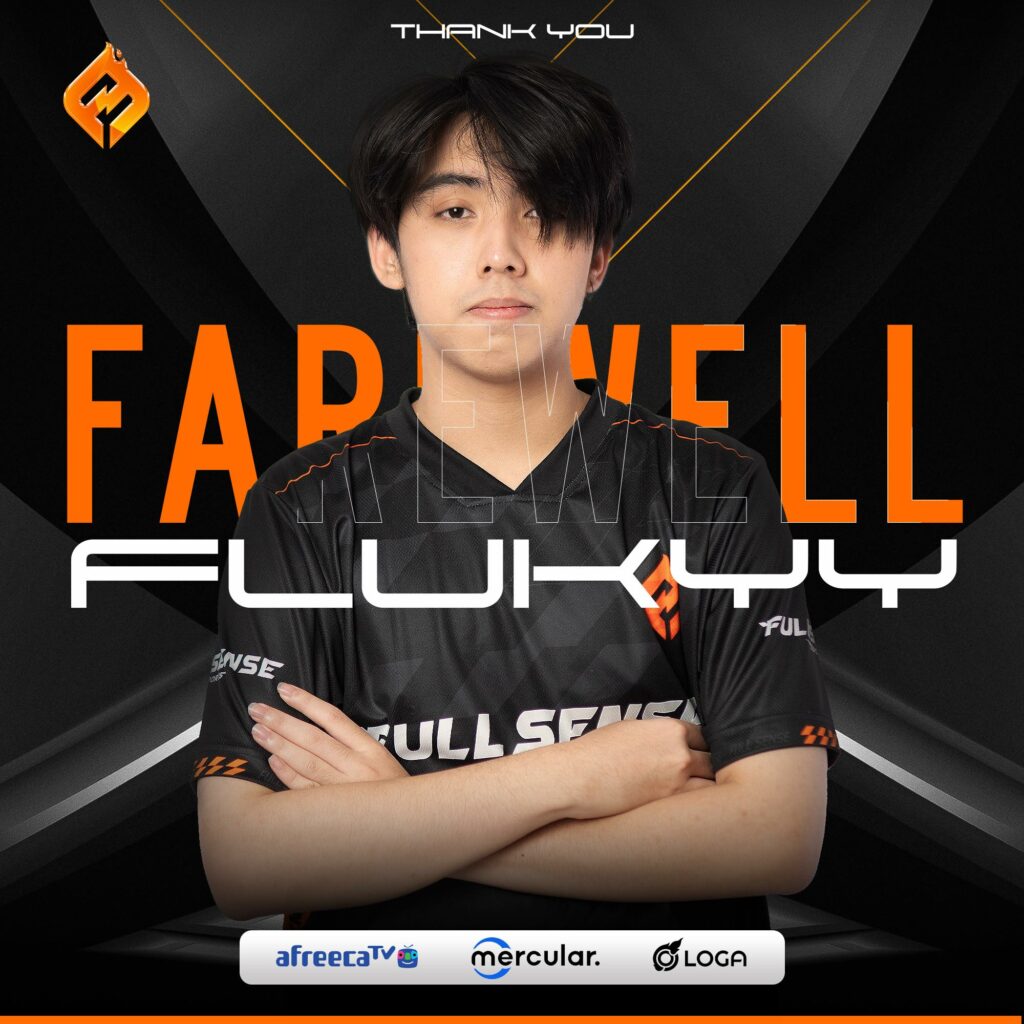 During his tenure under the orange and black banner, Flukyy shifted to a Controller role, diverging from his earlier reputation as either an Initiator or Duelist. He fulfilled his new role for the most part and posted average numbers throughout.
The season was not particularly golden for FULL SENSE, as they settled for a fourth-place spot in VCL Thailand Split 1 owing to playoff setbacks against Sharper Esport and Attack All Around. Although there were glimpses of hope in the next Split, the collective efforts were not sufficient of ensuring a united front for the forthcoming season. Their runners-up position in VCL Thailand Split 2 and subsequently failure to qualify for VCT Ascension Pacific on home turf called for a team evaluation.
Stepping into Flukyy's shoes, FULL SENSE have enlisted former Sharper Esport's Leviathan. His recent display in the VCL Thailand Split 2 showcased a noteworthy 1.23 VLR rating and an average ACS of 227.8 across 361 rounds in the role of a Smoke player. He clinched the second-highest player ranking in the tournament, just behind MiTH's Kantapon "Kadoom" Kingthong.
Whether this is their final roster or there are more shifts on the horizon during the OFF//SEASON remains to be seen. FULL SENSE have no events lined up at the moment, offering them the luxury of time to strategize and enhance their lineup.
FULL SENSE's roster is:
🇹🇭 Chanawin "JohnOlsen" Nakchain
🇹🇭 Thanaphat "THEE" Limpaphan
🇹🇭 Apinya "Apinya" Laotaew
🇹🇭 Taned "killua" Teerasawad
🇹🇭 Thanyathon "Leviathan" Nakmee
🇹🇭 Nattawat "SuperBusS" Yoosawat
🇹🇭 Theethawat "Zelyn" Taechavitidkhul (Head coach)
🇹🇭 Kachaporn "zocha" Taveesin (Assistant coach)
🇹🇭 Thotsaphon "cbbk" Suphatthanaphalaphon (Analyst)
---
For more insights on the Asian VALORANT scene and upcoming content like this, be sure to like and follow VALO2ASIA on Facebook, Twitter & Instagram.
---
Cover photo courtesy of FULL SENSE