Global Esports will represent South Asia in the upcoming VCT APAC Last Chance Qualifier, which will take place between October 13th and 17th. The Indian side defeated their counterparts, Velocity Gaming, in a thrilling series that went the distance, concluding in a 3-2 victory for Global Esports.
The reigning champions of the VALORANT Conquerors Championship (VCC), Global Esports, secured their berth at the VCT Last Chance Qualifier (LCQ) for APAC after taking down Velocity Gaming in the grand finals (Split 10-13, Haven 13-11, Breeze 15-13, Icebox 13-9, Ascent 13-10). 
In addition to winning the VCC and qualifying to the APAC LCQ, Global Esports also walk away with the US$16,500 first-place prize, with Ganesh "SkRossi" Gangadhar earning the MVP of the tournament.
Global Esports earned their way to the main event of VCC by qualifying through the Indian Qualifier #2. The team reached the grand finals of the first Indian qualifier, but ultimately fell to Velocity Gaming.
The VALORANT Conquerors Championship was held to pave the way for international recognition of South Asian teams and players by providing them the opportunity to qualify for the VCT APAC LCQ and fight for a spot at the VCT Champions 2021. Among the teams that made it to the main event were South India's finest representatives from their respective countries, including Velocity Gaming and Global Esports – the two undisputed frontrunners of South Asian VALORANT – as well as Enigma Gaming, Team Exploit, and more. The following is a full list of qualified teams in the VALORANT Conquerors Championship:
| | |
| --- | --- |
| 🇱🇰 Crash Landin on You | 🇳🇵 Damaru Gaming |
| 🇧🇩 Exceeli Esports | 🇮🇳 Enigma Gaming |
| 🇵🇰 Team Exploit | 🇮🇳 Global Esports |
| 🇮🇳 Velocity Gaming | 🇵🇰 Salt Esports |
Global Esports break into the main event after taking down all teams in their group except Team Exploit, who came at the top in the 2-1 match affair won by the Pakistani side. During the finals, Global Esports were sent to the lower bracket by Velocity Gaming 2-1. Being one of South Asia's finest teams and a more experienced one, Global Esports clawed their way back into the APAC LCQ spot contention by defeating Enigma Gaming and exacting vengeance on Team Exploit.
---
One of the most significant South Asian VALORANT matches
Global Esports vs. Velocity Gaming's showdown yesterday was one of the most anticipated matchups in the history of South Asian VALORANT. It has ushered in a new era in the region's history. According to EsportsCharts, the match had a staggering 52,484 viewers at its peak.
A showdown between Global Esports and Velocity Gaming (formerly also known as Team Mahi) was the long-awaited El Classico after 59 head-to-head encounters between the two teams, dating all the way back to August of last year. Global Esports came out on top on 29 maps out of 59 maps played, bringing the score statistically close to equal. However, a recent defeat to Tejas "rite2ace" Sawant and co. in the grand final of The Esports Club Gauntlet – Season 1 and the upper-bracket final of VCC made the Bhavin "HellRangeR" Kotwani-led squad a less favored side, as seen by a poll of almost 7000 spectators during the match.
---
The Grand Final – Velocity Gaming vs. Global Esports – VALORANT Conquerors Championship
Both teams came into yesterday's best-of-five series on an absolute tear. It all began on Split with Global Esports taking the opening two rounds until Velocity Gaming turned it back to a 5-2 lead. The following was a back-and-forth between rounds before Mohit "mw1" Wakle and Agneya "Marzil" Koushik kicked into higher gear on the attacking side with each managing 26 and 19 kills, respectively. Velocity Gaming players took turns stepping up with individual plays, giving Global Esports no space to breathe, to close the map comfortably at 13-10.
That took us to Velocity Gaming's map pick of Haven, where both teams faced off in another tight battle. With an 8-4 lead in the first half, it seemed as if Global Esports was destined to finish the map fast and equalize the series. However, Agneya "Marzil" Koushik and co. made the opponent sweat as they dominated the defensive side. They attempt to narrow the deficit, but Global Esports pulls it out in the end, 13-11.
ALSO READ: Bren Esports VALORANT on the mental health coach impact to the team, Filipino community, and more
Breeze followed a pattern identical to that of Breeze, but in reverse. The game was neck to neck from start to finish. Velocity Gaming demonstrated a strong defensive side in the first half, but when the sides were switched, Global Esports gained solid control, crushing Velocity Gaming's attempts in attacking sites and winning the map 15-13. Icebox turned out a much simpler affair for Velocity Gaming as they did not let Global Esports find space. Bhavin "HellrangeR" Kotwani and co. remained in control from the beginning until they rallied to a 16-9 victory in the end.
The situation began to look increasingly dire for Global Esports in the first half as Velocity Gaming put up a valiant defense on Ascent, the deciding map, building a 9-3 lead until Jayanth "skillZ" Ramesh and co. finally began to wake up and consistently breakthrough. After clawing back by winning the second pistol round, Global Esports took complete control and fired on all cylinders, including Ganesh "SkRossi" Gangadharto who went from four total kills in the first half to 23 at the game's conclusion, to take the series in a dominant fashion, 3-2.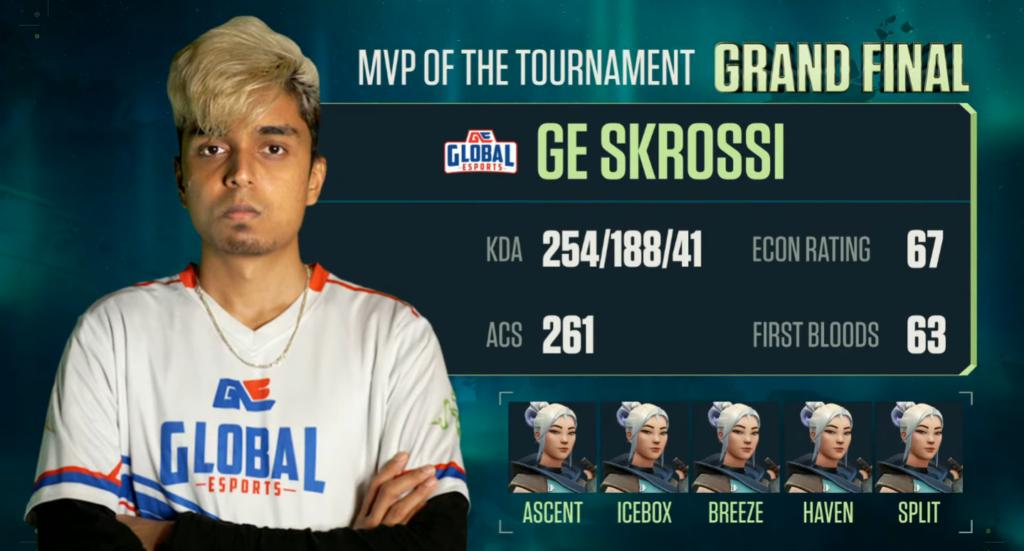 ---
Global Esports cement themselves in the APAC Last Chance Qualifier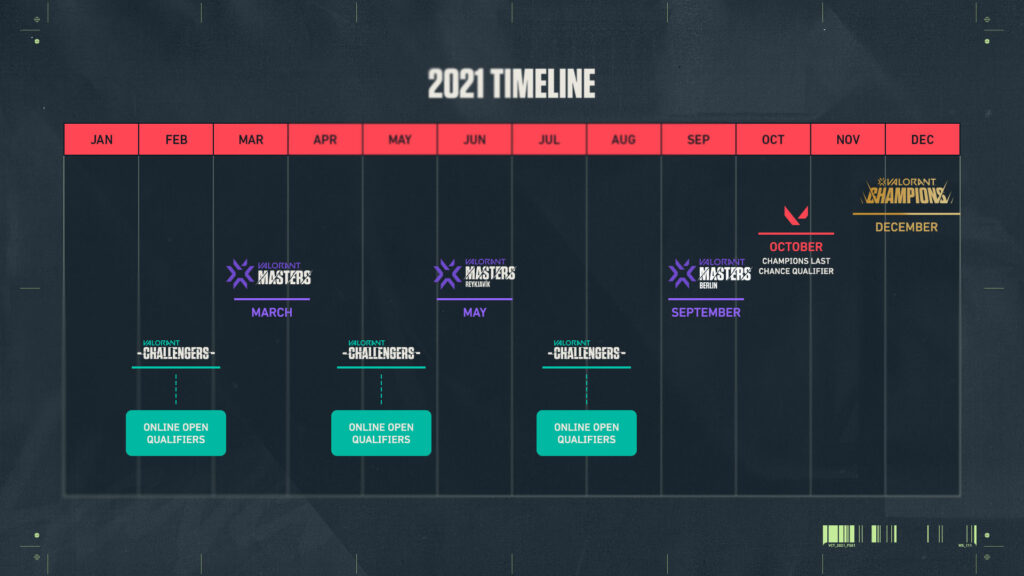 Throughout 2021, teams from across the world battled for VCT Points that would count towards qualification for the event. Masters Berlin will mark the last opportunity for teams to collect VCT points based on their performance, after which those who have not yet qualified for Champions will have to fight through the LCQ to earn the final invitations to the year-end final.
The APAC Last Chance Qualifier will see ten teams compete for a single spot at Champions. Teams from Southeast Asia, South Asia, China, Korea, and Japan will fight through a double-elimination bracket to decide who will be the final representative from the region at Champions.
Each of the five sub-regions will be allotted a specific amount of team slots at the LCQ, which will be awarded to teams who hold the most VCT points in the region and have not already qualified for the event, or in regions where VCT points were not awarded, the top-performing teams from the largest events to date.
Along with Global Esports, Thailand's FULL SENSE, Indonesia's BOOM Esports, and Japan's REJECT have been confirmed to play in the Last Chance Qualifier, with the other teams to be determined after the conclusion of Masters 3: Berlin. China will get two spots, and therefore a chance to play at Champions, with further information about the qualifying teams to be disclosed shortly. VALORANT is anticipated to be launched in early September, since the official League of Legends Weibo account announced that an announcement about the game would be made on September 5th.
The APAC Last Chance Qualifier will kick off on 13th October and will continue till 17th October, with additional information being revealed at a later date.
The following teams have already secured spots at the VCT APAC Last Chance Qualifier:
| | |
| --- | --- |
| 🌏 SEA Circuit Points #3 (TBD) | 🇰🇷 KR Circuit Points #2 |
| 🌏 SEA Circuit Points #3 (FULL SENSE) | 🇰🇷 KR Circuit Points #3 |
| 🌏 SEA Circuit Points #3 (BOOM Esports) | 🇨🇳 China |
| 🇯🇵 JP Circuit Points #2 | 🇨🇳 China |
| 🇯🇵 JP Circuit Points #3 (REJECT) | 🌏 VCC (Global Esports) |
---
VALORANT Conquerors Championship final standings:
| | | | |
| --- | --- | --- | --- |
| Place | Team | Prize | Seed |
| 🥇 1st | 🇮🇳 Global Esports | US$16,500 | APAC LCQ |
| 🥈 2nd | 🇮🇳 Velocity Gaming | US$8,000 | – |
| 🥉 3rd | 🇵🇰 Team Exploit | US$3,500 | – |
| 🏅 4th | 🇮🇳 Enigma Gaming | US$3,500 | – |
| 🏅 5th-6th | 🇧🇩 Exceeli Esports | – | – |
| 🏅 5th-6th | 🇵🇰 Salt Esports | – | – |
| 🏅 7th-8th | 🇱🇰 Crash Landin on You | – | – |
| 🏅 7th-8th | 🇳🇵 Damaru Gaming | – | – |
---
For more insights on the Asian VALORANT scene and upcoming content like this, be sure to like and follow VALO2ASIA on Facebook, Twitter & Instagram.
---
Cover photo courtesy of NODWIN Gaming