Alter Ego Celeste have solidified themselves as the FSL Queens after they grabbed a comfortable 3-0 victory over Galaxy Racer Female in the grand final of VCT Game Changers: FSL Open VI, the last edition of FSL Open this year. 
Alter Ego Celeste entered the series determined to validate their status as the #1 VCT Game Changers world ranking team. Ryona "Tarathiel" Tan and co. put up a masterclass performance to send Galaxy Racer Female home for the third time in the grand finals.
The grand final rivalry between the Indonesian and the Filipino side dates back to FSL Open III. Galaxy Racer Female, despite several squad changes, were unable to steal a single map away from Alter Ego Celeste. This time, Alter Ego Celeste took down Galaxy Racer Female in a best-of-five series by a score of three games to zero (Icebox 13-8, Split 13-8, Bind 15-13).
No Duelist being played by Alter Ego Celeste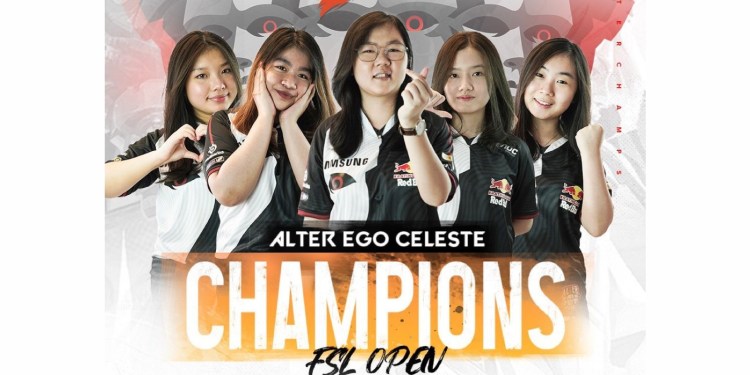 The Indonesian side delivered a statement of intent as they took down several teams throughout the playoffs in convincing fashion without a single duelist on their side. Alter Ego Celeste also decided not to utilize a single duelist throughout the second map of the grand final. Ryona "Tarathiel" Tan, the in-game leader, shared her thoughts during the post-match interview. 
"We also want to take champions for FSL 6, but we were a little bored with the [agents] lineup so we changed it up a little and tested it out during FSL 6, and it worked out. We wanted a clean sweep as well, but we also wanted to have fun; we want to enjoy [the game]."
The night before Alter Ego were up against Wildfire Sphinx, Iceberg, Ayumii, and Enerii approached Tarathiel to propose new setups for the next day's match. "They have all the setups; they presented me with the ideas, etc, and I'm like sure, just go with it," Tarathiel responded to them. 
"I believe in my teammates. I'm very grateful that I have such amazing teammates. I believe in them; whatever agents they wanna play, I'll let them [play it]."
Alter Ego Celeste put the three sentinels to great use, looking at their dominance against Wildfire Sphinx on Split, 13-3, and against Renatus White on the same map; both of which Alter Ego dominated more rounds on the attacking side. On the third map of the grand final,  Tarathiel and margeaux used unusual agents, both of which made just one appearance throughout their career so far. Alter Ego Celeste's experiment pushed them to two overtimes before they eventually took the map 15-13.
"I think we were kind of chill during the grand final because we had best-of-five [series], so if we lost that map, we can still have 2 more maps to play, but we won't go down that easily though."
Alter Ego Ego won all VCT Game Changers: FSL Open titles
Alter Ego Celeste's dominance goes all the way back to the first and second season of the FSL Open, winning the grand finals against Thailand's Mad Army. However, the Thai side disbanded following the conclusion of the second season; with three of the players moving on to join Oasis Gaming Aqua. 
Galaxy Racer emerged as the next contender to Alter Ego Celeste's crown in VCT Game Changers: FSL Open III but were unable to reach double-digit rounds during their battle in the final. The fourth season saw Oasis Gaming Aqua to re-challenge the Indonesian side in a close battle, pushing them to a full series play of five maps but could not finish the last hurdle. Nobody came close after the fourth season, as AE Celeste continued to dominate their opponents, going undefeated in the fifth and sixth seasons without dropping a map. They are currently on a 24-match winning streak and have clinched the top position in the VCT Game Changers Ranking, even surpassing Shopify Rebellion and Cloud9 White.
VCT Game Changers: FSL Open recap: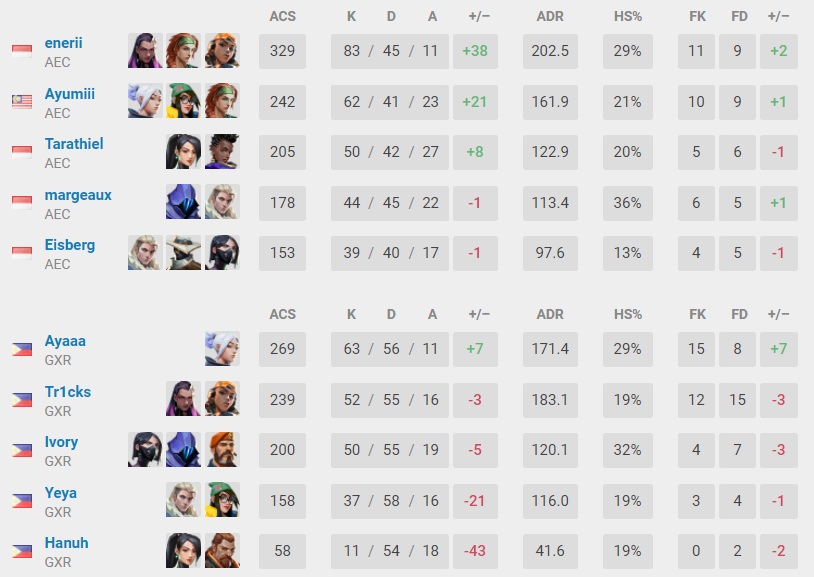 VCT Game Changers: FSL Open VI final standings:
| | | | |
| --- | --- | --- | --- |
| Place | Team | Prize | Points |
| 🥇 1st | 🇮🇩 Alter Ego Celestè | US$1,500 | 10 |
| 🥈 2nd | 🇵🇭 Galaxy Racer Female | US$1,200 | 9 |
| 🥉 3rd | 🇹🇭 Oasis Gaming Aqua | US$800 | 8 |
| 🏅 4th | 🇸🇬 Renatus White | US$600 | 7 |
| 🏅 5th-6th | 🇸🇬 Wildfire Sphinx | US$300 | 6 |
| 🏅 5th-6th | 🇹🇭 Aricat Aresta | US$300 | 6 |
| 🏅 7th-8th | 🇵🇭 Hashira SR | US$150 | 5 |
| 🏅 7th-8th | 🇮🇩 BIG SCYTHE | US$150 | 5 |
---
For more insights on the Asian VALORANT scene and upcoming content like this, be sure to subscribe to our newsletter. Don't forget to follow VALO2ASIA on Facebook, Twitter & Instagram.
---
Cover photo courtesy of Alter Ego Celeste