Riot Games has revealed the group distribution for the upcoming VALORANT Champions Tour (VCT) Masters 3: Berlin. 
Set to take place from Sep 10 – 19, the four groups of four teams placed Bren Esports in Group D alongside Sentinels, G2 Esports, and Team F4Q. Meanwhile, the second seed of SEA, Paper Rex, are arguable in the hardest group, featuring South Korea's top seed Vision Strikers and two EMEA teams, Acend and SuperMassive Blaze. 
Seedings Structures for Group Stage & Playoffs
The groups were decided by first placing teams in pools based on their regional performance. Teams were initially divided into four draw pools based on a combination of their respective final placements at the Challenger events and their regional strength.
Pool 1: NA #1, EMEA #1, KR #1, BR #1
Pool 2: NA #2, EMEA #2, LATAM #1, SEA #1
Pool 3: JP #1, BR #2, KR #2, EMEA #3
Pool 4: NA #3, SEA #2, JP #2, EMEA #4
ALSO READ: Bren Esports beat Paper Rex to win VCT Stage 3 SEA Challengers
Following which, each team was randomly assigned into a group. If a team was drawn into a group that already had a squad from their region, they were automatically sent in the following group. EMEA was the only exception to this rule since they have the most representatives at the tournament. As a result, SuperMassive Blaze and Acend were both placed in Group A.
During the Group Stage, teams will compete through a four-team, double-elimination bracket to determine two winners from each group. In the opening round of each group, Pool 1 teams will play Pool 4 teams, while Pool 2 teams will face Pool 3 teams.
---
VCT Masters 3: Berlin – Groups & Format
The tournament will consist of GSL style group play. After the fourth day of play concludes, a random draw will determine the seeding for the Knockout Stage. The four teams who finish first in their group will be randomly assigned to a yet-to-be-determined second place team from another group. The teams will then compete in an eight-team knockout tournament, with the first round pitting first-place teams against second-place teams.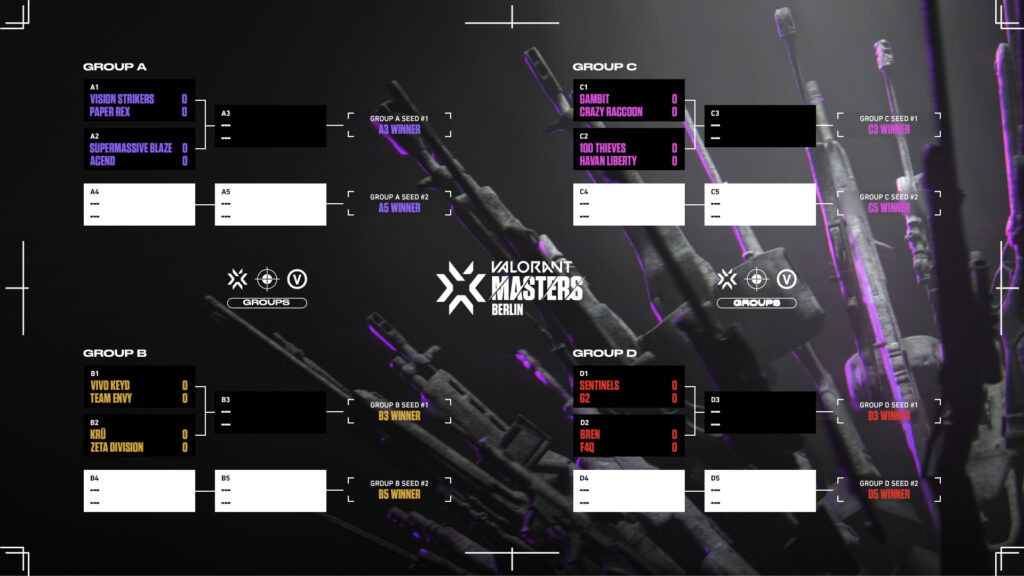 EMEA – 4 teams

🇷🇺 Gambit Esports
🇹🇷 Papara Super Massive Blaze
🇪🇺 Acend
🇪🇺 G2 Esports

North America – 3 teams

🇺🇸 Sentinels
🇺🇸 100 Thieves
🇺🇸 Team Envy

Brazil – 2 teams

🇧🇷 Vivo Keyd
🇧🇷 Havan Liberty

Korea – 2 teams
Japan – 2 teams

🇯🇵 Zeta Division
🇯🇵 Crazy Raccoon

LATAM – 1 team
SEA – 2 teams

🇵🇭 Bren Esports
🇸🇬 Paper Rex
---
For more insights on the Asian VALORANT scene and upcoming content like this, be sure to follow and like VALO2ASIA on Facebook, Twitter & Instagram.
---