MAINCARD will be hosting the official SEA Games VALORANT watch party for Team Singapore on Wednesday, May 10, in collaboration with *SCAPE and with support from Riot Games.
SINGAPORE – MAINCARD will be hosting the 32nd SEA Games VALORANT watch party supported by Riot Games for Team Singapore. The biennial event held in Cambodia this year will take place from May 5-17.
Esports as a category will make an appearance for the third time in SEA Games, and VALORANT will be featured for the first time. MAINCARD will be hosting an official watch party on May 10 for the VALORANT finals. This event is co-organised with *SCAPE and supported by Riot Games.
Esports is a newly-introduced category in the biennial SEA Games and has been played competitively since its inaugural edition at the 2019 SEA Games in the Philippines, following its demonstration at the 2018 SEA Games in Indonesia. In the 2019 SEA Games, esports was recognised as an official medal event in an International Olympic Committee-sanctioned event. Some of the games included this year are League of Legends: Wild Rift and VALORANT.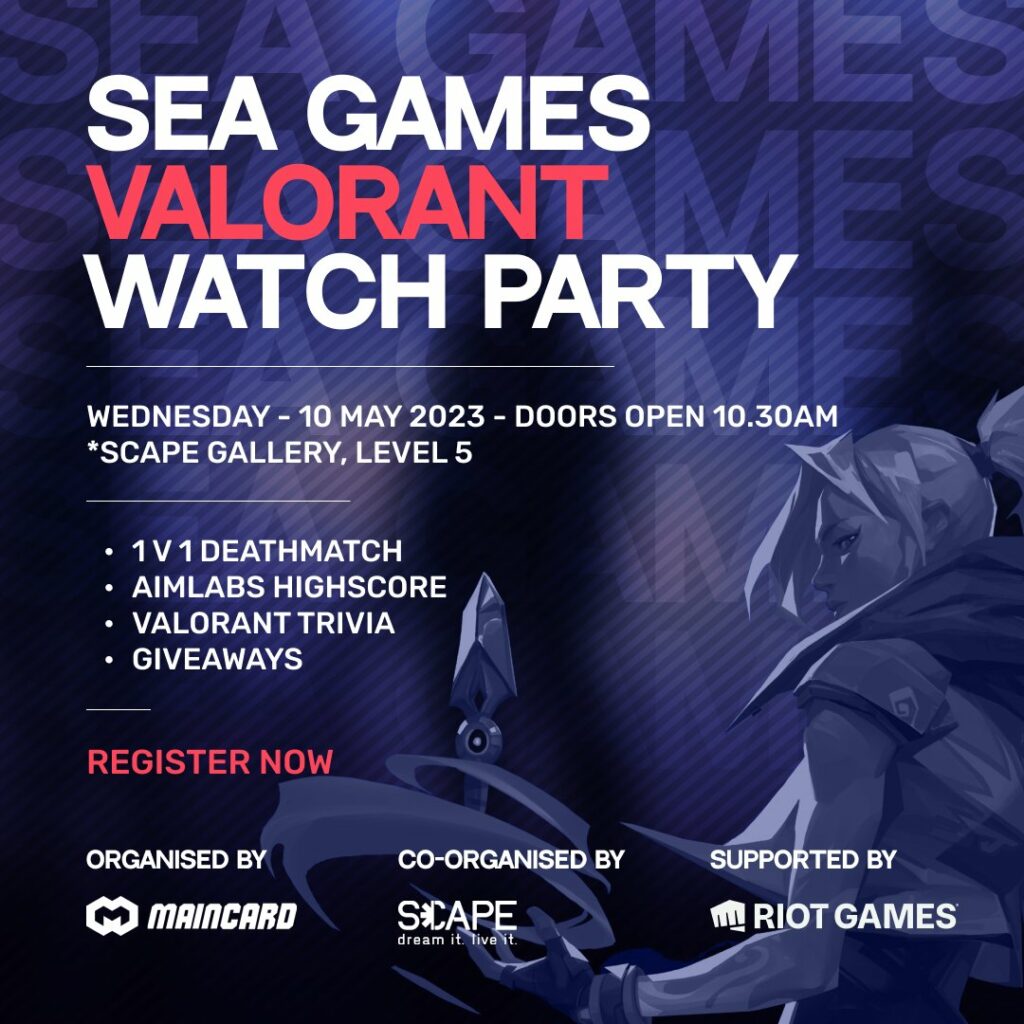 MAINCARD is a social networking platform that aims to serve as a space for gamers and industry professionals to share their achievements and connect with each other. Since its inception, MAINCARD Pte Ltd has been dedicated to supporting gaming and esports communities around the world. Supporting youths and their aspirations to be part of the esports industry is one of our core commitments, as seen in our collaborations in supporting collegiate bootcamps at an international level.
*SCAPE is a non-profit organisation that supports the development of Singaporean youths. The organisation aims to motivate and empower youth to realise their potential and seeks to be the home of enterprising youth committed to creating their own future. *SCAPE is the ideal organisation for MAINCARD to work with as their values align with MAINCARD's vision of supporting youth aspirations and connecting them to opportunities to realise their dreams.
Victoria Cheng, CEO of MAINCARD Pte Ltd, is thrilled to bring the local esports community together to support Team Singapore at the 32nd SEA Games this year, stating, "We're excited to cheer for Team Singapore at the first VALORANT medal event. Providing opportunities for the esports fans to come together to connect within the global gaming community is what MAINCARD does best, and we want to give ample visibility to celebrate our home team."
MAINCARD's SEA Games VALORANT Watch Party will be held on 10 May 2023 at *SCAPE Gallery. 
The 32nd SEA Games VALORANT Watch Party is open to community invites and general public attendees. Doors open at 10:30 AM SGT (UTC+8), and the first match begins at 11 AM in a BO3 series.
Venue: 
*SCAPE Gallery, Level 5 
2 Orchard Link, Singapore 237978 
For more information about MAINCARD and future community events, please visit MAINCARD's Discord. 
---
For more insights on the Asian VALORANT scene and upcoming content like this, be sure to like and follow VALO2ASIA on Facebook, Twitter & Instagram.
---
Cover photo courtesy of VNG/VIRESA