The VALORANT competition, hosted as part of the 32nd Southeast Asian Games, will feature six countries fighting for medals and national pride.
CAMBODIA – The VALORANT competition at the 32nd Southeast Asian Games will kick off today in Phnom Penh, Cambodia, with six teams in attendance from May 8-10. Overall, the Southeast Asian Games are crucial for the region's nations since they provide athletes a stage to showcase their skills while also fostering a sense of national pride and unity among their people.
With the introduction of VALORANT as a competition this year, the Games cater not just to conventional sports but also to the quickly developing esports industry, bringing in a new generation of competitors and viewers while highlighting the dynamic character of modern competition.
ALSO READ: SEA Games 2023 – VALORANT group stage schedule revealed
The schedule for the SEA Games VALORANT competition is as follows (time in GMT+7):
During the group stage of the tournament, a total of six teams will engage in a single round-robin format, competing in best-of-one matches. The primary objective for each team is to secure one of the four highly coveted playoff spots.
On the tournament's initial day, the matches will commence at 1 PM SGT and continue until approximately 10 PM, encompassing the entire set of matches for the day. The subsequent day will witness a slight shift in schedule, with matches commencing later in the day, specifically between 5 PM and 9 PM.
Following the conclusion of the group stage, the top four teams will advance to the playoffs, which will be held on the final day, Wednesday, May 10. This stage will showcase a thrilling single-elimination bracket format, featuring two semi-final matches, a third-place decider, and ultimately culminating in an exciting grand final.
Full rosters for each team, including the substitutes and coaches, can be found here.
All matches will be streamed in multiple languages, with the following on-air broadcast talent taking you through the live action:
Monica "Momochan" Mariska
Muhammad "Realize" Faiz Heriadi
Jamal "Jamalismcast" Hasbi
Bùi "Linh Nắng" Phương Linh
Nguyễn "Trọng Linh" Trọng Linh
Ngô "BAPJ" Quốc Hoàn
Nguyễn "Huy Lova" Giang Huy
Nguyễn "Lynx" Duy Anh
Nguyễn "Sinh Toxic" Lương Sinh
Đào "Tomy" Trọng Lê Tomy
Nguyễn "Duy Đức" Duy Đức
Đinh "Hana" Sơn Tùng
Albert "Frostmisty" Giovanni
Lukas "Kocul" Yanto
Zabiella "Euka" Ruth
Bella "Heartfire" Victoria
Muhammad Fahmi "Kornet" Maulana
Manamo "Ger" Alexander
Antonius "Son" Wilson
Rere "Bredel" Bintoro
Daffa "Daveee" Rizky
Phakpeach "Annie" Vutha
HuyMeng "MengoFlamengo" Heng
Nathaniel "Natsu" Lun
---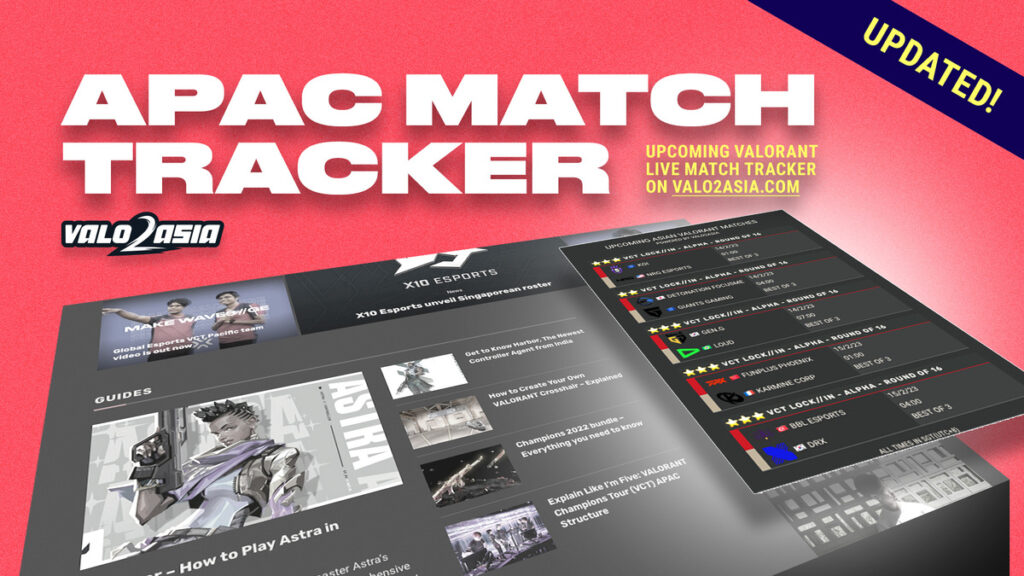 Get ready for non-stop action with VALO2ASIA.com! We bring you the pulse of APAC's most electrifying matches with our real-time match ticker, updated daily to keep you in the loop on all the latest. Our star rating system rates the importance of each match based on factors such as the teams' lineups, tournament rounds, and prestige.
From SEA Games VALORANT to other major tournaments, we've got you covered with the most comprehensive coverage in the region with accurate schedules in Singaporean Time (UTC+8). Explore VALO2ASIA's match ticker now on the right side of our website!
---
For more insights on the Asian VALORANT scene and upcoming content like this, be sure to like and follow VALO2ASIA on Facebook, Twitter & Instagram.
---
Cover photo courtesy of CNA