It brings fresh air to Challengers League teams, giving them something to anticipate post-Champions.
UNITED STATES – In a show hosted by Plat Chat VALORANT, Leo Faria, the Global Head of VALORANT Esports, dropped hints about the possible start of the next season of the Challengers Leagues shortly after the 2023 VALORANT Champions event, which is scheduled to take place in August. Although nothing has been confirmed as of yet, the official VALORANT Esports team is considering this possibility.
During the show, Plat Chat's own Josh "Sideshow" Wilkinson raised a concern regarding teams that may miss out on the opportunity to participate in the Ascension tournament. He highlighted the significant amount of idle time that such teams would have to go through, waiting for the next season or any OFF//SEASON tournaments to take place.
He also touched upon the current state of esports and the apparent economic downturn. "Are the VALORANT Esports team thinking about other ways of helping to support the tier-two ecosystem beyond just dangling the carrot on the stage of 'you can make it to the international leagues', which it's a juicy carrot, but there's only one carrot per region."
ALSO READ: Thailand to host VCT Ascension Pacific 2023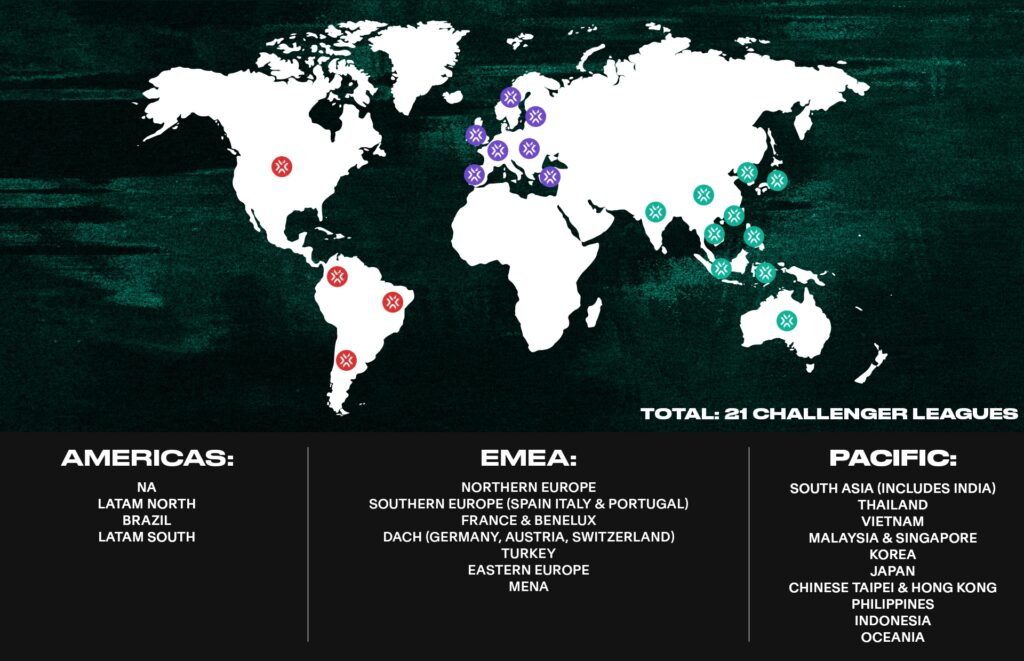 Within the Asia-Pacific region, for example, there exist ten sub-regional leagues, each vying to send their victorious representatives to compete in the Ascension tournament, scheduled to take place in Bangkok next month. However, only ten teams in total across the entire APAC region will ultimately secure the highly sought-after opportunity to fight for a two-year promotion into the VCT Pacific League.
The remaining teams will find themselves competing in OFF//SEASON tournaments. These tournaments may take various forms, including exclusive invitation-only events and other short-term solutions to keep the teams engaged during the period.
In response, Leo Faria acknowledged it and revealed the VALORANT Esports team's plans for the upcoming season. Faria expressed a desire for an overhaul of the system, with the ultimate goal of starting the next Challengers season soon after the Champions event. 
"[…] The big thing we're looking to do is really a big overhaul go into next season. Our hope is that as we make those changes, we would kick off the next season for Challengers shortly after Champions." 
He emphasized the need to address the current overlap between international leagues and Challengers, as both vie for resources and airtime. "We have international leagues and challengers leagues completely overlapping, fighting for attention, fighting for a bunch of things for air time, scheduling things around, and then we have this big block of no regular season competitions happening for four months. It seems almost obvious to just run Challengers leagues on that block," he said. "So that's the hope, and I think that will be a very positive and healthy change going into next season." 
Sideshow also raised a question regarding the upcoming OFF//SEASON, specifically mentioning the Ludwig x Tarik Invitational from the previous year. This invitational event garnered attention due to its unique format, providing viewers a refreshing and distinct experience.
In response to the query, the Global Head of VALORANT Esports expressed an honest acknowledgment, stating, "Admittedly, we haven't put a lot of effort into the OFF//SEASON yet, and we definitely want to do more." He emphasized the team's intention to give fans the opportunity to genuinely miss the sport. Faria highlighted that fans' longing for VALORANT is a positive indicator of their deep connection and passion for the game.
"I know we have a quite long, which honestly I call quite healthy, OFF//SEASON, because, one, the reality is we want to give fans the opportunity to miss the sport. When people say I miss VALORANT, that's a good thing. We want to give people that opportunity because then, when the competition when the season is on, it just feels that much more special. It's like watching the World Cup; it only happens every four years, and that makes it that much more special.
"So not having a regular season plus global events on a year-long is a very intentional decision. But now we have four months, and it's a long, long OFF//SEASON, I think that's fair to say. So we want to do a lot more, and our whole philosophy for the OFF//SEASON is we want to see things that you don't get to see during the regular season, and the ideas there are mostly about just new types of competition, new combinations, new things that again you wouldn't see,"
Continuing his remarks, Faria expressed the desire to discover additional incentives and means to support these tournaments. He acknowledged the existing level of support provided, including prize pool contributions and the availability of various technological resources, such as tournament realms, to bolster the game infrastructure. However, Faria emphasized their determination to go above and beyond. "We want to do more to really make the up season more interesting and give fans cool stuff to watch and teams competitions to play in."
Moreover, Faria mentioned another exciting development for the Premier feature. It is VALORANT's team-based competitive system that will allow you to build a team and compete across a set of pre-scheduled matches. He expressed confidence in its potential, citing successful beta testing that started late last month. 
Beyond a path to the official VALORANT Champions Tour circuit, VALORANT Esports wants Premier to serve as a versatile platform, enabling the tournament organizer to host various tournaments, ranging from collegiates to OFF//SEASON events and even team-hosted competitions. "So the hope is that the OFF//SEASON is also going to be quite busy, including for tier-two teams as Premier goes live. We're hoping that those changes will make it better for teams and just give them more opportunity to play in general."
---
For more insights on the Asian VALORANT scene and upcoming content like this, be sure to like and follow VALO2ASIA on Facebook, Twitter & Instagram.
---
Cover photo courtesy of VALORANT Esports