Made in Thailand (MiTH) have confirmed the signing of Chinnakrit "seph1roth" Phoojaroen from CRIT Esports. 
THAILAND – Chinnakrit "seph1roth" Phoojaroen has officially become a permanent member of Made in Thailand (MiTH), following a period of playing for the team on a loan basis since last month in the AfreecaTV VALORANT League Thailand Qualifier.
seph1roth burst onto the scene only recently after being recruited by CRIT Esports in late 2022, competing under their banner for the entirety of the 2023 season. This move allows seph1roth to permanently team up again with Krit "Kntz" Chaiprasit and head coach Piyangoon "MYM" Kitisin, both formerly of CRIT Esports.
seph1roth achieved a breakthrough in VCL Thailand Split 2, marking his first-ever appearance in the main event of an official tournament and clinching an impressive fourth place, surpassing teams like Team NKT, Sharper Esport, and Attack All Around. Furthermore, he maintained an average ACS that was the third-highest throughout the whole tournament.
The addition of seph1roth now brings the roster to six signed members. However, MiTH's Co-Founder, Chanignun Thipairote, recently hinted at potential roster changes with a tweet saying, "Some people come, some people stay, some people leave." The specifics regarding who might exit the team are still under wraps, but any such decisions are expected to be announced after the conclusion of the Predator League Thailand 2024 in the first week of October.
seph1roth already made his first official appearance as a permanent MiTH player when the team faced SDobbies in the quarter-finals of the Predator League Thailand 2024. However, bigger challenges await. MiTH will have a limited amount of time to squeeze in additional practice hours as they will face Kititkawin "PTC" Rattanasukol's FULL SENSE on October 7.
Made in Thailand are now:
🇹🇭 Nantapol "Kongared" Boonying
🇹🇭 Palapoom "AloNeFillz" Thaikum
🇹🇭 Kantapon "Kadoom" Kingthong
🇹🇭 Krit "Kntz" Chaiprasit
🇹🇭 Patiphan "CGRS" Posri
🇹🇭 Chinnakrit "seph1roth" Phoojaroen
🇹🇭 Piyangoon "MYM" Kitisin (Head coach)
🇹🇭 Jirayu "wannafly" Meesuk (Analyst)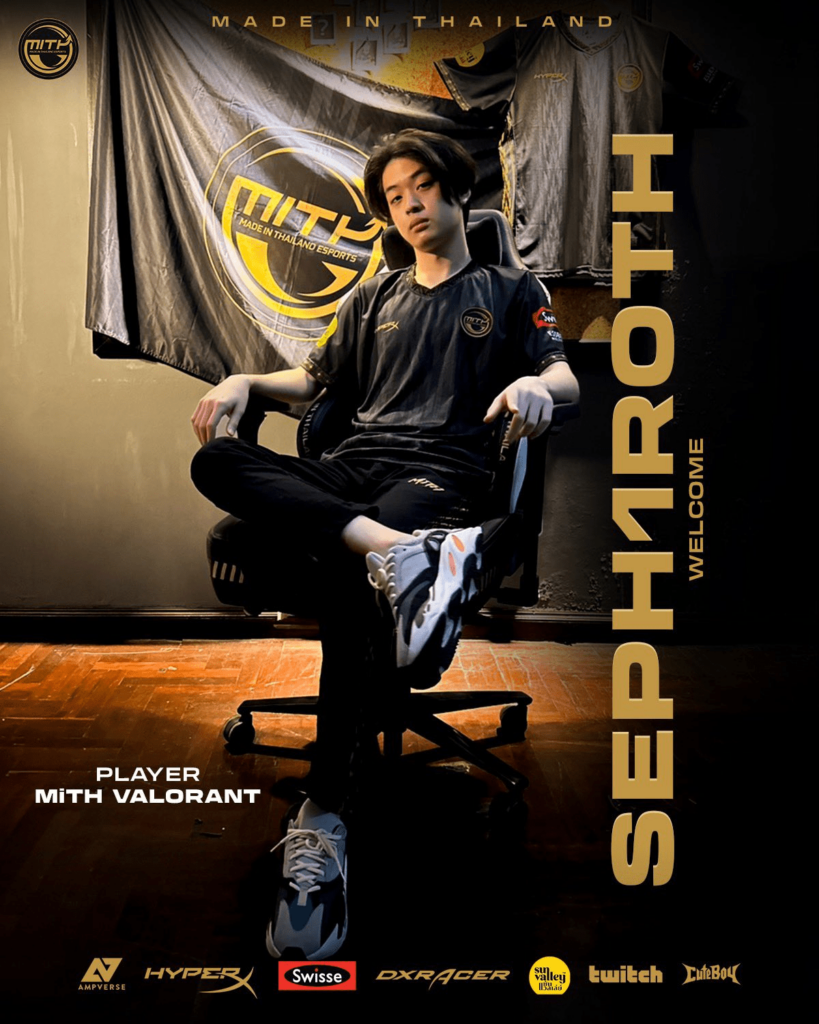 ---
For more insights on the Asian VALORANT scene and upcoming content like this, be sure to like and follow VALO2ASIA on Facebook, Twitter & Instagram.
---
Cover photo courtesy of Made in Thailand (MiTH)