NAOS Esports have announced that they are searching for a new coach following the transition of Vince "Backstab" Belino to a managerial role within the organization. 
PHILIPPINES – NAOS Esports are now on the lookout for a new coach after Vince "Backstab" Belino announced he was no longer standing behind the players following the team's last exit in VCT Philippines Stage 2 Challengers.
During his time at the helm of NAOS Esports, Backstab helped the team become one of the emerging teams at the start of the year, winning Predator Kings of PH 2022 and placing second in VCT Philippines Stage 1 Challengers despite being formed less than six months ago, initially under the Fallen5 tag. 
Along with South Built Esports and Bren Esports, NAOS Esports represented the Philippines in VCT APAC Stage 1 Challengers, where Shaun "blurred" Maglasang and co. finished 13-16th after being taken down in the group stage by Bleed eSports and ONIC G. 
On Twitter, Backstab thanked the organization for the opportunity and revealed his shift to a managerial role within the organization to focus more "on the team's growth hands-on"
"Coaching NAOS Esports was one of the best experiences I have had. It opened up a lot of opportunities for me, and being able to guide the team is the one I am most proud of." Backstab stated.
NAOS Esports are still looking for an experienced candidate to take over the squad without limiting the prospects beyond the region. With no significant events, including the official VCT circuit, ahead of them, the squad will have more than ample time to assess their options.
ALSO READ: ORDER become first team to qualify for VCT APAC Stage 2 Challengers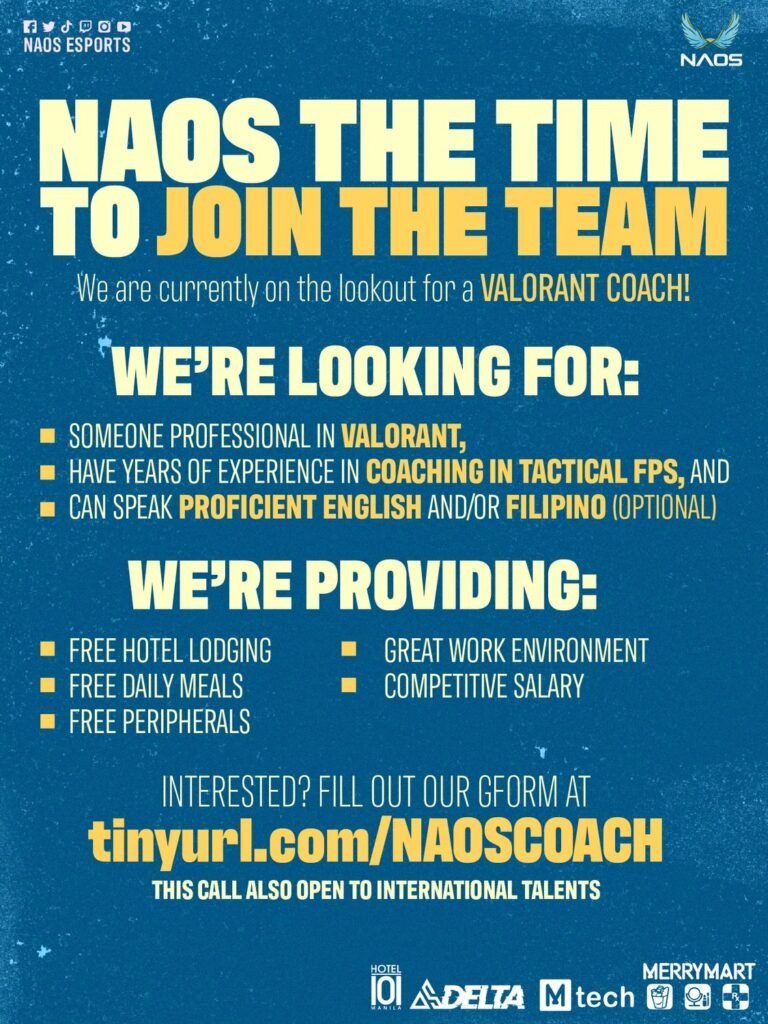 Interested individuals can apply for the position here.
NAOS Esports currently have:
🇵🇭 Simon "Blas" Jimuel
🇵🇭 Emmanuel "jEEE" Buenavidez
🇵🇭 Franz "kvzx" Dingal
🇵🇭 Oscar "Kakarot" Farin Jr.
🇵🇭 Shaun "blurred" Maglasang
🇵🇭 Jude "Z" Gunhuran
---
For more insights on the Asian VALORANT scene and upcoming content like this, be sure to like and follow VALO2ASIA on Facebook, Twitter & Instagram.
---