Flufee02 and Evo will be in search of other opportunities following the end of their time with Oasis Gaming.
PHILIPPINES – Oasis Gaming have made the decision to part ways with strategic coach Vic "Flufee02" Villavicencio and assistant coach See "Evo" Wey Kang, the organization announced on Saturday. This development occurred in the midst of Oasis Gaming's participation in VCL Philippines Split 2 and less than a month following the end of VCL Phillippines Split 1, where NAOS Esports defeated the team in the final.
"We say goodbye to two of our coaching staff. We thank you for giving us a good run, and we wish you all the best in your future endeavors. May the roads of Oasis guide you to your next destination." the announcement reads.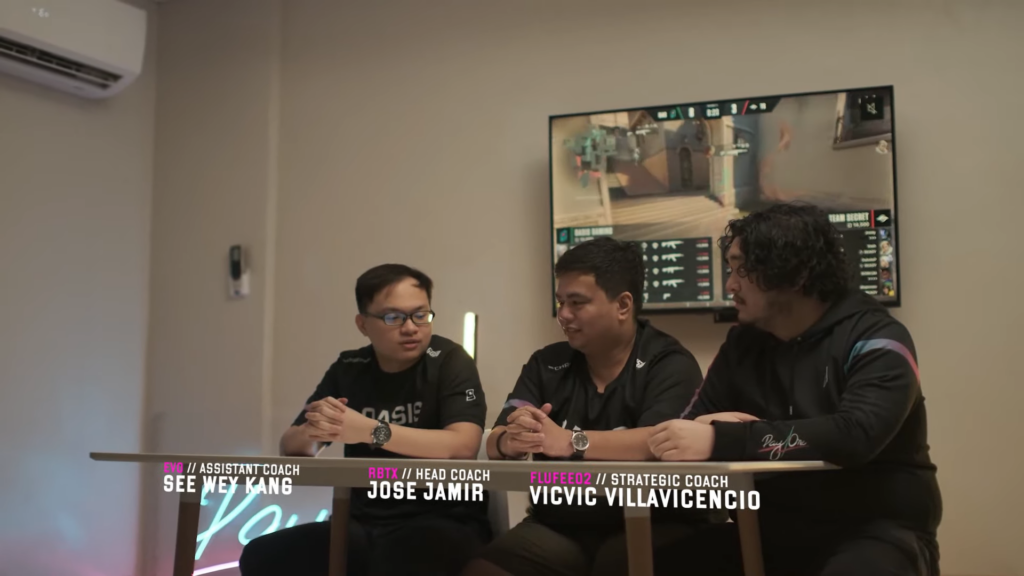 Flufee02's tenure with Oasis Gaming began in the VCT 2021 season, and he was subsequently promoted to head coach in late 2021 after Chelceed "Maark" Viernes's departure. However, he ultimately stepped down from the position in May 2022, only to be called up again as a strategic coach in October of the same year along with former Bren Esports coach See "Evo" Wey Kang, who was appointed as the head coach.
Prior to his time with Oasis Gaming, Evo worked his way up by playing for RSG Singapore and coaching Kingsmen and Bren Esports in the MY/SG and Philippine scenes, respectively. The Singaporean was later moved to the position of assistant coach early this year upon the arrival of veteran and former RRQ coach, Jose "Rbtx" Jamir, who is now the sole remaining coaching staff member on the team.
The departing duo played a role in Oasis Gaming's journey to string together some positive results and maintain their position in the upper ranks of the Filipino VALORANT scene. Their efforts saw the team achieve a runners-up finish at Mineski VxV 2022 and emerge victorious in the National Team Selection for SEA Games 2023. A runners-up placement in VCL Philippines Split 1 last month marks the end of their time with the Filipino roster.
Upon the expiration of their tenure, Flufee02 and Evo have each expressed their interest to take up coaching roles in the APAC region. Notably, the former will continue as a content creator for the organization while exploring new options for the competitive side of things. 
Oasis Gaming are now:
🇵🇭 Brheyanne "Wild0reoo" Christ Reyes
🇵🇭 Xavier "xavi8k" Juan
🇵🇭 Jed "Drax" Jamir
🇵🇭 Nathaniel "Nexi" Cabero
🇵🇭 George "Georggyyy" Lachica
🇵🇭 Mark "Markyyy" Tuling
🇵🇭 Jose "Rbtx" Carlo Jamir (Head coach)
---
For more insights on the Asian VALORANT scene and upcoming content like this, be sure to like and follow VALO2ASIA on Facebook, Twitter & Instagram.
---
Cover photo courtesy of Oasis Gaming