Paper Rex adds another trophy to their cabinet with their recent victory in the KJC eSports VALORANT Invitational
Paper Rex won the KJC eSports VALORANT Invitational after recording a convincing 2-0 victory over MY/SG's top seed in Stage 3. Fresh off a three-map thriller against Bleed eSports in the upper bracket final, the Benedict "Benkai" Tan-led side showed no signs of fatigue as they put on a stellar performance against an off-color Bleed eSports side that was outclassed in their second encounter throughout the tournament.
The KJC eSports VALORANT Invitational featured 18 teams from six different regions across Southeast Asia competing for a total prize pool of US$5,000. A unique structure that allowed the team to ban one agent on each map forced teams to rearrange their repertoire in order to counter their opponent.
ALSO READ: KJC eSports VALORANT Invitational Playoffs team list finalized
The group stage was comprised of four groups of four teams apiece, with each club vying for a playoff berth. Numerous developments have happened during the period after the conclusion of the Stage 3 Playoffs. Only four of the eighteen teams retained their full lineups from their last VCT appearance: Zeal Esports, The Infinity Esports, CERBERUS Esports, and Team Secret.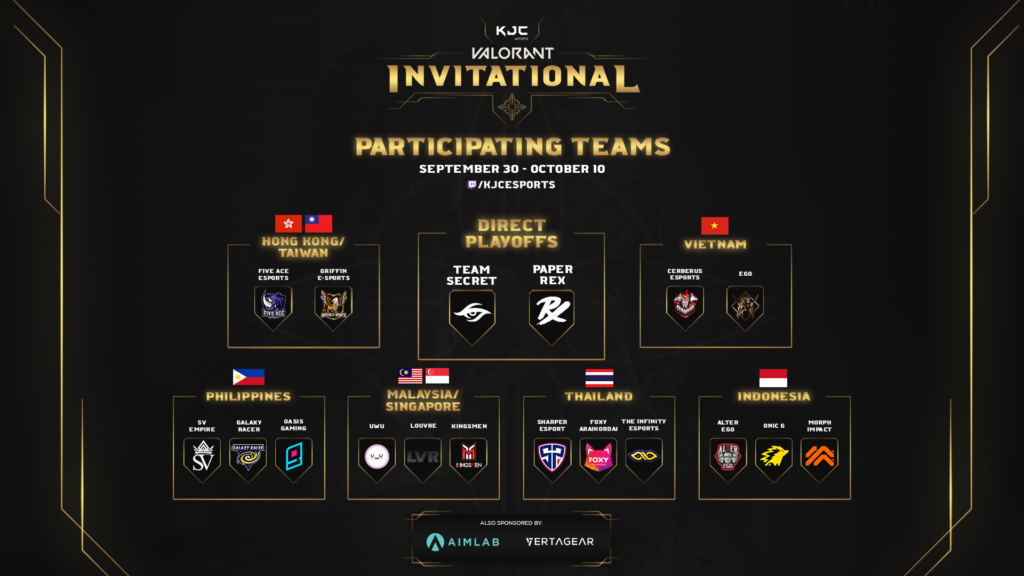 Among the teams who competed, Zeal Esports, LVR, Kingsmen, and Bleed eSports all won their respective groups – three of which were made up of teams that did not qualify for the VCT Stage 3 – SEA Challengers Playoffs.
Alter Ego, Sharper Esports, EGO, Nigma Galaxy (previously Galaxy Racer), CERBERUS Esports, Griffin Esports, Oasis Gaming, and Five Ace e-Sports were all omitted from the playoffs contention.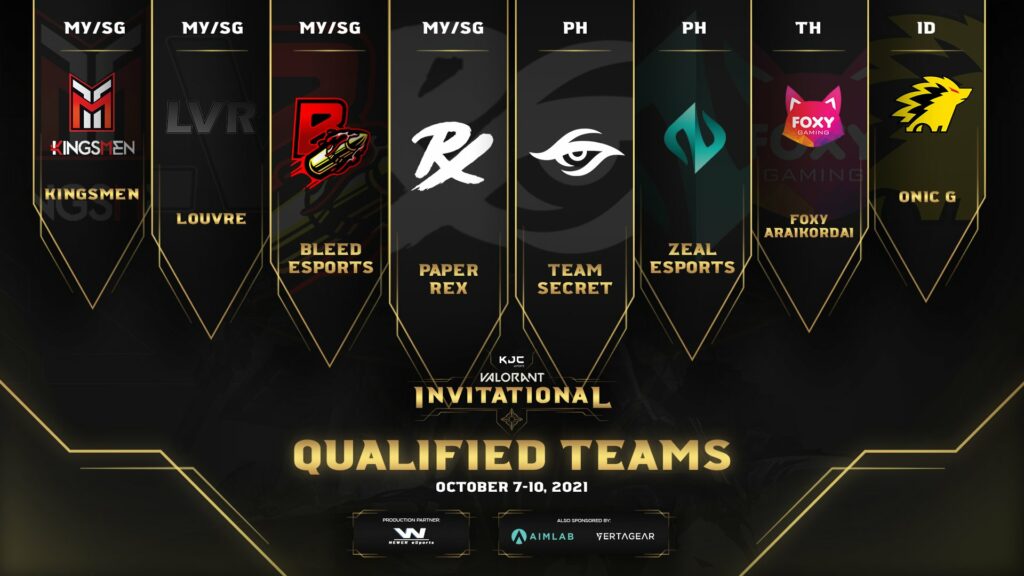 The playoffs were rife with shocks. Team Secret (previously Bren Esports), the Stage 3 Playoffs champion, were eliminated early in the playoffs after being relegated to the lower bracket by ONIC Esports 0-2 and then knocked out by LVR 1-2 in the second round.
On the other side of the brackets, Kingsmen dominated the lower bracket after got dropped out from the upper bracket contention by LVR, beating Foxy Araikordai, ONIC Esports, and exacting vengeance on LVR before being eliminated in the lower bracket final by Bleed eSports.
Paper Rex had a smooth ride through the tournament until they faced Bleed eSports in the upper bracket final, who were able to take a map out of them although ultimately still prevailing. However, Bleed eSports' triumph against Kingsmen in the LB final brought them to face the SEA representative at Masters Berlin once more in the grand final.
The Grand Final – Paper Rex vs. Bleed eSports – KJC eSports VALORANT Invitational
A genuine rivalry, particularly on the MY/SG circuit, Paper Rex and Bleed eSports have clashed on many occasions during their VALORANT Champions Tour campaign. Both sides were keen to demonstrate their existing firepower with each new acquisition. Bleed eSports were trying to build a presence outside of MY/SG after being ousted early in Stage 3 Playoffs, while Paper Rex were seeking revenge for their Stage 3 Challengers 2 defeat to the then-UwU.
It was a very one-sided affair, with Paper Rex winning 13-5 against Bind, Bleed's map pick. The second map, Icebox, proved to be the most powerful in Paper Rex's arsenal. Bleed eSports were unable to seal the defense, as Paper Rex won 10 consecutive rounds until gaining a two-round victory before the map was finished out 13-2 in favor of Paper Rex. The next map, Ascent, was friendlier to Darren "FirstLove" Mok and co., who gave their MY/SG counterpart a difficult time after a pistol round loss. Moving forward, Jason "f0rsakeN" Susanto and co. were able to control the tempo, comfortably winning the game 13-4.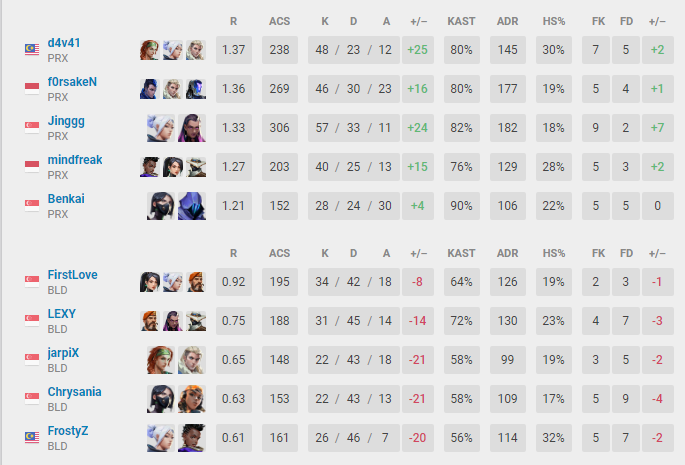 KJC eSports VALORANT Invitational final standings:
| | | |
| --- | --- | --- |
| Place | Team | Prize |
| 🥇 1st | 🇸🇬 Paper Rex | US$3,000 |
| 🥈 2nd | 🇸🇬 Bleed eSports | US$1,500 |
| 🥉 3rd | 🇲🇾 Kingsmen | US$500 |
| 🏅 4th | 🇸🇬 LVR | – |
| 5th-6th | 🇵🇭 Team Secret | – |
| 5th-6th | 🇮🇩 ONIC G | – |
| 7th-8th | 🇵🇭 Zeal Esports | – |
| 7th-8th | 🇹🇭 Foxy Araikordai | – |
| 9th-10th | 🇮🇩 Alter Ego | – |
| 9th-10th | 🇹🇭 Sharper Esport | – |
| 11th-14th | 🇹🇭 The Infinity Esport | – |
| 11th-14th | 🇵🇭 Nigma Galaxy | – |
| 11th-14th | 🇵🇭 Oasis Gaming | – |
| 11th-14th | 🇮🇩 MORPH Team | – |
| 15th-18th | 🇻🇳 EGO | – |
| 15th-18th | 🇻🇳 CERBERUS Esports | – |
| 15th-18th | 🇭🇰 Griffin E-Sports | – |
| 15th-18th | 🇹🇼 Five Ace e-Sports | – |
---
For more insights on the Asian VALORANT scene and upcoming content like this, be sure to like and follow VALO2ASIA on Facebook, Twitter & Instagram.
---
Cover photo courtesy of KJC eSports