Zhan Teng "shiba" Toh has been substituted to make room for the addition of Wang "Jinggg" Jing Jie, the Singaporean organization has revealed. 
Paper Rex has announced the acquisition of Wang "Jinggg" Jing Jie from Team SMG as a replacement for Zhan Teng "shiba" Toh, who made his final appearance in the starting lineup in the defeat to SuperMassive Blaze during the group stage of Masters 3: Berlin. 
Jinggg is best known for his tenure with Reality Rift and Team SMG as a duelist player- and will continue to play the same role in Paper Rex. The 18-year-old joins Paper Rex after impressive performances throughout his journey with SMG, whom he helped to qualify for the first two weeks of Stage 3 Playoffs. During SMG's VCT Stage 3 campaign, Jinggg topped the scoreboard on six out of the ten matches that were recorded on VLR.gg, demonstrating the amount of firepower he can bring to the squad in order to "close the gap" with the world's finest teams.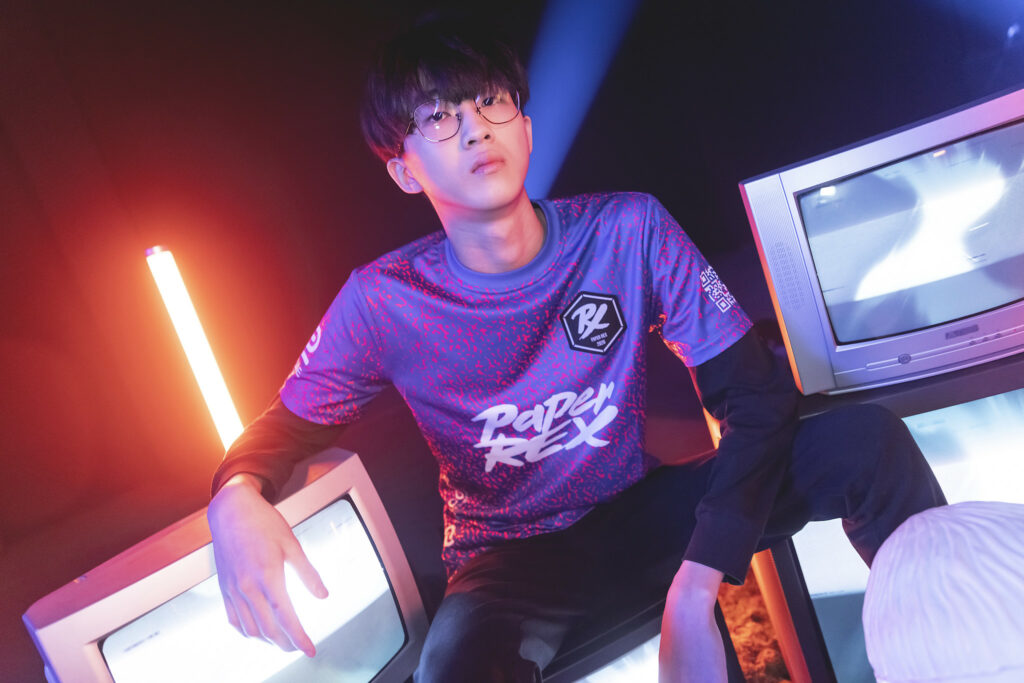 In a statement for VALO2ASIA.com, Harley "dsn" Örwall, Chief Gaming Officer of Paper Rex, said the following:
"We believe that Jinggg is one of the best Duelists in Southeast Asia. With his background as an Overwatch player, he's also bringing in a new perspective on how to play VALORANT that I believe will benefit us (all our other players switched over to VALORANT from CS:GO). Most importantly, he's hungry – hungry to improve as a player and to help his team win."
Shiba joined Paper Rex in May 2021 as a replacement for Kumaresan "Tommy" Ramani. He took the support role only weeks after the team finished third in the VCT Stage 2 – SEA Challengers Playoffs. During his four months of service, Paper Rex reached a new height by representing Southeast Asia at Masters 3: Berlin. While the team crashed out early in Berlin, the Benedict "Benkai" Tan-led side were able to put up a good fight and outperformed expectations against South Korea's Vision Strikers and Turkey's SuperMassive Blaze in the group stage.
ALSO READ: Shinobi joins Global Esports as coach
"I'm happy to join Paper Rex because I feel that Paper Rex is one of the top teams in SEA and has the potential to win against teams from other regions. I hope to win LCQ and make it to Champions with the team." Jinggg said in a statement to VALO2ASIA.
Now with Jinggg in tow instead of shiba, the new Paper Rex lineup will have less than two weeks to gel before making its first important order of business in an incredibly stacked VCT APAC Last Chance Qualifier taking place from October 11-17.
In fact, they will have their first test in the upcoming KJC eSports VALORANT Invitational, set to take place four days before the LCQ begins. This will give Jinggg a chance to get more official with his new team before facing Asia-Pacific's strongest teams in the LCQ.
With Jinggg's addition, Paper Rex now have:
🇸🇬 Benedict "Benkai" Tan
🇲🇾 Khalish "d4v41" Rusyaidee
🇮🇩 Jason "f0rsakeN" Susanto
🇮🇩 Aaron "mindfreak" Leonhart
🇸🇬 Wang "Jinggg" Jing Jie
🇸🇬 Zhan Teng "shiba" Toh (Substitute)
🇫🇷 Alexandre "alecks" Salle (Coach)
---
For more insights on the Asian VALORANT scene and upcoming content like this, be sure to like and follow VALO2ASIA on Facebook, Twitter & Instagram.
---