We spoke with the former CBT Gaming player, Li "Rainy" Guo-Shuo, on the current state of the HK/TW VALORANT scene and the region's hopes moving into VCT 2022.
It's difficult to rank the Hong Kong & Taiwan region against the other Asian regions due to its complete absence after the VCT Stage 3. In retrospect, Hong Kong & Taiwan have the necessary capabilities both individually and as teams. During the early days of VALORANT with the same head start as the other regions, names such as Only One Word, Five Ace e-Sports, ahq e-Sports Club, Griffin Esports, and CBT Gaming frequently appeared at the highest level of Southeast Asian VALORANT.
While the details of VALORANT Champions Tour for Southeast Asia haven't been released, VALO2ASIA spoke to former CBT Gaming player Li "Rainy" Guo-Shuo to touch on the designation of HK/TW as a part of the SEA circuit, as well as his transition from CS:GO to VALORANT. With the fairly close geographic location to China, he also spoke of the potential of China if the game is ever officially launched there.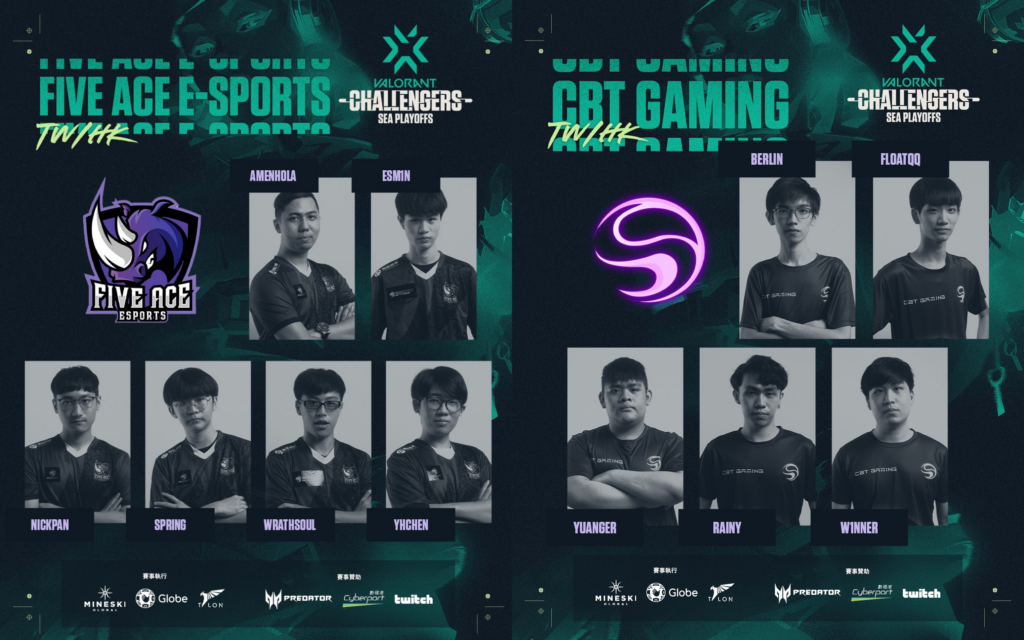 ---
VALO2ASIA: Hi Rainy! Thank you for having us here today. First and foremost, if you could introduce yourself to those who are still unfamiliar with you.
Rainy: Hi everyone, I'm Rainy, team captain of CBT Gaming (and ahq eSports) VALORANT. I have been representing Taiwan in many international events. I'm also streaming on Twitch, feel free to join and chat with me there. (https://www.twitch.tv/Rainy0906)
VALO2ASIA: How did you get interested in playing FPS games in the first place?
Rainy: I first played Counter-Strike 1.6 when I was a very little kid — a friend of my dad installed the game for me. Since then, FPS games have always been my go-to genre.
VALO2ASIA: Was the move from CS:GO to VALORANT difficult for you? Tell us more about your decision to switch to VALORANT.
Rainy: At the end of the CS:GO days, I actually moved on to Rainbow 6: Siege for a short period of time. Honestly, it's pretty sad to see how CS:GO turned out in the Asia market. Anyway, I have learned many things in Rainbow 6: Siege — something that we never think of in CS:GO. With the knowledge from CS:GO and Rainbow 6: Siege, that lays an easier learning curve for me when I moved on to VALORANT. Happily, we were able to get our first Championship in an international event (Cyber Games Arena Pacific Open).
VALO2ASIA: Is that all worth it?
Rainy: It was totally worth it. It's easy to fall into traps if I've been playing 1 game title for too long. I was not able to think out of the box and correct myself in many of the mistakes. By changing game titles, I actually learned a lot more, as well as had better results competitively.
VALO2ASIA: How did you get into your first team in VALORANT (ahq e-Sports Club), and then later on in CBT Gaming?
Rainy: I was already having a very high interest when I first heard Riot Games is coming up with a new FPS game. I started playing the game when it was still only available on the NA server. Due to some rumor on the potential league system in Asia, many esports organizations in Taiwan were looking for players for this new title. I joined ahq e-Sports at that point in time. However, the league system has not yet happened, so the organization has also taken a U-turn on its decision.
And actually, we were only a labeled team with ahq e-Sports — there wasn't much pay and supports from the org. Therefore, when the contract ended, many of us were looking for another way out. One of my friends introduced us to CBT Gaming, and I and my pals decided to give it one more try, and here we are.
VALO2ASIA: In your opinion, how does the HK/TW region compare to the rest of Asia?
Rainy: In my opinion, I think the talents and skills of Taiwanese players aren't any worse than other countries. As the game is new, everyone had a fair start. However though, Taiwan has never been known for a good FPS region, and there is very limited new blood to the scene. So, it's very difficult for us to find new talents if we need a stand-in or new teammate.
VALO2ASIA: We witnessed a few instances here and there of designating HK/TW as part of the SEA region, such as VCT this year. What are your thoughts about that? Do you prefer that Hong Kong/Taiwan be in their own region, or stay as it is with the rest of SEA?
Rainy: This is a double-edged sword. If we have our own HK/TW region, it will guarantee a spot for a greater event. It makes it more appealing to organizations and sponsors to invest in the scene.
However, if we were designated together with the SEA region, it will bring up the level of competitiveness of the games, which is good for us to improve. Nonetheless, we will be playing at a ping disadvantage, sometimes with package loss and unstable server ticks. Which will also be even harder to grind to the top.
VALO2ASIA: Do you often play or scrim against Chinese or Mongolian teams? And, if so, how strong are they?
Rainy: Actually, we practiced with Chinese teams quite often. I think their strength isn't as good as I expected. But mostly because the game is not officially available in Chinese. So, there is zero investment going into the Chinese scene. However, they have some insane aimers; if the game goes public, China will for sure have very good teams in the competition.
VALO2ASIA: Do you believe that if VALORANT is ever released in China, they will achieve the same heights as they have in Counter-Strike?
Rainy: As I explain above, I think Chinese teams will definitely shine when the game is officially available. They have a strong foundation and also a large population. I look very forward to that day.
ALSO READ: Team SMG release roster; falfalfal transitions to streaming
VALO2ASIA: Let's get back to you. We haven't seen you since in the VCT Stage 3 – SEA Challengers Playoffs in August. What have you been up to?
Rainy: After I left CBT Gaming. I'm currently coaching teams in a high school. There are some awesome esports courses in Taiwan. And… whether or not if I will be back on the stage, I'm waiting for the chance to come by.
VALO2ASIA: Is there anything you want to say to people at home?
Rainy: I'm grateful to the Taiwanese audience for supporting us. Ever since we were in ahq e-Sports Club, we have been through a lot, happiness or difficulties. We are really grateful to have such an awesome audience at our back.
---
For more insights on the Asian VALORANT scene and upcoming content like this, be sure to like and follow VALO2ASIA on Facebook, Twitter & Instagram.
---