In anticipation of Red Bull Home Ground Tokyo, we take a look at the teams in attendance and a few question marks that will be answered come Sunday.
JAPAN – Red Bull Home Tokyo is set to begin from November 3-5, with eight teams from all over the world about to lock horns at the Ryogoku Kokugikan Arena.
This tournament will feature representatives from all three International Leagues, making it one of the more competitive tournaments on the OFF//SEASON calendar but at the same time still giving room for teams that have made changes recently to see how they stack against each other.
The Tokyo edition of Red Bull Home Ground will kick off with a Swiss group stage involving eight teams. In this stage, the bottom two teams will be eliminated in best-of-one matches. The top two teams will advance directly to the semi-finals, while the remaining four will enter the quarter-finals. The best-of-five grand final will be played on Sunday at 3 PM SGT.
ALSO READ: FS Sapphire trio to team up with Ayumiii and Alluka for VCT Game Changers next year
FNATIC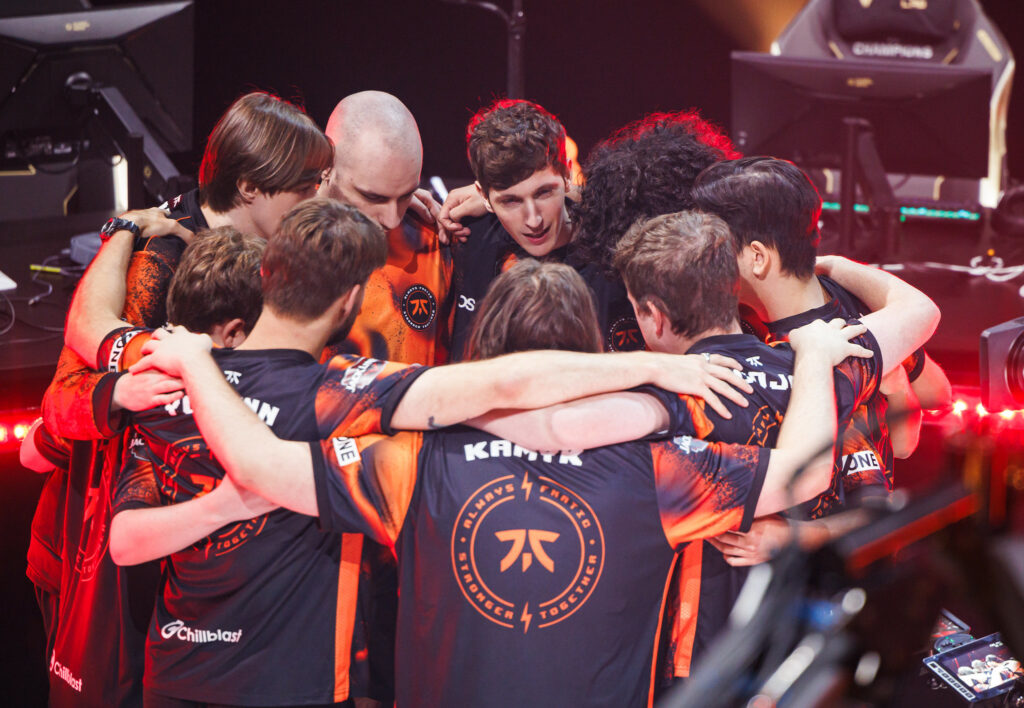 🇬🇧 Jake "Boaster" Howlett
🇫🇮 Nikita "Derke" Sirmitev
🇹🇷 Emir "Alfajer" Beder
🇸🇪 Leo "Leo" Jannesson
🇷🇺 Timofey "Chronicle" Khromov
🇦🇺 Chris "Elmapuddy" Tebbit (Head coach)
Player to watch: Alfajer
While inarguably being one of the best teams of the season, this is the perfect opportunity to bounce back from their setback in Los Angeles without having to take on either of the three teams topping the standings. The EMEA powerhouse had been on a rampage for almost a year when they took first place at VCT LOCK//IN and VALORANT Masters Tokyo until their fourth-place finish at Champions Los Angeles derailed their hopes for a three-peat this year.
The appointment of Chris "Elmapuddy" Tebbit as head coach, taking over from Jacob "mini" Harris, is an untested change, as the British coach steps down in pursuit of a better work-life balance. Now the former Gen.G coach continues his journeyman career, having coached teams in North America, Pacific, and now stepping into the EMEA region.
FNATIC are definitely a team with so much star power that plugging in any tier-one coach will work to some extent, but the consistency the team had and previous chemistry with captain Jake "Boaster" Howlett is something that cannot be underplayed.
While running it back in Tokyo would not be as sweet without beating either LOUD, Evil Geniuses, or Paper Rex, it could certainly help boost morale and get the team back on track for the upcoming season, showing they are still the boss.
ZETA DIVISION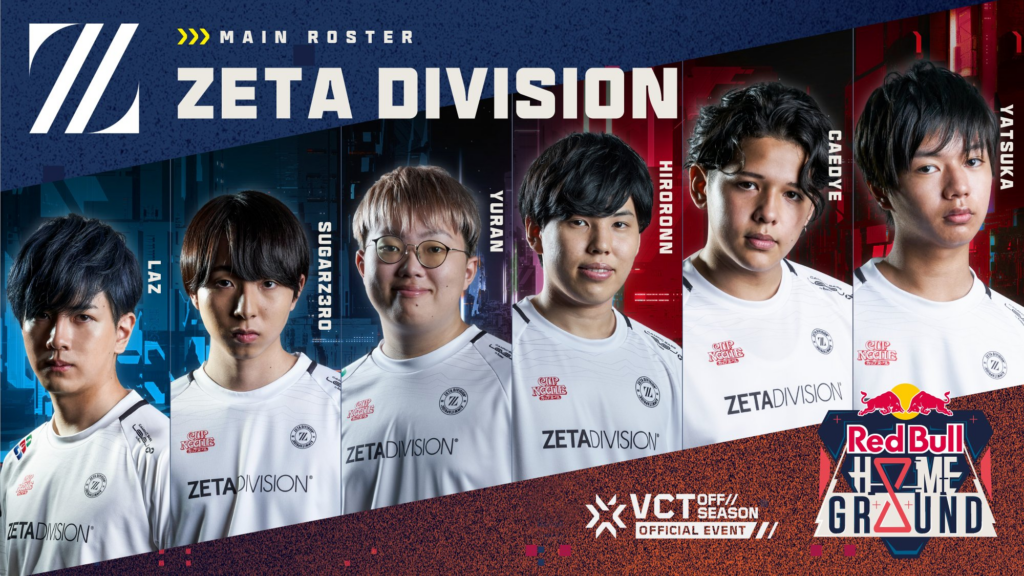 🇯🇵 Koji "Laz" Ushida
🇯🇵 Shota "SugarZ3ro" Watanabe
🇯🇵 Hiroki "hiroronn" Yanai
🇯🇵 Yushin "Yuran" Hato
🇯🇵 "Caedye" (from ZETA DIVISION Academy)
🇯🇵 "yatsuka" (from ZETA DIVISION Academy)
🇧🇷 Carlos "Carlão" Mohn (Head coach)
🇯🇵 Yuya "JUNiOR" Sawada (Assistant coach)
🇯🇵 Tomoaki "crow" Maruoka (Playing coach)
🇯🇵 Syuhei "gya9" Takasaki (Head analyst)
🇯🇵 "nokaze37" (Analyst)
🇯🇵 "sieg" (Analyst)
Players to watch: hiroronn & Yuran
ZETA DIVISION have recently announced the signing of Hiroki "hiroronn" Yanai and the promotion of Yushin "Yuran" Hato from their academy team to the main roster. Meanwhile, the cornerstones of the team, Koji "Laz" Ushida, Yuma "Dep" Hashimoto, and Shota "SugarZ3ro" Watanabe, are showing they are still capable of performing well enough to be retained for the upcoming season.
The newly-added duo will replace Tomoaki "crow" Maruoka and Tenta "TENNN" Asai. The latter player will remain with the team but transition into a playing coach role, while the former will be shifting his focus to streaming instead under the organization's banner.
In addition, the former FURIA coach Carlos "Carlão" Mohn has been appointed as the new coach of the team, taking over from Hibiki "XQQ" Motoyama who is stepping away from competitive VALORANT for content creation together with TENNN.
DRX
🇰🇷 Kim "stax" Gu-taek
🇰🇷 Yu "BuZz" Byung-chul
🇰🇷 Kim "MaKo" Myeong-kwan
🇰🇷 Jung "Foxy9" Jae-sung
🇰🇷 "Flashback" (from DRX Prospects)
🇰🇷 Pyeon "termi" Seon-ho (Head coach)
🇰🇷 Kim "glow" Min-soo (Coach)
🇰🇷 Kwon "Argency" Soon-woo (Coach)
Players to watch: MaKo & Flashback
Los Angeles saw DRX come out on top of a stacked group with LOUD and Natus Vincere – both previous winners of international titles. Despite not clinching the regional Pacific League trophy and delivering a less than stellar performance in Tokyo, DRX proved themselves to be nonetheless a worthy contender, or as worthy a contender as anyone can be to take down FNATIC 13-1 and make them sweat.
Ahead of the Red Bull Home Tokyo, all eight participating teams have undergone changes, with most of them making their debut. However, DRX hold a different case, as their Academy player Cho "Flashback" Min-hyuk will once again be present instead of Goo "Rb" Sang-min.
However, their ranking and numbers in this event should not be seen as an accurate representative of the team's potential and quality for the upcoming year. It will be a good proving ground for Flashback with lots of potential, but still not the kind of event where one should put them down as heavy favorites.
SCARZ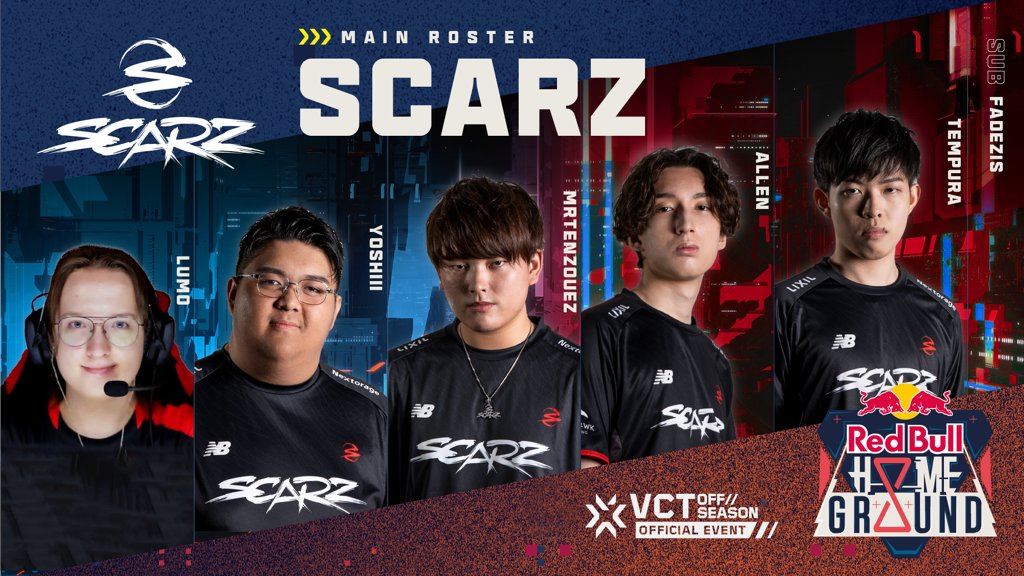 🇵🇭 John "Yoshiii" Kawakami
🇷🇺 Maxim "Lumo" Demianovskikh
🇯🇵 Yuzuki "MrTenzouEz" Inada
🇯🇵 "Allen"
🇯🇵 "Tempura"
🇯🇵 Junya "noppo" Taniguchi (Head coach)
🇰🇷 Kim "Bullco" Jeong-uk (Coach)
🇷🇺 Daulet "Fadezis" Abilov (Coach)
Player to watch: Lumo
After a successful season with them winning Challengers Japan Split 2 and finishing runners-up at VCT Ascension, SCARZ made a major overhaul to their roster while keeping their doors open to international talents.
John "Yoshiii" Kawakami and "Allen" have been retained from SCARZ's previous roster to complete the lineup. Maksim "Jemkin" Batorov has been acquired by Rex Regum Qeon to play in the upcoming VCT Pacific League, while Savva "Kr1stal" Fedorov has been allowed to explore his options as an unrestricted free agent. Jusei "TORANECO" Saito, while not in active competition, will still be affiliated with SCARZ, focusing on content creation.
Two of the new additions, Maxim "Lumo" Demianovskikh and Yuzuki "MrTenzouEz" Inada, are no strangers to the upper-echelon of Japanese VALORANT, with the former having spent most of his career in Challengers Japan representing teams like Insomnia and EVA:e before earning a move to the Chinese region with Four Angry Men. Going into the SCARZ team, the 20-year-old will be hoping to put the experience that he garnered while playing under 4AM to good use in this new challenge.
Rounding out the new SCARZ lineup is "Tempura", a relatively unknown quantity who has recorded just seven VLR-featured maps across his career so far.
Junya "noppo" Taniguchi and Kim "Bullco" Jeong-uk have been unveiled as the new coaches of SCARZ as well alongside previous coach Daulet "Fadezis" Abilov. With the recent acquisition, SCARZ will benefit from a powerhouse coaching trio, uniting three of Japan's top coaches who reached the Challengers Japan finals this year.
The Tokyo trophy is definitely not in SCARZ's top priority, but winning some games or the least against FENNEL could be a great start for the new roster. When teams from the same country face off, it invariably adds an extra layer of excitement to the match. The stakes are particularly high in this instance, as both squads are considered strong contenders to represent their region at Ascension next year.
Cloud9 & 100 Thieves
100 Thieves: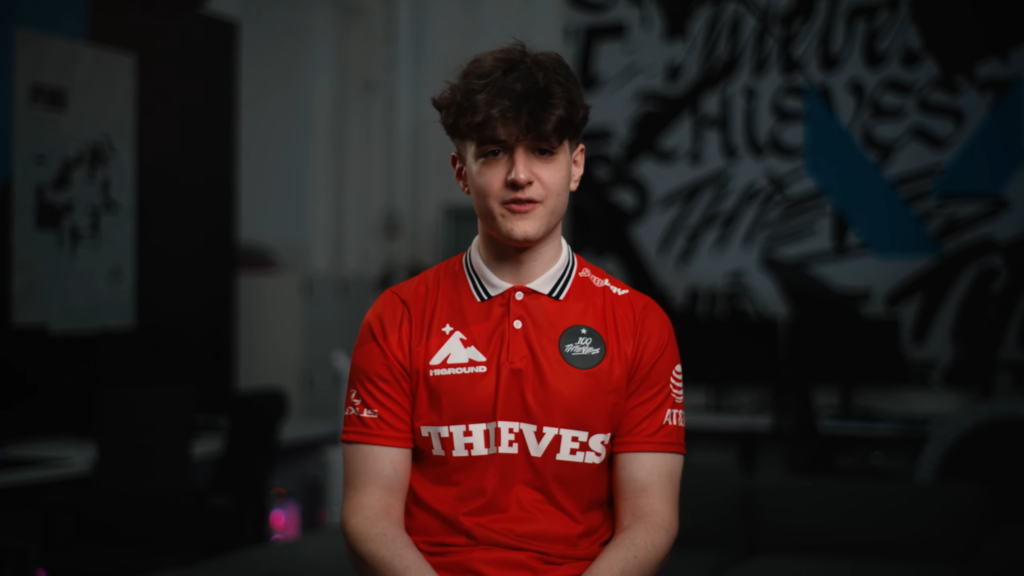 🇺🇸 Peter "Asuna" Mazuryk
🇺🇸 Sean "bang" Bezerra
🇺🇸 Matthew "Cryocells" Panganiban
🇨🇦 Daniel "eeiu" Vucenovic
🇺🇸 Nicholas "NaturE" Garrison (Stand-in)
🇺🇸 Tony "Zikz" Gray (Head coach)
🇺🇸 Michael "Mikes" Hockom (Assistant coach)
Players to watch: eeiu, NaturE
NRG's and EG's absence puts C9 and 100T in the spotlight as the torch-bearers for the Americas region.
100 Thieves arrived in Tokyo as the defending champions of Red Bull Home Ground after winning the third iteration in Manchester. However, time and circumstances have changed. They will have additional pressure on their shoulders against more challenges this time with the likes of FNATIC and DRX in attendance.
The new addition Daniel "eeiu" Vucenovic is still an unproven quantity on the international stage and Nicholas "NaturE" Garrison will be joining the team on a stand-in basis. With not much activity since the Americas LCQ makes it hard to pinpoint exactly where 100 Thieves stands, but it is difficult to visualize them actually lifting the trophy.
Cloud9: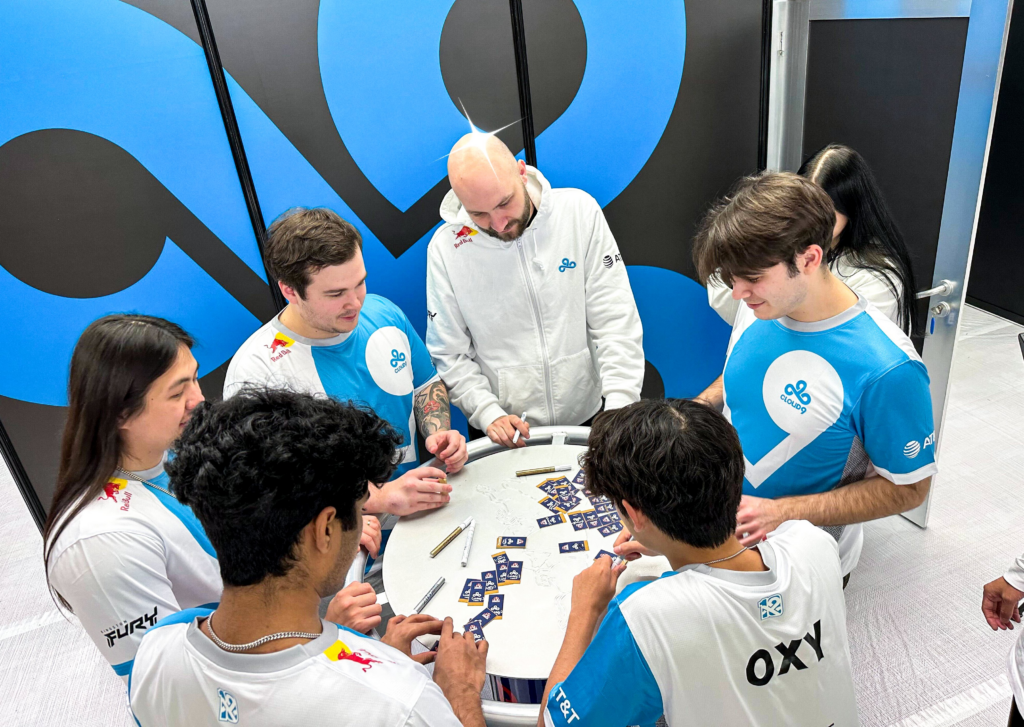 🇺🇸 Anthony "vanity" Malaspina
🇺🇸 Erick "Xeppaa" Bach
🇺🇸 Jake "jakee" Anderson
🇺🇸 Francis "OXY" Hoang
🇺🇸 Rahul "curry" Nemani (Stand-in for wippie)
🇬🇧 Ian "Immi" Harding (Coach)
Player to watch: Xeppaa, OXY
Cloud9 have been riding high as one of the busiest teams on the circuit in recent months, having won the TEN VALORANT Global Invitational in Seoul and been invited to Superdome 2023 which is set to take place next week in Bogota, Colombia.
However, the blue-and-white will not be able to show their full potential at Red Bull Home Ground Tokyo, with Maxim "wippie" Shepelev being unable to participate and former player Rahul "curry" Nemani filling in the void. It's hard to see curry making a big difference in the team, but on a positive note, Francis "OXY" Hoang's recent run of good form could be a beacon for the American side to rally. 
FUT Esports & FENNEL
FUT Esports: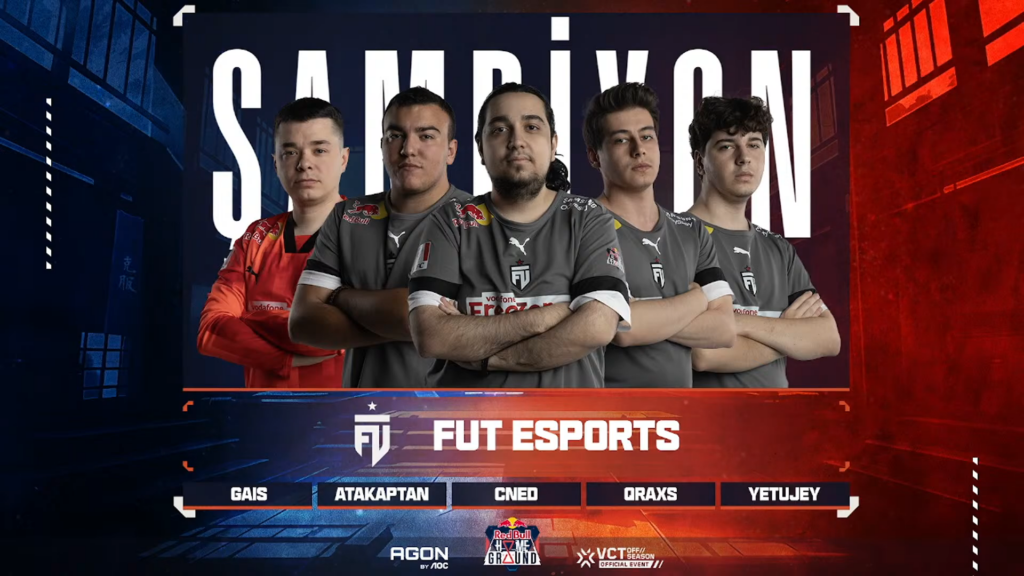 🇹🇷 Doğukan "qRaxs" Balaban
🇹🇷 Furkan "MrFaliN" Yeğen
🇹🇷 Ata "ATA KAPTAN" Ta
🇹🇷 Eray "yetujey" Budak
🇹🇷 Mehmet "cNed" İpek
🇹🇷 Eray "GAIS" Sarıkaya (Head coach)
Players to watch: cNed, MrFaliN
Two qualifiers were set up for Red Bull Home Ground Tokyo, one for the EMEA and one for Japan. FUT Esports took the first one, beating teams like Team Heretics, G2 Gozen, and FOKUS whom they also beat in the best-of-three grand final, while FENNEL won the other one by taking down REJECT, Sengoku Gaming, and FAV Gaming along the way.
FUT Esports surpassed all expectations this season as they finished third in what was their best performance and subsequently qualified for VALORANT Masters Tokyo and Champions LA, although without anywhere close to titles. As many had predicted, the Turkish side would need to reinvent themselves to keep pushing the boundaries, and they did so by picking up former world champion Mehmet "cNed" İpek.
FENNEL: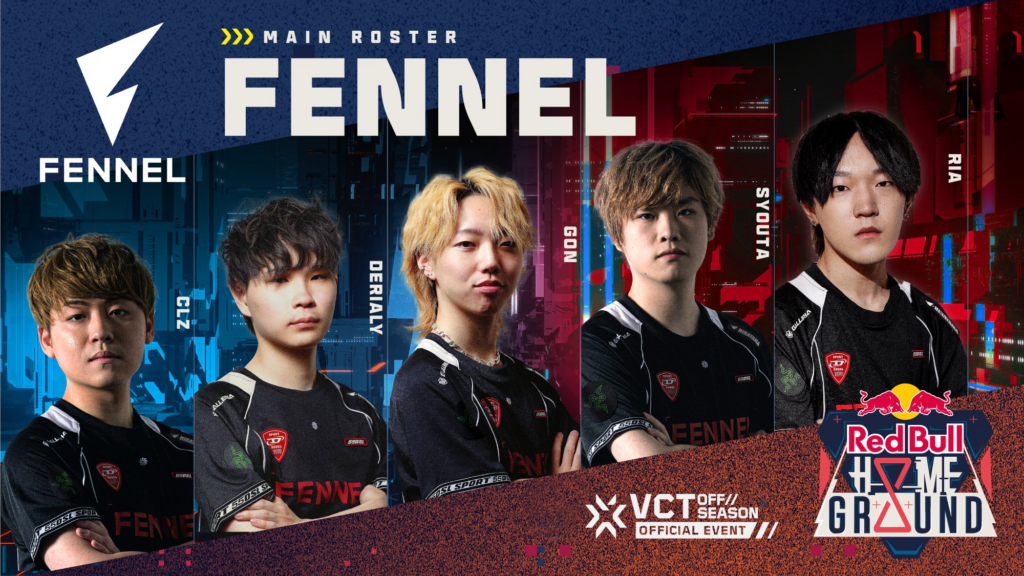 🇯🇵 Daichi "Derialy" Doi
🇯🇵 Kento "GON" Hara
🇯🇵 Hikaru "CLZ" Mizutani
🇯🇵 "SyouTa"
🇯🇵 Ryujin "RIA" Yoshida (Stand-in for Xdll)
🇺🇦 Ivan "Johnta" Shevtsov (Coach)
🇯🇵 Kazuki "Euler" Kubota (Coach)
Players to watch: SyouTa, CLZ
Meanwhile, FENNEL has not much of a chance on their home ground to take the title on paper, where they will open against heavy favorites FNATIC while playing without their second-best performer Yuto "Xdll" Mizomori. The 17-year-old is temporarily suspended by the organization due to smurfing and account sharing and will be replaced by former REJECT player Ryujin "RIA" Yoshida.
However, with the tournament utilizing a best-of-one format even in the Swiss stage, the prospect of FENNEL or SCARZ as the only non-partnered teams pulling off an upset still looks possible.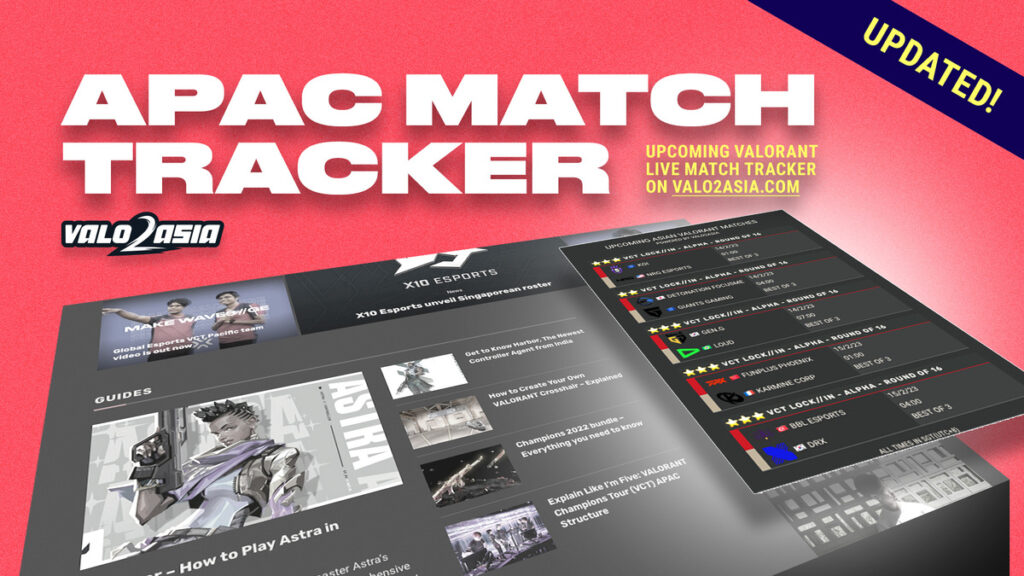 Get ready for non-stop action with VALO2ASIA.com! We bring you the pulse of APAC's most electrifying matches with our real-time match ticker, updated daily to keep you in the loop on all the latest. Our star rating system rates the importance of each match based on factors such as the teams' lineups, tournament rounds, and prestige.
From Red Bull Home Ground to other major tournaments in Asia, we've got you covered with the most comprehensive coverage in the region with accurate schedules in Singaporean Time (UTC+8). Explore VALO2ASIA's match ticker now on the right side of our website!
---
For more insights on the Asian VALORANT scene and upcoming content like this, be sure to like and follow VALO2ASIA on Facebook, Twitter & Instagram.
---
Cover photo courtesy of Twitter/OooDa