Emman was an important part of the early success of Rex Regum Qeon with its all-Filipino lineup prior to the partnership era. 
INDONESIA – Rex Regum Qeon have bid farewell to Emmanuel "Emman" Morales, bringing the Filipino player's 14-month long tenure with the Jakarta-based organization to an end.
Emman had been with Rex Regum Qeon since July 2022, during a time when the organization still had an all-Filipino lineup and together clinched the 2022 Predator League Philippines title. He continued with the team for the 2023 season and competed in Seoul alongside his Filipino teammates in Eroll Jule "EJAY" Delfin and James "2ge" Goopio.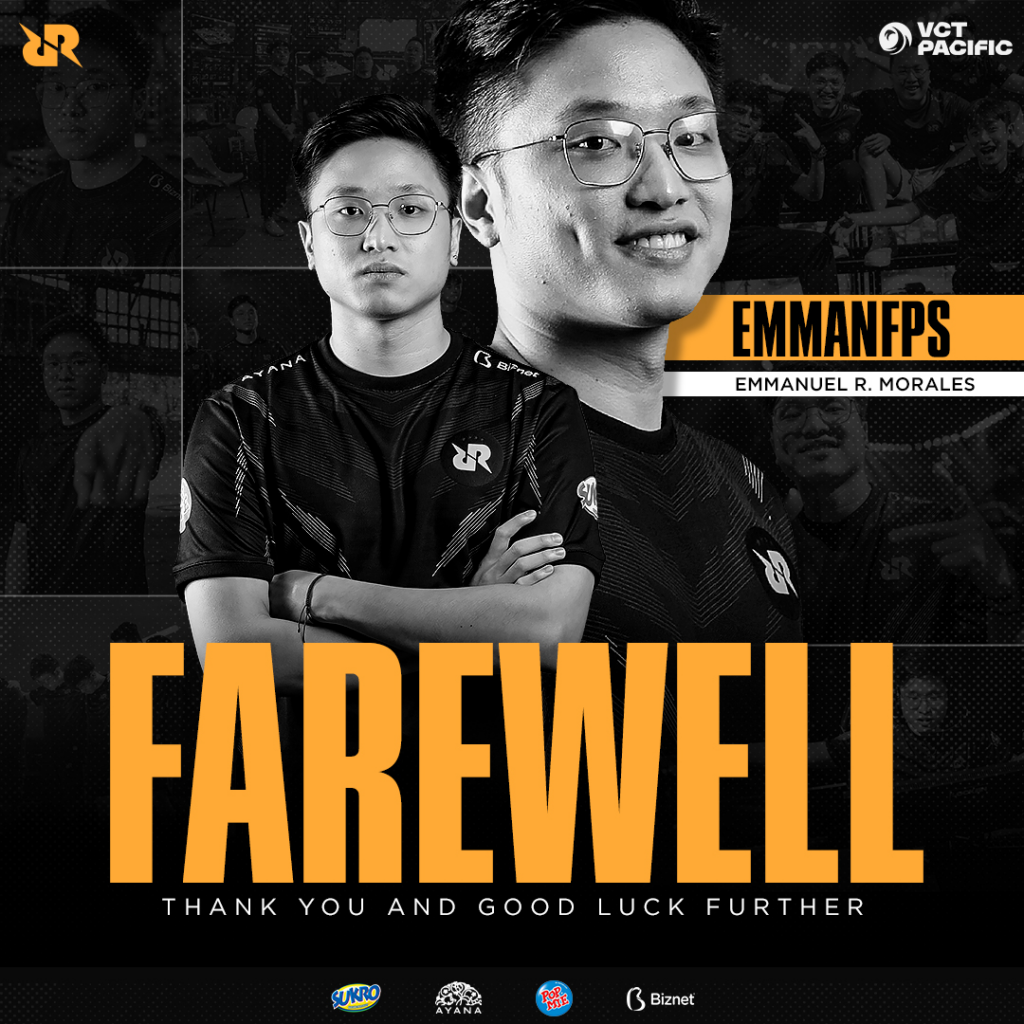 However, Emman did not see active play until Week 4 of VCT Pacific when the team went up against Team Secret and subsequently featured in the lineup since then for particular maps where he played Skye and KAY/0 until the end of their season. RRQ wrapped up the year ranking seventh in the League's Regular Season and fourth in the Last Chance Qualifier, falling short in the latter to eventual winners ZETA DIVISION in the upper bracket semi-final.
Looking ahead, Emman also announced that he is open to joining a new team and is "ready to prove myself at the highest stage", with a preference for Initiator but also adaptable to Duelist or Smoker roles.
As of now, Rex Regum Qeon have not made any statements about their final 2024 lineup. It remains uncertain who will fill Emman's shoes or if the organization plans to reduce its roster size to five players, given the VCT 2024 regulation shift which mandates a team of five, compared to the previous six-player requirement in the season's debut year.
"It's goodbye for now, but Emman is extremely talented so I have no doubt he'll find a new home really soon," head coach Marthinus "Ewok" Walt said. "It's been a pleasure working with you brother and I'm excited to see your journey continue."
Rex Regum Qeon are now down to:
🇮🇩 Hagai "Lmemore" Tewuh
🇮🇩 Saibani "fl1pzjder" Rahmad
🇮🇩 David "xffero" Monangin
🇵🇭 Eroll Jule "EJAY" Delfin
🇵🇭 James "2ge" Goopio
🇿🇦 Marthinus "Ewok" Walt (Head coach)
---
For more insights on the Asian VALORANT scene and upcoming content like this, be sure to like and follow VALO2ASIA on Facebook, Twitter & Instagram.
---
Cover photo courtesy of VCT Pacific